1 December 2017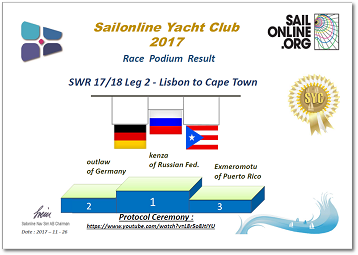 click on results image to see larger
поздравления kenza!!! HERZLICHEN GLÜCKWUNSCH outlaw!! Felicidades Exmeromotu!
Race Leaderboard
Timelapse Video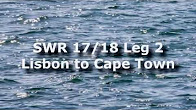 Commentary
Navigating in a race around the world is always a great joy as it was Sailonline's original design purpose and somehow one can just breathe a sigh of relief to be on our way across the oceans again. For those unfamiliar with ocean navigation, this is the perfect opportunity to hone your skills on probably the best online virtual sailing navigation simulator … for FREE! Whether you like increasing the density of the on-screen wind arrows (see Options under the Info Tab) and using Mark I eyeball to identify your best winds, or whether you are a supremo of routing software, searching for the optimal resource for winds and smoothing them to their closest fit with the Sailonline race, this really is a game for everyone. Old, young, aspiring yotties or legends (in reality and/or virtuality) and especially if you find yourself mostly house- or desk-bound, for whatever reason, this is the time to let your imaginations, and skill, roam the oceans and race!
The course for Leg 2 of our World Race clearly showed that Fernando de Noronha was not a waypoint. Suddenly all possibilities were open, and many were tempted by the opportunity to go along the African east coast as a shortcut to Cape Town, but once again the old saying "West is Best" showed to be true.
Then came the big decision on how best to pass the doldrums, and again the old saying "between 26 and 30 degrees" turned out to be true.
SOLer Alexandria described it very accurately in a post in Sailonline's Facebook Group, when he said:
"The longitude at which crossing the doldrums has to be chosen carefully. Too far east (ie east of 025 ° W), and you are likely to fall prey to winds or not more than 8 knots, or be forced to sail SW to WSW. Too far west (say, west of 029 ° W) and you might end up sailing higher and slower than those east of you, even though the wind angle tends to back somewhat as you go to the west after exiting the doldrums. "
This passage brought many pretty close to Fernando de Noronha and from there it was just about finding the Westerly Stormtrack and aiming for Cape Town and The African Coast Pack was left to sweat.
And then kenza won again!
His victory this time was only by 4 minutes, yet after a distance sailed of nearly 7000nm this was nice. The top ten boats arrived at the finish line within 10 minutes 16 seconds. Impressive after a 21-day race. With 471 boats participating in the race, flying the flags of 28 nations, our podium has earned all respect possible.



Races
Next Race: 00d 00h 00m
---
Current Races:
Stockholm to St Petersburg 2018
Welcome to Stockholm - are you ready to race to St Petersburg? Our 431nm course from Sweden to Russia includes a couple of slight detours past Saaremaa and Hoglandet but if you keep a good lookout and avoid stealthy submarines, you should soon be docking your J130s at the home of the world renowned Hermitage Museum!
Race #1114 INFO by brainaid.de J130 Particulars WX UPDATES:
0430 / 1030 / 1630 / 2230 RANKING: SYCALT. CLIENT:Classic
Race starts: Feb 27th 11:00 Registration Open!
GO TO RACE
Perth-Fremantle ISAF Sprint 2018
To celebrate the running of the 2011 ISAF World Championships in Perth, Australia, SOL organized an overnight offshore race and a Sprint: 65nm in a J-80 sportsboat along the Perth/Freemantle shoreline. We have raced the course several times since then. This year, to hurry things up, we're going to do it in an Open 60. Proper sprinting!
Race #1118
INFO at brainaid.de
Open 60 Particulars
WX Updates:
0430 / 1030 / 1630 / 2230
Ranking:
SPRCH - SUPSOL – SRQ1 - SYC
ALT. CLIENT:Classic
Race starts: Feb 24th 03:00 Registration Open!
GO TO RACE
SWR 17/18 Leg 6 - Hong Kong to Auckland
While others have spent the two-week stay in Hong Kong sailing up and down the Zhujiang River and around Hong Kong Island, we have been able to completely relax and spend the days preparing for Leg 6 from Hong Kong to Auckland.
We will (almost) sail the exactly same way back to where we came from and that means another meeting with the Doldrums, which hopefully this time will be kinder to us. But if that does not happen... no one said this SWR 17/18 would be easy!
Race #1113
INFOfrom brainaid.de
The Chart is NOT available for this race !
OD65v3 Particulars
WX Updates:
0430 / 1030 / 1630 / 2230
Ranking:
OCCH-OCQ1-SUPSOL-SWR-SYC
ALT. CLIENT:Classic
Race starts: Feb 07th 05:00 Registration Open!
GO TO RACE
SYC Ranking
Series
Mobile Client
SYC members have the benefit of access to our mobile/lightweight web client!