1 March 2017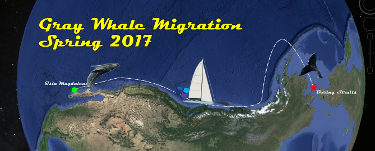 click on image to see larger
Welcome to the 2017 running of this epic 4000nm trip following the route taken by the gray whale in its annual spring migration from Mexico to the Bering Sea. This race was originally designed by RainbowChaser, and first run in 2010 – it is intended to celebrate the remarkable life cycle and migration route of the Gray Whale. There is a great deal of information and background contributed in-Forum here.
In 2013, 2014, 2015 and 2016 we followed the autumn swim down from the icy north to the warm and shallow breeding grounds in the lagoons off Baja California. This time as in 2010 and 2011 we are racing the Spring "mother and calf route" from Mexico up to the Bering Sea.
Reports of plastic pollution being more prevalent than fish in the oceans within decades are on the increase from reputable sources – beachcombing even a square metre produces bags-full of plastic waste – and our precious marine life is more than just endangered with many dead and dying animals being washed up with their stomachs full of plastic which, in the case of balloons and plastic bags, have been mistaken for food, such as jellyfish. So as you race this wonderful migration back to the traditional gray whale feeding grounds in the north Pacific and Bering Sea, please take a moment to consider both the natural and the manmade dangers that beset momma and baby gray whales.
Gray Whale Facts



Races
Next Race: 00d 00h 00m
---
Current Races:
SWR 17/18 Leg 11 Gothenburg to The Hague
Then we've made it to Gothenburg.
And with the experience that The North Sea can be just as rough as the Southern Pacific.
Ok, it's time for sailing our final leg to The Hague, with a little detour around the Danish city of Aarhus, a so-called "fly-by".
And beware – the North Sea can still be very tricky, so fair winds to you all.
Race #1153
INFO from brainaid.de
OD65v3 Particulars
WX Updates: 0430 / 1030 / 1630 / 2230
Ranking: 2017SWR-SYC
SOL Classic Client
Race starts: Jun 21st 12:00 Registration will open soon
GO TO RACE
Sail Fiji 2018
Welcome to Sail Fiji 2018.
This time there will be no RAYC IRL fleet to beat, so we have the 1144nm from New Zealand to Fiji ahead of us, in our "old" Volvo Ocean racer, the VO70v4, completely to ourselves.
The time set in 2016 was a little under 66½ hours, done by "outlaw".
We can do better this time, can't we?
Race #1151
INFO by brainaid.de
VO70v4 Particulars
WX Updates: 0430 / 1030 / 1630 / 2230
Ranking: OCCH-OCQ2-SUPSOL-SYC
ALT. CLIENT:Classic
PRIZE: SMPF

Race starts: Jun 18th 21:00 Registration Open!
GO TO RACE
2018 40' Series Championship Race 6 – Naples Triangle.
Our 2018 40' series championship takes the fleet to great places on the planet.
This time we'll visit The Mediterranean and a 342 NM race in one of the 40' available for your choice, from Naples and round the islands of Ustica and Stromboli (with the most active volcano in Europe), and then back towards Naples to finish off waters of the island of Capri.

The Race Conditions contains NOR, particulars, polars and a list of used boats, and will be updated for each race in 2018, so please read it to avoid disqualification.

40' Series 2018 – Race Conditions (updated)

Race # 1150
INFOfrom brainaid.de
WX Updates:
0430 / 1030 / 1630 / 2230
Ranking:
40CH – SYC
ALT. CLIENT:Classic
Race starts: Jun 15th 16:00 Registration Closed
GO TO RACE
Golden Globe Race 2018 - Falmouth to Les Sables-d'Olonne
Welcome to Sailonline's virtual Golden Globe Race 2018 and the SITraN prologue to Les Sables d'Olonne, starting immediately after the IRL competitors' Parade of Sail in Falmouth Harbour celebrating the 50th anniversary of the departure of the original Sunday Times Golden Globe Race.
To reflect the challenge being undertaken by the real racers, who will compete in production yachts of the size and type used in 1968 and will only use materials and equipment that was available to them then, SOL invites all who feel so inclined to add their boat name to the post in FORUM declaring you will race this prologue and the race proper (in two legs) by the proverbial "Seat Of The Pants" (SOTP) with no outside assistance from routing software or other external aids, relying solely on the SOL predictor line and dead reckoning for navigation.
Race #1135
INFO by brainaid.de
Rustler 36 PARTICULARS
WX Updates:
0430 / 1030 / 1630 / 2230
Ranking: SYC
ALT. CLIENT:Classic
Race starts: Jun 14th 13:30 Registration Closed
GO TO RACE
SYC Ranking
Series
Mobile Client
SYC members have the benefit of access to our mobile/lightweight web client!