1 March 2017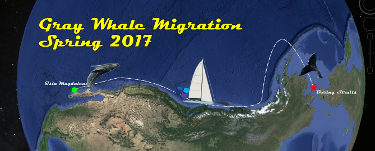 click on image to see larger
Welcome to the 2017 running of this epic 4000nm trip following the route taken by the gray whale in its annual spring migration from Mexico to the Bering Sea. This race was originally designed by RainbowChaser, and first run in 2010 – it is intended to celebrate the remarkable life cycle and migration route of the Gray Whale. There is a great deal of information and background contributed in-Forum here.
In 2013, 2014, 2015 and 2016 we followed the autumn swim down from the icy north to the warm and shallow breeding grounds in the lagoons off Baja California. This time as in 2010 and 2011 we are racing the Spring "mother and calf route" from Mexico up to the Bering Sea.
Reports of plastic pollution being more prevalent than fish in the oceans within decades are on the increase from reputable sources – beachcombing even a square metre produces bags-full of plastic waste – and our precious marine life is more than just endangered with many dead and dying animals being washed up with their stomachs full of plastic which, in the case of balloons and plastic bags, have been mistaken for food, such as jellyfish. So as you race this wonderful migration back to the traditional gray whale feeding grounds in the north Pacific and Bering Sea, please take a moment to consider both the natural and the manmade dangers that beset momma and baby gray whales.
Gray Whale Facts



Races
Next Race: 00d 00h 00m
---
Current Races:
SWR 17/18_Leg1_Alicante to Lisbon
Welcome to the first of eleven legs of the 2017/18 Sailonline World Race in our 65-foot ocean racer!
In this leg we race from Alicante to Lisbon, through the infamous Strait of Gibraltar on a course of 1365 NM.
Race #1088
INFOfrom brainaid.de
OD65v3 Particulars
WX Updates: 0430 / 1030 / 1630 / 2230
Ranking: SWR-SYC
ALT. CLIENT:Classic
Race starts: Oct 22nd 13:00 Registration Open!
GO TO RACE
Volvo Hong Kong to Vietnam Race 2017
RHKYC welcomes SOLers once more to Hong Kong and the 2017 running of the classic biennial race to Vietnam - 674nm across the S China Sea in TP52s
Race #1083
INFO by brainaid.de
TP52 Particulars
WX Updates:
0430 / 1030 / 1630 / 2230
RANKING: SYC
ALT. CLIENT: Classic
RACE CLOSE: Wednesday, 25 October at 2300utc
Race starts: Oct 18th 05:15 Registration Closed
GO TO RACE
SYC Ranking
Series
Mobile Client
SYC members have the benefit of access to our mobile/lightweight web client!