10 May 2017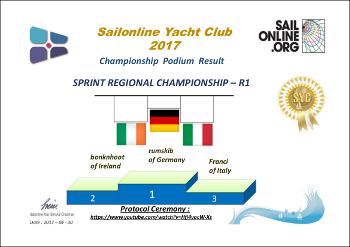 Race Leaderboard
PRIZES
HERZLICHEN GLÜCKWUNSCH rumskib!!!
GEFELICITEERD bonknhoot!! CONGRATULAZIONI Franci!
The first regional Championships have now concluded and rumskib has emerged as the winner. For 2017 SRC modified the series format from a reasonable range of start locations and times to one that sequentially favoured areas of our world during times when their sailors were more likely to be home in front of the fire than freezing on the yacht's rail.
This first of three series favoured the Americas with a start time of 1800 UTC that was 'good' for them.
The second series of six races favours the Australia/New Zealand & Far East skippers some of whom are beginning their winter with a start time of 0200 UTC that was 'good' for them.
The final series will return to Europe/Africa with a start time of 1000 UTC.
As turnout per race in this first region has ranged between 84 and 137 - which was a bit disappointing - SRC would encourage you to consider participating in your own 'winter or off season' sprint series. Give it a go!
Richard / Go4iT
Chair – SRC

Races
Next Race: 00d 00h 00m
---
Current Races:
SWR 17/18 Leg 11 Gothenburg to The Hague
Then we've made it to Gothenburg.
And with the experience that The North Sea can be just as rough as the Southern Pacific.
Ok, it's time for sailing our final leg to The Hague, with a little detour around the Danish city of Aarhus, a so-called "fly-by".
And beware – the North Sea can still be very tricky, so fair winds to you all.
Race #1153
INFO from brainaid.de
OD65v3 Particulars
WX Updates: 0430 / 1030 / 1630 / 2230
Ranking: 2017SWR-SYC
SOL Classic Client
Race starts: Jun 21st 12:00 Registration will open soon
GO TO RACE
Sail Fiji 2018
Welcome to Sail Fiji 2018.
This time there will be no RAYC IRL fleet to beat, so we have the 1144nm from New Zealand to Fiji ahead of us, in our "old" Volvo Ocean racer, the VO70v4, completely to ourselves.
The time set in 2016 was a little under 66½ hours, done by "outlaw".
We can do better this time, can't we?
Race #1151
INFO by brainaid.de
VO70v4 Particulars
WX Updates: 0430 / 1030 / 1630 / 2230
Ranking: OCCH-OCQ2-SUPSOL-SYC
ALT. CLIENT:Classic
PRIZE: SMPF

Race starts: Jun 18th 21:00 Registration Open!
GO TO RACE
2018 40' Series Championship Race 6 – Naples Triangle.
Our 2018 40' series championship takes the fleet to great places on the planet.
This time we'll visit The Mediterranean and a 342 NM race in one of the 40' available for your choice, from Naples and round the islands of Ustica and Stromboli (with the most active volcano in Europe), and then back towards Naples to finish off waters of the island of Capri.

The Race Conditions contains NOR, particulars, polars and a list of used boats, and will be updated for each race in 2018, so please read it to avoid disqualification.

40' Series 2018 – Race Conditions (updated)

Race # 1150
INFOfrom brainaid.de
WX Updates:
0430 / 1030 / 1630 / 2230
Ranking:
40CH – SYC
ALT. CLIENT:Classic
Race starts: Jun 15th 16:00 Registration Closed
GO TO RACE
Golden Globe Race 2018 - Falmouth to Les Sables-d'Olonne
Welcome to Sailonline's virtual Golden Globe Race 2018 and the SITraN prologue to Les Sables d'Olonne, starting immediately after the IRL competitors' Parade of Sail in Falmouth Harbour celebrating the 50th anniversary of the departure of the original Sunday Times Golden Globe Race.
To reflect the challenge being undertaken by the real racers, who will compete in production yachts of the size and type used in 1968 and will only use materials and equipment that was available to them then, SOL invites all who feel so inclined to add their boat name to the post in FORUM declaring you will race this prologue and the race proper (in two legs) by the proverbial "Seat Of The Pants" (SOTP) with no outside assistance from routing software or other external aids, relying solely on the SOL predictor line and dead reckoning for navigation.
Race #1135
INFO by brainaid.de
Rustler 36 PARTICULARS
WX Updates:
0430 / 1030 / 1630 / 2230
Ranking: SYC
ALT. CLIENT:Classic
Race starts: Jun 14th 13:30 Registration Closed
GO TO RACE
SYC Ranking
Series
Mobile Client
SYC members have the benefit of access to our mobile/lightweight web client!