12 October 2017

Welcome to the 2017 PIC Insurance Brokers Coastal Classic Yacht Race.
Thirty-six years ago a member of the Auckland Multihull Sailing Association had the idea of racing from the Devonport/Orakei area of Auckland's harbour up the east coast of New Zealand's North Island, to the harbour of Russell, in the tradition of the speedboats of the 1920s. Since then the race from Auckland to Russell has become known the world over as the Coastal Classic and these days is raced in classes with a wide range of prizes on offer - for division winners, for seamanship and even for the littlest boat finishing.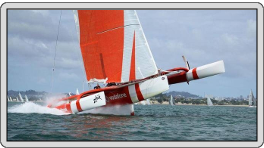 Frank Racing
Sailonline is delighted to again host the virtual version of this New Zealand classic race and this year we are returning to a multihull, our 60ft Trimaran, which should make us more competitive with the IRL race front-runners but sadly may well see us leaving behind SOLer NZL_WairuaExpress in his Beale 35, Open Country who is competing again this year. Here's the tracker for Open Country
Racing in/around the Hauraki Gulf will always bring reminders of SOLer yachtyakka who regularly raced this course on Promise so cast a thought to the skies and yakka's memory as you race up the coast this time.
Entrants
Tracker


Races
Next Race: 00d 00h 00m
---
Current Races:
Manilla - Calbayog
Welcome to a brand-new race, created by sassy63.
He's taken us to the Philippines to race around islands on a 377 nm course.
We sail the Steinlager 2 and in Calbayog we'll enjoy our well-deserved Palatan dish and drink it with San Miguel.
Race #1159
INFOby brainaid.de
Steinlager 2 Particulars
WX Updates: 0430 / 1030 / 1630 / 2230
Ranking: SYC
ALT. CLIENT:Classic

Race starts: Jul 24th 17:00 Registration will open soon
GO TO RACE
2018 40' Series Championship - Hawaiian Zig Zag
Welcome to the 7th race in our 2018 40' series!
This time we will use "Jaws" Hawaiian Zig Zag course for our race.
Shifting winds, beaches, rocks and headlands, zig and zag; 430nm not for the faint hearted! Your challenge is to get your choice of 40' to Niihau without breaking neither the boat nor your spirit.

The Race Conditions contains NOR, particulars, polars and a list of used boats, and will be updated for each race in 2018, so please read it to avoid disqualification.

40' Series 2018 – Race Conditions (updated)

Race # 1164
INFOfrom brainaid.de
WX Updates:
0430 / 1030 / 1630 / 2230
Ranking:
40CH – SYC
ALT. CLIENT:Classic
RACE CLOSE:Tuesday, 24 July at 23:00 UTC.
Race starts: Jul 20th 16:00 Registration Closed
GO TO RACE
Greenland to Alaska
This race is a repetition of leg 2 in last years RED DOT race.
It is 2.099 splendid nautical miles from Nuuk, Greenland to Barrow, Alaska, leaving both North Canada and North Alaska to port.
Race #1163
INFO by brainaid.de
SuperMaxi 100 Particulars
WX Updates:
0430 / 1030 / 1630 / 2230
RANKING: OCCH-OCQ3-SUPERSOL-SYC
ALT. CLIENT: Classic
PRIZE: SMPF
RACE CLOSE: Tuesday, 24 July at 23:00 UTC
Race starts: Jul 09th 16:00 Registration Closed
GO TO RACE
Cape Horn Timed Run
Welcome to Chile, welcome to Cape Horn, and welcome to a new course round these inhospitable waters. This is a place with plenty of wind and strong currents. Our 161 nm triangular TIMED RUN goes around two groups of small islands that are an important nesting site for a number of southern seabirds. To kick start this new challenge we will ride the IMOCA 60; hold tight your harness and goggles, there will be plenty of sea spray on deck!
RE-REGISTER HERE to race again after finishing a run
Race #1097
INFO by brainaid.de
IMOCA 60 Particulars
WX Updates:
0430 / 1030 / 1630 / 2230
RANKING:
TRCH-SUPSOL-TRQ3-SYC
ALT. CLIENT: Classic
RACE CLOSE: Sunday,
22 July at 2300utc
Race starts: Jul 02nd 12:00 Registration Open!
GO TO RACE
Golden Globe Race - Leg 1 to Storm Bay
Welcome, all, to the 2018 Golden Globe Race and Sailonline's virtual version of this iconic 50th anniversary rerun of 1968's first ever non-stop single-handed round-the-world race in yachts and with technology in keeping with that historic time.
To reflect the challenge being undertaken by the real racers, as announced previously, SOL invites all who feel so inclined to add their boat name to the post in FORUM declaring you will race by the proverbial "Seat Of The Pants" (SOTP) with no outside assistance from routing software or other external aids, BEFORE THE STARTING GUN IS FIRED.
To simulate the real race which features a 90 minute minimum stopover in Storm Bay, SOL's online version has been divided into two legs. This first leg then is from Les Sables-d'Olonne to Storm Bay. When the leaders approach Storm Bay, Leg 2 from thence back to Les Sables via Cape Horn, will open. YOU MAY NOT START LEG 2 UNTIL AT LEAST 90 MINUTES AFTER FINISHING LEG 1. The penalty for starting Leg 2 before finishing Leg 1 is NO RANKING. The penalty for starting Leg 2 within 90 minutes of finishing Leg 1 is 5x the time you started too early.
DO NOT START TOO EARLY!
Fair winds and good luck!!
Race #1154
INFO by brainaid.de
Rustler 36 PARTICULARS
WX Updates:
0430 / 1030 / 1630 / 2230
Ranking: GGR
ALT. CLIENT:Classic
Race starts: Jul 01st 10:00 Registration Open!
GO TO RACE
SYC Ranking
Series
Mobile Client
SYC members have the benefit of access to our mobile/lightweight web client!