4 October 2017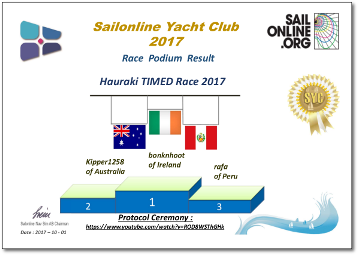 click on results image to see larger
MAITH AN FEAR bonknhoot!!!
GOOD ONYA Kipper1258!! FELICIDADES rafa!
Race Leaderboard
Commentary
The weather was benign all ten days for this year's ever-popular Hauraki Timed Run, so that it proved to be wind direction that determined the best window for a quick dash out to the Ahaaha Rocks leaving Rangitoto to starboard, and then home via the Rocky Bay Buoy off the south of Waiheke. That best average angle turned out to be 330 degrees and combined with 15 knots of breeze, this promised those who spotted it run times of just over four and a half hours if you left an hour or so before midnight GMT on Monday the 25th of September. Once discovered, the rest was plain sailing, with no upwind work and barely any downwind either, and the straight lines to be sailed only punctuated by the odd sharp corner!
Depending where on the globe you found yourself, that optimum window meant the run could be anything between a doddle and a red-eye for you, but our podium three proved that for hardened SOLers that matters not, coming as they did from three different continents. Well-timed chaps!

Races
Next Race: 00d 00h 00m
---
Current Races:
Stockholm to St Petersburg 2018
Welcome to Stockholm - are you ready to race to St Petersburg? Our 431nm course from Sweden to Russia includes a couple of slight detours past Saaremaa and Hoglandet but if you keep a good lookout and avoid stealthy submarines, you should soon be docking your J130s at the home of the world renowned Hermitage Museum!
Race #1114 INFO by brainaid.de J130 Particulars WX UPDATES:
0430 / 1030 / 1630 / 2230 RANKING: SYCALT. CLIENT:Classic
Race starts: Feb 27th 11:00 Registration Open!
GO TO RACE
Perth-Fremantle ISAF Sprint 2018
To celebrate the running of the 2011 ISAF World Championships in Perth, Australia, SOL organized an overnight offshore race and a Sprint: 65nm in a J-80 sportsboat along the Perth/Freemantle shoreline. We have raced the course several times since then. This year, to hurry things up, we're going to do it in an Open 60. Proper sprinting!
Race #1118
INFO at brainaid.de
Open 60 Particulars
WX Updates:
0430 / 1030 / 1630 / 2230
Ranking:
SPRCH - SUPSOL – SRQ1 - SYC
ALT. CLIENT:Classic
Race starts: Feb 24th 03:00 Registration Open!
GO TO RACE
SWR 17/18 Leg 6 - Hong Kong to Auckland
While others have spent the two-week stay in Hong Kong sailing up and down the Zhujiang River and around Hong Kong Island, we have been able to completely relax and spend the days preparing for Leg 6 from Hong Kong to Auckland.
We will (almost) sail the exactly same way back to where we came from and that means another meeting with the Doldrums, which hopefully this time will be kinder to us. But if that does not happen... no one said this SWR 17/18 would be easy!
Race #1113
INFOfrom brainaid.de
The Chart is NOT available for this race !
OD65v3 Particulars
WX Updates:
0430 / 1030 / 1630 / 2230
Ranking:
OCCH-OCQ1-SUPSOL-SWR-SYC
ALT. CLIENT:Classic
Race starts: Feb 07th 05:00 Registration Open!
GO TO RACE
SYC Ranking
Series
Mobile Client
SYC members have the benefit of access to our mobile/lightweight web client!