28 June 2018


Golden Globe Race 2018 – Around the world Alone
Race Start 1000UTC, Sunday, 1 July 2018



The host club for the Golden Globe 2018 Race is
The Royal Nomuka Yacht Club of Tonga
Sailonline.org is pleased to be partnering with the organisers and sponsors of the Golden Globe Race 2018 to bring the virtual version of this mammoth sailing feat to armchair navigators around the world. On the 1st of July the solo round the world non-stop Golden Globe 2018 Race will start from Les Sables-d'Olonne.
This year is the 50th Anniversary of the 1968 ocean classic won by Sir Robin Knox-Johnston in his 32 footer, 'Suhaili'. The GGR18 is an around the world solo race that is totally unique and open to all. There are yacht design limitations, unlike the first Golden Globe, as this is also a salute to Suhaili, but if there were not, it would become just another competition to see who can get the best sponsorship. For this reason Sailonline.org has chosen the Rustler 36 as our virtual boat. This race is something that the average sailing person worldwide (with commitment) can compete in. There are 18 entrants currently include young, old, experienced, amateur, professional, coastal, offshore, cruising and adventurous sailors from 13 countries.
Entrants include some of the world's best known skippers – legends of single-handed sailing.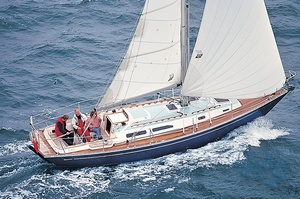 Rustler 36
The virtual GGR18 boat will have characteristics close to those of a Rustler 36 of which there are six yachts entered in the passage race and the main event. Participants in the virtual GGR18 will be able to test their navigational skills against the real Rustler 36s as well as the other yachts in the fleet. Also, with the permission of the race organisers and with the cooperation of YB Tracking, Sailonline.org will display the real fleet on the virtual race screen. This adds a sense of 'reality', competitiveness and involvement in the race.
Sailonline's virtual Golden Globe 2018 Race will open for registration soon to allow ample time to practise. Competing in virtual races on Sailonline is free and no advantage can be gained by buying a better suit of sails or including 'rock star' crew members. This is true one-design racing and a test of skill.
GGR 2018 Entry List


Races
Next Race: 00d 00h 00m
---
Current Races:
Sail Around Turkey 2019
Welcome to one of Sailonline's iconic races, where our fleet races the length of the Turkish coastline. This is a 1,372nm race from Hopa (the easternmost point of the Turkish Black Sea coast) to Iskenderun (the easternmost point of Turkey's Mediterranean coast).
Race #1279
INFOfrom brainaid.de
Sailonline_Falkun Particulars
WX Updates:
0430 / 1030 / 1630 / 2230
Ranking: SYC
ALT. CLIENT:Classic
Race starts: Aug 20th 14:00 Registration Open!
GO TO RACE
hmm's Delivery 2019
When, back in 2014, SOLer hmm went to Kiel in Germany and bought himself a very fine First 36.7, it came complete with the challenge of how to get her home to Helsinki, Finland. With summer fast approaching and press-ganging progressing slowly, SOL decided to help out with moral support and in the end nearly 200 SOLers accompanied him and his crew on the 588nm trip. A big success! Today hmm still sails his yacht all summer long on his home waters of the Gulf of Finland. So, five years on, let's re-enact his passage and get over there to join him as fast as we can, in our very quick Ker 40s on this occasion.
Race #1271
INFO by brainaid.de
Ker 40 PARTICULARS
WX Updates:
0430 / 1030 / 1630 / 2230
Ranking:
SYCCH – SYQ3 – SUPSOL – SYC
ALT. CLIENT:Classic
Race starts: Aug 15th 14:00 Registration Open!
GO TO RACE
Aden to Goa 2019
Europeans are mainly familiar with the history of how spices arrived in that continent from far away places, but the trade in spices from Goa to Aden predates the modern era as is detailed here. Sailonline is reversing this route and making it an eastbound yacht race of about 1700nm across the Arabian Sea for our 21st century Sunfast yachts! Fair winds and may the aroma of spices bring you safely to your destination!
PRIZE: SMPF
Race #1255
INFOfrom brainaid.de
Sunfast 3600 Particulars
WX Updates:
0430 / 1030 / 1630 / 2230
RANKING:
OCQ3-OCCH-SUPSOL-SYC
ALT. CLIENT: Classic
Race starts: Aug 12th 16:00 Registration Open!
GO TO RACE
Auckland to Russell 2019
Welcome to New Zealand and the iconic annual race up the east coast of North Island from Auckland to Russell. Racing conditions can be mixed - from flat out spinnaker rides, speedy reaching and even dying breezes before sunrise! On arrival thirsty yachties will find a traditional welcome of bacon butties and rum, before doing it all again.
This is a TIMEDrace.
RE-REGISTER HEREto race again after finishing a run
Race #1278
INFO by brainaid.de
Riptide 50 Particulars
WX Updates:
0430 / 1030 / 1630 / 2230
Rankings:
TRCH-TRQ3-SUPSOL-SYC
ALT. CLIENT:Classic
REGISTRATION CLOSE:
Wednesday, 21. August at 22:00 UTC.
RACE CLOSE:
Wednesday, 21. August at 23:00 UTC
Race starts: Aug 07th 12:00 Registration Open!
GO TO RACE
SYC Ranking
Series
Mobile Client
SYC members have the benefit of access to our mobile/lightweight web client!