4 June 2018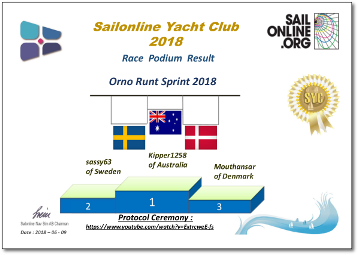 click on results image to see larger
GOOD ONYA Kipper1258!!!
GRATTIS sassy63!! TILLYKKE Mouthansar!
Race Leaderboard
Commentary
At first sight the Orno Runt course can look intimidating especially after zooming in! Set in the Swedish Archipelago the course itself looks straightforward enough – once round the island is all! – but with that zoom the scattering of islands becomes a rash and with the winds making the frst rounding more of a windward/leeward event, the islands all seem to be just not in the easiest of places! The start this year saw a few SOLers head away from the channel leading to the first rounding at Tallkoben, and it was from this group that at least two of our podium emerged. Once round the top of the island there were more choices to be made for the run to Enskar – at least the wind stayed true to its direction but, perhaps local wind shadows, meant that the most straightforward option wasn't necessarily the best. Round Enskar and NE to Bjorko and on round to the finish also gave pause for thought – best VMG... VMC… to pinch or not – and it was here that our podium three emerged. With 17 boats arriving in the first 10 minutes and the podium separated by less than a minute shows how tough the competition was. Congratulations to our top three!

Races
Next Race: 00d 00h 00m
---
Current Races:
Gulf Run 2018
Join us for our Gulf Run, a 550nm trip south across the warm waters of the Gulf of Mexico from Florida to Mexico. Leaving Pensacola Bay, we round Fort Pickens and then, leaving reality behind, we head south to paradise where beautiful beaches and waters are waiting for us down in the western Caribbean at Isla Mujeras, Mexico, located at the tip of the Yucatan Penisula.
Race #447
INFO from brainaid.de
J130 Particulars
WX Updates:
0430 / 1030 / 1630 / 2230
RANKING: SYC
ALT. CLIENT: Classic
Race starts: Aug 19th 18:00 Registration Open!
GO TO RACE
Beru to Bora Bora 2018
Welcome to the islands of the Pacific, whose original migrants arrived from Indonesia and reached as far as Hawaii and beyond. This Sailonline race, designed by SOLer Dingo in 2015, is a 2219nm segment of those original migration routes, and takes us from Beru Island in Kiribati to Bora Bora in Tahiti. As you enjoy the luxury of your GB90, spare a thought for those crossing these waters long ago in simple outriggers.
Race #1175
INFO from brainaid.de
GB90 Particulars
WX Updates:
0430 / 1030 / 1630 / 2230
Ranking: OCCH-SUPSOL-OCQ3-SYC
ALT. CLIENT: Classic
PRIZE: SMPF
Race starts: Aug 13th 16:00 Registration Open!
GO TO RACE
Sail Around Turkey 2018
Welcome to one of Sailonline's iconic races, where our fleet races the length of the Turkish coastline. This is a 1,372nm race from Hopa (the easternmost point of the Turkish Black Sea coast) to Iskenderun (the easternmost point of Turkey's Mediterranean coast).
Race #1173
INFOfrom brainaid.de
Open 60 Particulars
WX Updates:
0430 / 1030 / 1630 / 2230
Ranking: SYC
ALT. CLIENT:Classic
RACE CLOSE: Friday, 17 August at 23:00 UTC
Race starts: Aug 07th 15:00 Registration Closed
GO TO RACE
Golden Globe Race - Leg 1 to Storm Bay
Welcome, all, to the 2018 Golden Globe Race and Sailonline's virtual version of this iconic 50th anniversary rerun of 1968's first ever non-stop single-handed round-the-world race in yachts and with technology in keeping with that historic time.
To reflect the challenge being undertaken by the real racers, as announced previously, SOL invites all who feel so inclined to add their boat name to the post in FORUM declaring you will race by the proverbial "Seat Of The Pants" (SOTP) with no outside assistance from routing software or other external aids, BEFORE THE STARTING GUN IS FIRED.
To simulate the real race which features a 90 minute minimum stopover in Storm Bay, SOL's online version has been divided into two legs. This first leg then is from Les Sables-d'Olonne to Storm Bay. When the leaders approach Storm Bay, Leg 2 from thence back to Les Sables via Cape Horn, will open. YOU MAY NOT START LEG 2 UNTIL AT LEAST 90 MINUTES AFTER FINISHING LEG 1. The penalty for starting Leg 2 before finishing Leg 1 is NO RANKING. The penalty for starting Leg 2 within 90 minutes of finishing Leg 1 is 5x the time you started too early.
DO NOT START TOO EARLY!
Fair winds and good luck!!
Race #1154
INFO by brainaid.de
Rustler 36 PARTICULARS
WX Updates:
0430 / 1030 / 1630 / 2230
Ranking: GGR
ALT. CLIENT:Classic
Race starts: Jul 01st 10:00 Registration Open!
GO TO RACE
SYC Ranking
Series
Mobile Client
SYC members have the benefit of access to our mobile/lightweight web client!