8 August 2019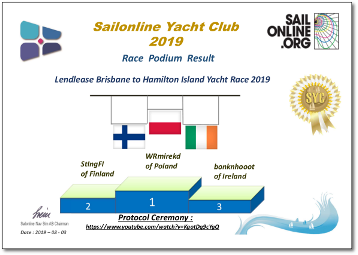 click on results image to see larger
GRATULACJE WRMirekd!!!
ONNEKSI OLKOON StIngFI!! MAITH AN FEAR bonknhoot!
Race Leaderboard
Reports



Commentary
Sailonline was delighted to become the official virtual "buddy" for the inaugural Brisbane to Hamilton Island Yacht Race, sponsored by Lendlease and organised by Royal Queensland Yacht Squadron and what a brilliant race it was! As is now customary with RQYS races, there was a superb livestream and commentary for the start and with the real fleet brought on-screen, it was fun to observe the performance of the real yachts. Their results can be found here
SOLers flying the flags of 28 different nations took part in the race which started at 0100utc which meant that for those in Europe, unless they were dedicated enough to stay up into the early hours of the morning, they were going to have to use delay commands. The Brisbane departure is always tricky and it was clear that several racers decided to delay their start until they were awake rather than find that they had missed a mark and needing to backtrack. To do this is clearly a choice, but it is always better to start with the start of the race and if you are uncertain of your ability to set accurate DCs then simply stop your boat with a TWA=0 at point of your choosing, then when you are able to steer again, you are where you planned to be!
Our top three were clearly made of stern stuff as, all from Europe, they showed us how to race up Australia's Gold Coast! Arriving within moments of each other, this was another brilliantly competitive event. Bravo guys!


Races
Next Race: 00d 00h 00m
---
Current Races:
Caspian Chilov Chiller 2019
So here we are on the shores of the Caspian Sea in December. Ice is breaking up along the beach and the sheets grind over each other. Further North,the sea is wholly frozen over. Undaunted, clad in thermal suits, balaclavas, ski gloves and insulated Dubarry's, and with the space heater on down below, we invite you to venture out for a brisk 28nm race in Linjett 33s, round Chilov island and back home to Gurgan harbour. Don't dawdle!
Race #1300
INFOby brainaid.de
Linjett 33 Particulars
WX Updates:
0430 / 1030 / 1630 / 2230
Ranking:
SPRCH - SRQ4 - SUPSOL - SYC
ALT. CLIENT: Classic
Race starts: Dec 14th 18:00 Registration Open!
GO TO RACE
Yates Cup TIMED Race 2019
Welcome to a replication of the shortened 2017 edition of this Category 3+ race from Auckland around the Hauraki Gulf which, on this occasion is being run in the form of a TIMEDRACE.
Also, we are pleased to introduce you to a brand-new arrival in the Sailonline boathouse, namely the MC 38. Be sure to check out its "Particulars".
Race #1306
RE-REGISTER HERE to race again after finishing a run.
Race #1306
INFOfrom brainaid.de
MC 38 Particulars
WX Updates:
0430 / 1030 / 1630 / 2230
Ranking:
TRQ4-TRCH-SUPSOL-SYC
ALT. CLIENT:Classic
Race starts: Dec 10th 12:00 Registration Open!
GO TO RACE
Christmas(W) to Christmas(E) Island 2019
Welcome to Sailonline's race to Christmas!
5,827nm in Volvo 70s provides a sailing adventure for the run up to the festive season. Our race takes us from Christmas Island in the Indian Ocean to Christmas Island in the Pacific – how many of you knew there were two?! Many routing options so please have fun! Fair winds!
Race #1303
INFO by brainaid.de
Volvo 70_v4 Particulars
WX Updates:
0430 / 1030 / 1630 / 2230
RANKING: OCCH-OCQ4-SUPSOL- SYC
PRIZE: SMPF
ALT. CLIENT: Classic
Race starts: Nov 26th 16:00 Registration Open!
GO TO RACE
SYC Ranking
Series
Mobile Client
SYC members have the benefit of access to our mobile/lightweight web client!