Online Sailracing!
Sailonline.org is owned and operated by Sailonline NavSim AB, a not for profit, community-owned company.
Sailonline's mission is to offer a superior internet-based sailing and navigation simulation to the global sailing community, whilst ensuring a future of growth and continuous enhancement to benefit its users through financial viability and long term vision.
Sailonline is free for everyone to play and is supported by SYC Memberships.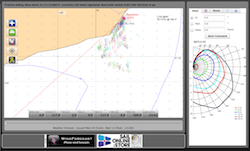 Create your account
News from the blog
Welcome!
Now login with our guest account to view currently running races: Username: guest - Password: guest
PLEASE ONLY REGISTER YOUR OWN USERNAME AND PASSWORD IF YOU INTEND TO RACE.
All times on Sailonline are in UTC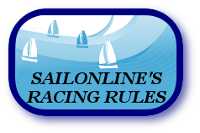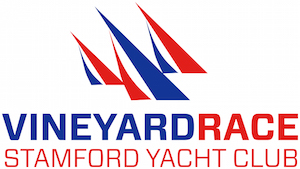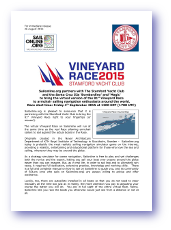 Press Release
Over Labor Day weekend (4-7 September) the Stamford Yacht Club, Connecticut, USA, will be welcoming Sailonline back for the 81st running of the iconic 238-mile Vineyard Race and the sixth Virtual Vineyard race. Run at the end of the summer sailing season this classic race takes racers from the western part of Long Island Sound out to Massachusetts and back. Because of the configuration of Long Island Sound and the time of year, racers can face complex wx conditions along with strong tidal currents. For the first time, racers on Sailonline will benefit from the WRF wind model – giving a wx system grid of only 0.100 degrees! Sailonline will sail the full Vineyard course irrespective of real-world weather conditions which, on occasion, can require the real fleet to race within the Sound. Sailonline will again be using the polar of the Santa Cruz 52 and racing against 'Bombardino' and 'Magic' in the real race.
Since the first Vineyard Race in 1932 there have been many celebrated entrants - the record time for the race remains that set in 2007 by Stamford Yacht Club's Reichel/Pugh 66, Blue Yankee, of 20h 20m 15s.
Current Entry List
Vineyard Race Blog


click to see larger image
click on results image to see larger
Поздравляю kenza!!! CONGRATULATIONs javakeda!! GOOD ONYA Dingo!
Race Leaderboard
The Hawaiian ZigZag race is always fun, introducing SOLers to the challenging waters around the Hawaiian islands and, if you take the time to check out the Google Earth Fleet overlay, you can see the amazing terrain of these volcanic islands. One natural phenomenon we don't encounter, of course, is the "vog" – Hawaii doesn't have fog in the traditional sense of the word, but a volcanic equivalent!
This was a good race and our podium and top finishers are to be congratulated for their success – read the reports linked below to see how it was achieved!
Reports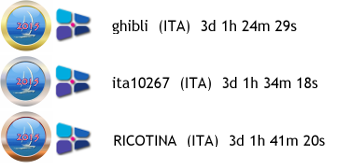 click on results image to see larger
CONGRATULAZIONI to ghibli!!!, to ita10267!! and to RICOTINA!
Race Leaderboard
This annual classic real race from Palermo to Monte Carlo brings to the Mediterranean a glamorous fleet of all sizes. Sailonline's race, replicating the real course, is conventionally raced in a Class 40 and this year the real fleet saw participation of several Class 40s, not least former Global Ocean Race challenger Financial Crisis. It was fun, then to keep an eye on how the real fleet performed. More fun, however, was the way in which the Sailonline fleet split after the first mark – it was a tough choice to make and the fact that one of our podium place-takers came from both demi-fleets proves just what a close-run thing it was!
Congratulazioni to our all-Italian podium – in fact the top five were all "locals" – your performance will definitely light a fire under the rest of us next year! Bravo!
Reports



Races
Next Race: 00d 00h 00m
---
Current Races:
SSANZ Safety at Sea Two-Handed Triple Series 2015 - Race 3
Welcome to the third and final race of this year's SSANZ Triple Series on the waters off Auckland, New Zealand. This is the Baltic 50, and again Sailonline will be racing against members of the Young 88 Association!
Race #863
Chart from brainaid.de
Young 88 POLAR
WX Updates: 0430 / 1030 / 1630 / 2230
Ranking: SSANZ 2015 -SYC
ALT. CLIENT Classic
Race starts: Sep 04th 21:10 Registration Open!
GO TO RACE
The Vineyard Race 2015
The Stamford Yacht Club welcomes Sailonline to its 2015 running of The Vineyard Race. The course runs from Stamford to Buzzard's Bay Light near Martha's Vineyard Island and back again, leaving Block Island to starboard. Sail against the real fleet in your Santa Cruz 52.
Race #860
NORfrom brainaid.de
Santa Cruz 52 POLAR
WX Updates: 0430 / 1030 / 1630 / 2230
Ranking: SYC - SYQ3 -SYCCH - SUPSOL
ALT. CLIENT:Classic
Race starts: Sep 04th 17:00 Registration Open!
GO TO RACE
SYC Ranking
Series
Mobile Client
SYC members have the benefit of access to our mobile/lightweight web client!