Online Sailracing!
Sailonline.org is owned and operated by Sailonline NavSim AB, a not for profit, community-owned company.
Sailonline's mission is to offer a superior internet-based sailing and navigation simulation to the global sailing community, whilst ensuring a future of growth and continuous enhancement to benefit its users through financial viability and long term vision.
Sailonline is free for everyone to play and is supported by SYC Memberships.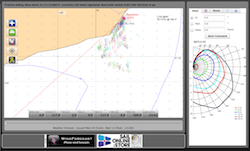 Create your account
News from the blog
Welcome!
Now login with our guest account to view currently running races: Username: guest - Password: guest
PLEASE ONLY REGISTER YOUR OWN USERNAME AND PASSWORD IF YOU INTEND TO RACE.
All times on Sailonline are in UTC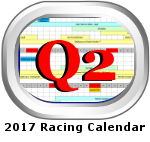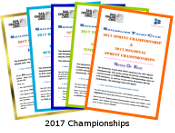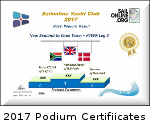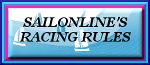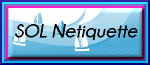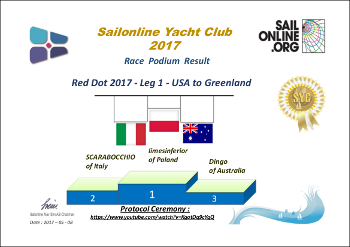 click on results image to see larger
GRATULACJE limesinferior!!!
CONGRATULAZIONI SCARABOCCHIO!! GOOD ONYA Dingo!
Race Leaderboard
Reports



Commentary
The story of Matt Rutherford's solo sail around the America's is the stuff of legend – if you aren't familiar with it, as many might not be, here is the website. It is a remarkable tale. SOLer Renegade thought it would be a fun challenge for Sailonline in our beautiful Super Maxi 100s and as we set sail from Chesapeake, it was truly with a sense of adventure. Yes, we have sailed most of the route before in different races, but this time we are sailing in the wake of true adventure.
Our podium three were among several who, after Cape Breton, were clearly in the running for the top spots and after some "jockeying" for position in top SOLer fashion, our podium was decided. Our winner has written a report for us to see how he arrived first at the finish line. Bravo to our podium three!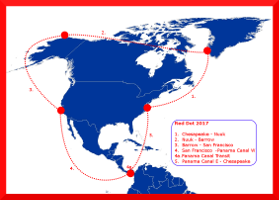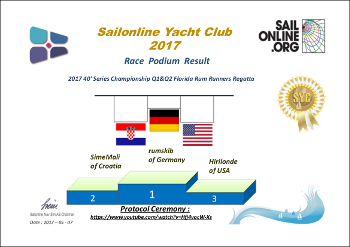 HERZLICHEN GLÜCKWUNSCH rumskib!!!
ČESTITAMO SimeMali!! CONGRATULATIONS Hirilonde!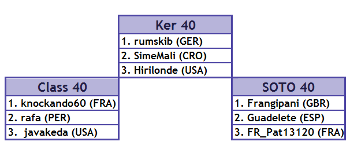 Commentary
This is the fifth of six races of the Sailonline's new 40ft Championship 2017 in which SOLers have been invited to use their judgement to pick the best boat for the published race out of three polars. For some of us our options were limited as we have worked through the three types in alphabetical order and two-by-two, for others, a "one at a time" type-choice means there was still a choice. Unfortunately, for many, the race didn't quite go to plan. Sailing from Florida to the Bahamas can be a glamorous experience and no doubt a full menu of rum and rum cocktails were part of the adventure.
Our podium three are to be congratulated on their success, first three in the fleet and first three in the Ker 40 group! Well done!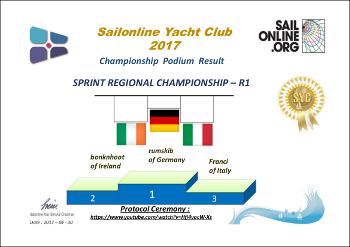 Race Leaderboard
PRIZES
HERZLICHEN GLÜCKWUNSCH rumskib!!!
GEFELICITEERD bonknhoot!! CONGRATULAZIONI Franci!
The first regional Championships have now concluded and rumskib has emerged as the winner. For 2017 SRC modified the series format from a reasonable range of start locations and times to one that sequentially favoured areas of our world during times when their sailors were more likely to be home in front of the fire than freezing on the yacht's rail.
This first of three series favoured the Americas with a start time of 1800 UTC that was 'good' for them.
The second series of six races favours the Australia/New Zealand & Far East skippers some of whom are beginning their winter with a start time of 0200 UTC that was 'good' for them.
The final series will return to Europe/Africa with a start time of 1000 UTC.
As turnout per race in this first region has ranged between 84 and 137 - which was a bit disappointing - SRC would encourage you to consider participating in your own 'winter or off season' sprint series. Give it a go!
Richard / Go4iT
Chair – SRC

Races
Next Race: 00d 00h 00m
---
Current Races:
Red Dot 2017 - Leg 2 - Greenland to Alaska
Inspired by Matt Rutherford's single handed circumnavigation of the Americas, and proposed by SOLer Renegade, Sailonline is racing the course in 5 legs. This is Leg 2 - 2,099nm from Nuuk, Greenland to Barrow, Alaska.
Race #1029
INFO by brainaid.de
SuperMaxi 100 Particulars
WX Updates:
0430 / 1030 / 1630 / 2230
RANKING: RedDot - SYC
ALT. CLIENT: Classic
Race starts: May 17th 10:00 Registration Open!
GO TO RACE
Rendezvous 2017 - Tall Ships Regatta - Sines to Bermuda
Welcome to the first of three Rendezvous Tall Ships events, where we race our superb Clippers across the Atlantic - a total of 3213nm from Sines, Portugal to Bermuda NOTE:Starts and Finishes in tall ships racing are well offshore to avoid conflict with shipping and shipping lanes.
Race #1031
INFO by brainaid.de
Clipper Particulars
WX Updates:
0430 / 1030 / 1630 / 2230
RANKING: TS-RDV - SYC
ALT. CLIENT: Classic
Race starts: May 01st 17:00 Registration Open!
GO TO RACE
SYC Ranking
Series
Mobile Client
SYC members have the benefit of access to our mobile/lightweight web client!