Online Sailracing!
Sailonline.org is owned and operated by Sailonline NavSim AB, a not for profit, community-owned company.
Sailonline's mission is to offer a superior internet-based sailing and navigation simulation to the global sailing community, whilst ensuring a future of growth and continuous enhancement to benefit its users through financial viability and long term vision.
All Sailonline boats and their properties are purely virtual and do not necessarily reflect real world data.
Sailonline is free for everyone to play and is supported by SYC Memberships.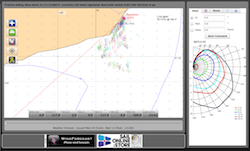 Create your account
News from the blog
Welcome!
Now login with our guest account to view currently running races: Username: guest - Password: guest
PLEASE ONLY REGISTER YOUR OWN USERNAME AND PASSWORD IF YOU INTEND TO RACE.
All times on Sailonline are in UTC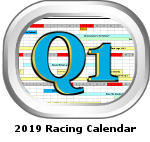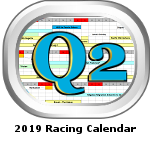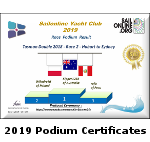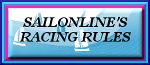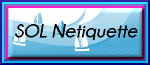 GDPR - General Data Protection Regulations
- Sailonline wishes to reassure all SOLers that it is aware of the regulation changes in relation to the protection of personal data. Sailonline cares about your privacy and will continue to let you control the personal information you provide.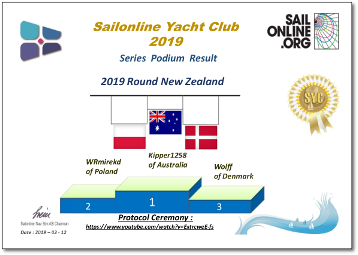 click on results image to see larger
GOOD ONYA Kipper1258!!!
GRATULACJE WRmirekd!! TYLLYKKE Wolff!
Series Leaderboard
Leg Results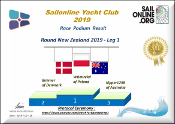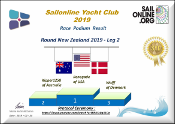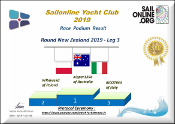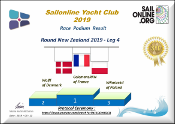 Series Reports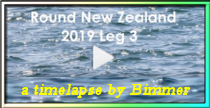 Commentary
Sailonline regularly races around the E coast of New Zealand's North Island and, arguably, some of us are more familiar with the waters of the Hauraki Gulf than we are of the waters around our own countries, but it is seven years since we last raced a full circumnavigation of both of New Zealand's islands. Last time, as now, we were buddied with SSANZ and being able to bring the tracks of the real racers on-screen, and follow updates via social media, really creates a sense of participating in a real event.
The initial hop from Auckland to Mangonui was just a wee tester – checking that all was shipshape. Leg 2, the longest leg from Mangonui, around the top of North Island and then the full length of South Island's west coast to Stewart Island, was challenging – particularly for the real racers as they encountered the full power of winds and currents from the Southern Ocean, but no less challenging for our virtual fleet as wx updates across potentially fickle conditions became crucial. Leg 3 still didn't feel like a "home run" and the shelter afforded real and virtual fleets by the landmass of South Island meant that tactics really came into play – some finding choice spots for bbq (mostly unintentionally) and others really bringing all skill to bear. Finally Leg 4 – a "Coastal Classic" race, to all intents and purposes, was a fun run back to Auckland but familiarity with the course and the phase from Coromandel into Auckland didn't mean any less need to really concentrate.
Those who gained podium places in each of Sailonline's Legs are to be congratulated for their performances, while our Series winners are to be complimented on their consistent performance and admired for their skill at steering their Sunfast 3600s to such success. Very well done to all of you!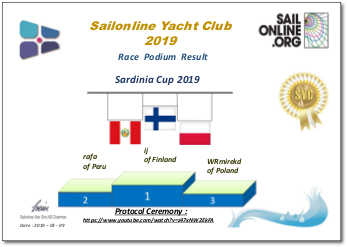 click on results image to see larger
ONNEKIS OLKOON ij!!!
FELICIDADES rafa!! GRATULACJE WRmirekd!
Race Leaderboard
Reports

Commentary
The Western Mediterranean is ofttimes windy in early March. However, this slightly untimely re-enactment of the Sardinia Cup, over SOL's own fantasy course, found the weather docile, featuring a long beat all the way up the west coast, where the race was won and lost, as the forecasts changed from one update to the next, making it tricky indeed to judge when and for how long to hitch away from the gaining port tack north out to where the wind was stronger west.
Our winner's ij's mastery of these choices proved to be exceptional, but his pursuers were never far behind, closing the gap to just 5 minutes on the run in to the finish at Cannigione. Impressive from ij, but well done rafa and WRmirekd hanging on to ij's coattails also! Watch it all in bimmer's timelapse production HERE.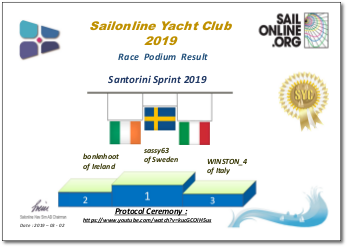 click on results image to see larger
GRATTIS sassy63!!!
MAITH AN FEAR bonknhoot!! CONGRATULAZIONI WINSTON_4!
Race Leaderboard
Reports

Commentary
With the coasts of the flooded volcano that makes up the Santorini archipelago sloping steeply down to the bottom, this quick(-ish) circumnavigation saw competitors engage in plenty of rock-hugging, and naturally occasionally coming to grief.
But this race involved more than just cornering, and with a big obstacle blocking the best route to the finish, left or right of it, and either way how exactly, proved to be quite a puzzle, as you may glean from our winner sassy63's report above. Well raced indeed sassy63!

Races
Next Race: 00d 00h 00m
---
Current Races:
Van Isle 360 2019 Clockwise
Welcome back to Vancouver and the 525nm delightful course designed by SOLer fastpassage39. This is a tricky race, combining tight channels and open water which our TP 52 will love, and this year we'll do it CLOCKWISE!!!
Race #1238
INFO by brainaid.de
TP 52 Particulars
WX Updates:
0430 / 1030 / 1630 / 2230
Ranking: SYC
ALT. CLIENT:Classic

Race starts: Mar 25th 20:00 Registration Open!
GO TO RACE
China Sea 200 Dash
RHKYC (Royal Hong Kong Yacht Club) is once again our "Buddy" in this, their fourth edition of the China Sea 200 Dash race. It's the first time this race is done by SOL, so we don't know what to expect!
RHKYC is writing about this race: "The Royal Hong Kong Yacht Club cordially invites entries to the fourth China Sea 200 Dash, a Category 3 offshore race with life raft using virtual marks to create a course which starts and finishes in Hong Kong waters. The intent is to help boats get tuned-up and their crews ready for night sailing before the start of the Puerto Galera Yacht Race 2019."
SOL is racing a 127 NM course in our TP 52's.
Race #1237
INFOfrom brainaid.de
TP 52 Particulars
WX Updates:
0430 / 1030 / 1630 / 2230
Ranking:
SYC.
ALT. CLIENT Classic
RACE CLOSE:Tuesday, 26. March at 23:00 UTC.
Race starts: Mar 23rd 01:00 Registration Closed
GO TO RACE
Hook Island TIMED Race 2019
The 2nd race of the 2019/Q1 Timed Race Championship is a 64nm race amongst the Aussie Islands between Hook and St Bees in Far East 28R's
RE-REGISTER HERE to race again after finishing a run.
Race #1224
INFO from brainaid.de
Far East 28R Particulars
WX Updates: 0430 / 1030 / 1630 / 2230
Ranking: TRCH – TRQ1 – SUPSOL - SYC
ALT. CLIENT:Classic
RACE CLOSE: 31 March at 2300utc
Race starts: Mar 17th 23:00 Registration Open!
GO TO RACE
Golden Globe Race 2018 - Leg 2 Storm Bay to Les-Sables d'Olonne
Welcome to Leg 2 of Sailonline's virtual version of the 2018 Golden Globe Race. After a brief respite in Storm Bay, Tasmania, of a minimum of 90 minutes after arrival, we are now racing across the Pacific, round Cape Horn and home to Les-Sables d'Olonne.
DO NOT START TOO EARLY
If you raced Leg 1 then you MUST wait 90 minutes before starting this leg. The penalty for starting Leg 2 before finishing Leg 1 is NO RANKING. The penalty for starting Leg 2 within 90 minutes of finishing Leg 1 is 5x the time you started too early.
Race #1181
INFO by brainaid.de
Rustler 36 PARTICULARS
WX Updates:
0430 / 1030 / 1630 / 2230
Ranking: GGR
ALT. CLIENT:Classic
Race starts: Sep 15th 12:00 Registration Open!
GO TO RACE
SYC Ranking
Series
Mobile Client
SYC members have the benefit of access to our mobile/lightweight web client!