Facebook
Login
Support Sailonline
If you haven't already - join the SAILONLINE YACHT CLUB!
Please also consider making a donation - all amounts are greatly appreciated!

Sailonline Store
Partners
Online Sailracing!
Sailport Sailonline.org offers online offshore sailracing as you have never experienced it. With super realistic boat performance, state of the art wind forecasts and realtime chat you will have the ultimate online sailracing experience.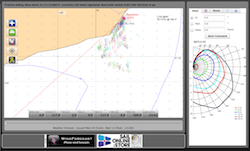 Create your account
News from the blog
Welcome!
Now login with our guest account to view currently running races: Username: guest - Password: guest
PLEASE ONLY REGISTER YOUR OWN USERNAME AND PASSWORD IF YOU INTEND TO RACE.
---
22 May 2013
The Auckland to Musket Cove, Fiji Ocean Race 2013 is now open for sneak preview. Follow the instructions here to check it out.
19 May 2013
- The Current Calendar now extends out to 23 June.
18 May 2013
- In early May an email invitation was sent to all SYC Members (as at 1 May 2013) to participate in the future of SOL, as a result of Jakob's announcement.
- The closing date for this current participation is 25 May. If you wish to participate, were an SYC Member on 1 May 2013 and have not yet seen the email from Svein, please email him at svein.a@telia.com confirming your boatname/first name/last name/email address and the invitation will then be emailed to you.

---

Click to see the proposed Racing Calendar for a few weeks ahead.
---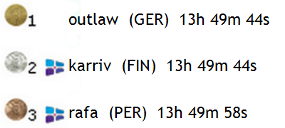 HERZLICHEN GLÜCKWUNSCH outlaw!!! ONNEA karriv!! FELICIDADES rafa!
This lovely classic race in the Swedish archipelago is always a delight and heralds the start of the European summer racing season. With changeable conditions and SLIs a-lurking it requires skill, concentration and a keen anticipation of forecast winds to pull off a podium place here and SOL's podium three have done just that. 1st and 2nd arrived within hundredths of a second of each other with 3rd arriving moments later - a total of 35 boats finished within the first 10 minutes! Well fought guys! /RainbowChaser
---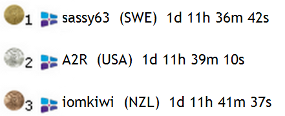 GRATTIS sassy63!! CONGRATULATIONS A2R!! WELL DONE iomkiwi!
BRAVO guys - its always good to see new names on the podium. This looks to have been an interesting race, I am just sorry I was unable to participate from my hospital bed. A proper race report will hopefully be available shortly! /RainbowChaser
---

Race Report by NZL_Scotsman
The second leg of the Captain Anderson resupply series was a fleet race that passed 4 lights off Vancouver Island to the SW of the city of Vancouver. The series commemorates my grandfather who supplied the lights with a sailing ship many decades ago. The course was always going to be a challenge with the Bare Rock light accessed via narrow channels. However, the light fickle winds made the challenge very tough indeed. There was carnage on the course with numerous beachings and countless tacks and gybes. Lots of boats rose and fell on the leaderboard faster than the tides. Even the best were caught out with podium places lost within sight of the finish. sassy63 came out best and was closely chased to the line by A2R and iomkiwi. The key to the win was avoiding the beach, staying in better pressure and using the wind shifts to gain advantage on the course.

---
Races
Next Race: 00d 00h 00m
Current Races:
Jubilant Race 2
Jubilant crewed by SOLers, is sailing round the Eddystone Lighthouse in the second of her two qualifying races for this year's Fastnet Race. ybw_mjm, Skipper of Jubilant invites SOLers to sail this 230nm course at the same time.
Race #575 NOR / POLAR
WX Updates: 0430 / 1030 / 1630 / 2230
Ranking: SYC_Weekend/SYC
SOL Classic Client
Race starts: May 25th 08:30 Registration Open!
GO TO RACE
Aeolian Challenge 2013
The Aeolian Islands are a UNESCO Heritage site located off the coast of Sicily in the Mediterranean. For SOLers they provide a race course (288nm in Super Maxi 100s), for vulcanologists an endless supply of new data.
Race #568 NOR / POLAR
WX Updates: 0430 / 1030 / 1630 / 2230
Ranking: SYC_Week/SYC
SOL Classic Client
Race starts: May 22nd 11:00 Registration Open!
GO TO RACE
Magnus Olsson Tribute Race
Magnus Olsson was one of the best-known and most liked of all ocean racers and tributes to him say it all. In memory of this remarkable sailor, SOLers have decided to race his mythical Quingdao-Rio leg of the 2008 Volvo Ocean Race. It will be 12519nm on VO70v4s!
Race #573 NOR / POLAR
WX Updates: 0430 / 1030 / 1630 / 2230
Ranking: SYC_Ocean/SYC
SOL Classic Client
Race starts: May 11th 18:00 Registration Open!
GO TO RACE
SYC Ranking
Series
Mobile Client
SYC members have the benefit of access to our mobile/lightweight web client!