Online Sailracing!
Sailonline.org is owned and operated by Sailonline NavSim AB, a not for profit, community-owned company.
Sailonline's mission is to offer a superior internet-based sailing and navigation simulation to the global sailing community, whilst ensuring a future of growth and continuous enhancement to benefit its users through financial viability and long term vision.
All Sailonline boats and their properties are purely virtual and do not necessarily reflect real world data.
Sailonline is free for everyone to play and is supported by SYC Memberships.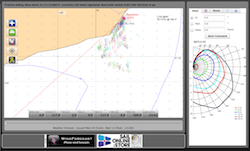 Create your account
News from the blog
Welcome!
Now login with our guest account to view currently running races: Username: guest - Password: guest
PLEASE ONLY REGISTER YOUR OWN USERNAME AND PASSWORD IF YOU INTEND TO RACE.
All times on Sailonline are in UTC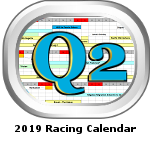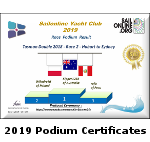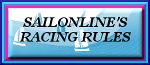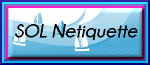 GDPR - General Data Protection Regulations
- Sailonline wishes to reassure all SOLers that it is aware of the regulation changes in relation to the protection of personal data. Sailonline cares about your privacy and will continue to let you control the personal information you provide.

Sailonline is delighted to announce that, we will again be partnering with the prestigious San Diego Yacht Club (SDYC) for the 2019 running of the SoCal 300 race. SDYC has been racing in reality in the waters off San Diego for 130yrs and in 2016 it became the first USA West Coast yacht club to bring virtual sailing navigation to its members and the west coast sailing community. This makes 2019 the fourth year that SDYC will be offering a virtual version of the SoCal 300.
As is tradition, the SoCal 300 is the third and final ocean race of this year's California Race Week and sees the fleet race a slalom course from Santa Barbara to San Diego, starting on 30 May.

Sailonline will be going head to head with the real fleet – as always it is intended to bring the tracks of Sailonline's competitors on-screen – and as we are racing our Santa Cruz 52 polar, there are two direct competitors in the current Entry List – Lucky Duck, Prevail and Triumph – plus five Santa Cruz 50s for close company. Sailonline's race will open for pre-race practice on Monday, 27 May.
Current Entry List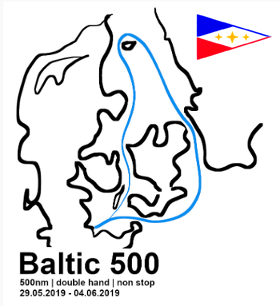 Sailonline is proud to announce that it is partnering with Yacht Club Strande in the virtual version of the Baltic 500 Challenge. The Baltic 500 Challenge is a 500nm yacht race from Strande near Kiel in Northern Germany, leaving the islands of Funen and Læsø, in Denmark to port and back to Kiel. This is a brand-new race and we look forward to including it in our calendar from now on.
As we go to press, the entered fleet counts 51 boats ranging in almost all sizes and designs. To stay in the mix, virtual SOLers will be sailing the Sunfast 3600, and, like the real fleet, we will be doing our best to beat the 51 other entrants in the 'real race'. We hope to be able to track the fleet so racers on Sailonline will be able to see the real fleet positions, as updated, on the virtual race screen.
Entry List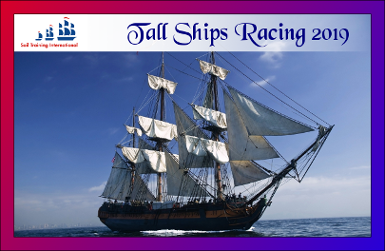 2019 sees the ninth season of Sailonline's association with tall ships races organised by Sail Training International. This year we won't be going "intercontinental" but the four races in Sailonline's series will all take part around Europe in two separate events and we will be aiming to bring the tracks of the Class A entrants in all races on-screen so we can compare performances!
This is what we have in store:
In June, two races of the Liberty Tall Ships Regatta - Race 1 from a Tall Ships Festival in Rouen, France, to one in The Hague/Scheveningen, Netherlands and then Race 2 from The Hague/Scheveningen to the Tall Ships Festival in Aalborg, Denmark.
In July, two races of The Tall Ships Races 2019 - in July this year – Race 1 from Aalborg, Denmark to Fredrikstad, Norway and Race 2 from Bergen, Norway, to Aarhus, Denmark. As always, the real ships will sail a Cruise-In-Company between Fredrikstad and Bergen during which time there can be crew exchanges as the ships make their way to various welcome-ports along the way.
This virtual sailing experience runs hand in hand with Sail Training International's mission - the development and education of young people through the sail training experience, regardless of nationality, culture, religion, gender or social background. Sail Training International and Sailonline both count heavily on volunteer support with financial gain excluded from the equation.
Navigating a tall ship is a remarkably challenging affair, especially if you are more familiar with modern yachts, and gives a real insight into the true nature of ocean exploration in days gone by, so why not start learning the basics today so you will be ready for your Tall Ships experience!
There are four classes of Tall Ship in the real races, ranging from the biggest Class A Square Rigged ships of more than 40m in length, down to training yachts of 9.14m. Sailonline has developed performance polars based on published data for several different tall ships, and races to compete against Class A ships.
Sailonline's first race will open for practice on Tuesday, 11 June and this year we will be sailing the polar of our Clipper ship.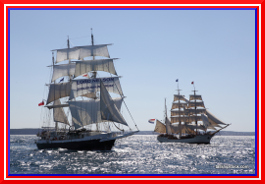 Races
Next Race: 00d 00h 00m
---
Current Races:
Baltic 500 2019
Sailonline welcomes you to Kiel and our running of the Baltic 500 Challenge. With shallow waters and strong local currents in the Baltic and Danish waters, this close race will truly be a challenge for the IRL fleet, but also for the SOL fleet, which will have to contend with the vagaries of WRF weather. Will our Sunfast 3600 be a match for the real fleet's 51 different boat designs? Time will tell!

It is imperative that you read AND understand these special Starting Conditions for the Baltic 500 2019
Starting Conditions!!
Race #1258
INFO
from brainaid.de
Sunfast 3600
Particulars
WX Updates:
0430 / 1030 / 1630 / 2230
Ranking: SYC
ALT. CLIENT
Classic
Race starts:
May 30th 08:00
Registration Open!
GO TO RACE
Jubilant Race 2019
Yacht Jubilant crewed by SOLers and chums, will be racing round the Eddystone Lighthouse this weekend, in the second of her two qualifiers for the 2019 Irish Rock Race and invites Sailonline to join her in this 230nm event.
Race #1257
INFO from brainaid.de
J30 Particulars
WX Updates:
0430 / 1030 / 1630 / 2230
Ranking: None
ALT. CLIENT:Classic
Race starts: May 25th 08:30 Registration Open!
GO TO RACE
Tokyo to San Francisco 2019
Welcome to a quick 4500nm jaunt in our 60ft Trimarans.
Don't forget to stow a bonito and some miso and something to drink for this transpacific race from Tokyo to San Francisco in hopefully good weather and good wind.
PRIZE: SMPF
Race #1251
INFO from brainaid.de
60ft TrimaranParticulars
WX Updates:
0430 / 1030 / 1630 / 2230
Rankings: OCCH-OCQ2-SUPERSOL-SYC
ALT. CLIENT: Classic
Race starts: May 15th 17:00 Registration Open!
GO TO RACE
Golden Globe Race 2018 - Leg 2 Storm Bay to Les-Sables d'Olonne
Welcome to Leg 2 of Sailonline's virtual version of the 2018 Golden Globe Race. After a brief respite in Storm Bay, Tasmania, of a minimum of 90 minutes after arrival, we are now racing across the Pacific, round Cape Horn and home to Les-Sables d'Olonne.
DO NOT START TOO EARLY
If you raced Leg 1 then you MUST wait 90 minutes before starting this leg. The penalty for starting Leg 2 before finishing Leg 1 is NO RANKING. The penalty for starting Leg 2 within 90 minutes of finishing Leg 1 is 5x the time you started too early.
Race #1181
INFO by brainaid.de
Rustler 36 PARTICULARS
WX Updates:
0430 / 1030 / 1630 / 2230
Ranking: GGR
ALT. CLIENT:Classic
Race starts: Sep 15th 12:00 Registration Open!
GO TO RACE
SYC Ranking
Series
Mobile Client
SYC members have the benefit of access to our mobile/lightweight web client!