Online Sailracing!
Sailonline.org offers an unparalleled online gaming experience of sailing and navigation simulation. With super realistic boat performance, state of the art wind forecasts and in-race updates, plus realtime chat, this is the ultimate online sailracing experience.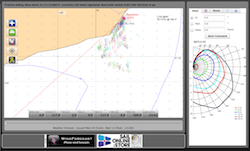 Create your account
News from the blog
Welcome!
Now login with our guest account to view currently running races: Username: guest - Password: guest
PLEASE ONLY REGISTER YOUR OWN USERNAME AND PASSWORD IF YOU INTEND TO RACE.
_____________________________________________________________
There is brief 20-minutes maintenance window planned on the Sailonline server on Tuesday, 10 December, between 1100utc and 1200utc.
The server will be fully stopped at this time which means that boats will not move and DCs set to fire during this time will be executed upon successful server restart. We will let you know if there is any alteration to this plan.
/Markku
_____________________________________________________________
click on results image to see larger
Race Leaderboard
CONGRATULATIONS to the two teams and three individuals who have taken the top five spots in this remarkable race - your stamina and endurance are to be commended indeed and, as recognition of just what a tough task it was to win here, you are ALL awarded gold winner medals! BRAVO!!
A quick read of race chat or the Race Forum Thread will reveal quite a divided opinion about the course - it is a "love it or hate it" one, for sure! It was always advertised as a combination of adventure and nightmare and we can agree that our intrepid course designers, one of whom arrived in the topmost group, really have given Sailonline a memorable race that lived up to its billing. Wherever we are on the globe, those of us who have participated in this endurance event, who have sight-seen and bbq-ed our way round this maze of a course will always smile to ourselves whenever there is mention of the Finnish-Swedish Archipelago! So THANK YOU JakeS and Smo for creating great memories for us.
Was a strategy possible here? Probably not, but it is still worth having a look at hmm's SOL Race Data Centre to reveal the range of artistic routes taken by SOLers. Just brilliant!
Race Report by JakeS
This race was just how description promise; hard one! We had a perfect wind and fast boat. Trickiest thing was to do right decision very quickly for the next course. Do I sail optimal angle a bit longer way, or do I try a shortcut? And only continued here
_____________________________________________________________
WINSTON_4 unveils the new and exciting future shape of racing on Sailonline. From new-style calendars to new championships - read all about it here
_____________________________________________________________

click on results image to see larger
CONGRATULAZIONI aner59!!! CONGRATULATIONS NZL_Scotsman!! HERZLICHEN GLÜCKWUNSCH rumskib!
Race Leaderboard
Bravo to our podium! To come home and take the podium after 16 days is truly an achievement and aner59 has achieved a unique and remarkable result by arriving at the finish more than 2 hours before anyone else. Even 10 hours after his arrival, only 26 boats have arrived. A phenomenal result!
What is particularly pleasing is, of course, that our virtual arrival is mirroring very much the arrival of the boats in the real race - everyone isn't arriving at the same time - Sailonline truly does create a virtual version of sail-racing reality.
Remember you can compare your track/performance with those of the winners on hmm's SOL Race Data Centre - it is always good to see just how the top guys pull off their victories, while applauding their achievements.
As Nelson Mandela said "A winner is a dreamer who didn't give up" (thanks SCARABOCCHIO)
_____________________________________________________________
Races
Next Race: 00d 00h 00m
Current Races:
Gasparilla Raid 2013
Follow in the steps of Jose Gaspar, the legendary Floridian Pirate, in a 90ft monohull - raid the treasure ship, evade capture by running to Isla Perez and then head for home - a total of 1106nm.
Race #636 NOR / POLAR
WX Updates: 0430 / 1030 / 1630 / 2230
Ranking: SYC/SYC Week
ALT. CLIENT:Classic
RACING
Race starts: Dec 10th 18:00 Registration Open!
GO TO RACE
Christmas to Christmas Race 2013
'tis the month before Christmas and all through SOL, not a SOLer is stirring, except those getting their VO70s ready to race the 5,837nm between Christmas Island in the Pacific to Christmas Island in the Indian Ocean in the VO70v4s!
Race #534 NOR/POLAR
WX Updates: 0430 / 1030 / 1630 / 2230
Ranking: SYC/SYC Ocean
ALT. CLIENT:Classic
STATUS:RACING
Race starts: Nov 26th 20:00 Registration Open!
GO TO RACE
SYC Ranking
Series
Mobile Client
SYC members have the benefit of access to our mobile/lightweight web client!