Online Sailracing!
Sailonline.org is owned and operated by Sailonline NavSim AB, a not for profit, community-owned company.
Sailonline's mission is to offer a superior internet-based sailing and navigation simulation to the global sailing community, whilst ensuring a future of growth and continuous enhancement to benefit its users through financial viability and long term vision.
Sailonline is free for everyone to play and is supported by SYC Memberships.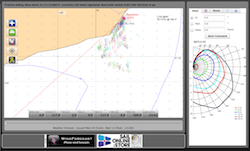 Create your account
News from the blog
Welcome!
Now login with our guest account to view currently running races: Username: guest - Password: guest
PLEASE ONLY REGISTER YOUR OWN USERNAME AND PASSWORD IF YOU INTEND TO RACE.
All times on Sailonline are in UTC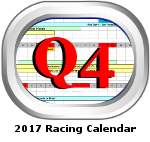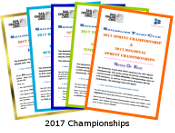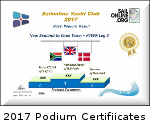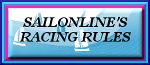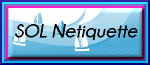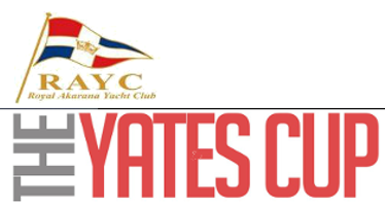 Sailonline is delighted to announce that it will again be buddying with Royal Akarana Yacht Club, one of Auckland's most prestigious yacht clubs, established in 1895 and known as the home of Blue Water Sailing in New Zealand.
This time the partnerships is for the 2017 Yates Cup which starts at 2100UTC on 23 November (the morning of Friday, 24 November in Auckland). This classic race has been run since 1967 when The Yates Cup itself was presented to Royal Akarana Yacht Club by Dennis & Philip Yates for a 200 nautical mile ocean race.
As in 2014, Sailonline will be using the polar of a Beneteau First 44.7 racing yacht as the online virtual yacht and we will again be racing against the First 44.7 "Atamai". There is a wide variety of yachts competing in the Yates Cup this year ranging from the IMOCA 60 "Awen" to the Ross 8m "C U Later".
Entry List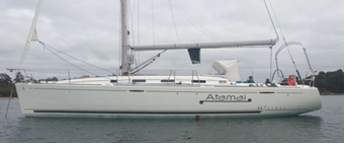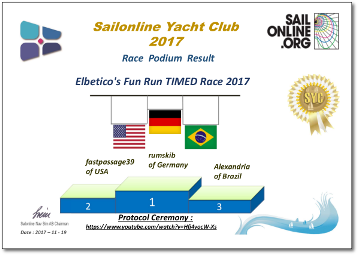 click on results image to see larger
HERZLICHEN GLÜCKWUNSCH rumskib!!!
HIGH FIVE fastpassage39!! PARABÉNS Alexandria!
Race Leaderboard
Commentary
Our Andalusian SOLing friend El-bético has a strong sense of humour. Thus, many years ago he designed a sprint through his beloved Huelva delta and out to sea for a 175° turn towards a mark just off the tip of the river Odiel breakwater, finishing with a quick dash for the line. The fun is threefold. 1./ IRL at most times of the tide the Canal del Burrillo is encroached by sand and mud banks. 2./ With five turns between start and finish around buoys (Euclidian, you can't hit them, only miss them) cornering skills are at a premium. 3./ As 90% of the course lies in a NW to SE orientation, a fast run will always require you to either beat up or gybe down the narrows of the virtual Burrillo Canal.
With the dominant NW-SE orientation, timing your run here is merely a matter of waiting for the wind to start blowing square across the course. This year in SOTO30s, once this occurred and the wind went above 16kn or so (F4), a circuit time of not much longer than 2 hours was on. Given that our NOAA grib data is spaced at 3 hour intervals, once the conditions were right, the window of opportunity was relatively wide. "Turn, turn, turn" (copyright: Pete Seeger) then was the route to success and rumskib gave us a master class in this, with fastpassage39 and Alexandria not far behind. Impressive boat handling!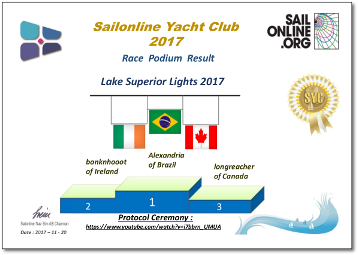 click on results image to see larger
PARABENS Alexandria!!!
MAITH AN FEAR bonknhoot!! CONGRATULATIONS Longreacher!
Race Leaderboard
The first slalom around the island Lighthouses of Lake Superior was in 2009 and since then the race has become one of our classic events. The conditions on the lake can be pretty changeable and light/fickle winds are not uncommon which makes the choice of boat critical to keep the race lively. Original raced in 90ft Monohulls, the past few years has seen the choice of SRC turn to the more leisurely First 47.7s. Local SOLers reported that winter has yet to arrive on the lake so with crystal clear days we were able to enjoy (virtually speaking) the beauty of the majestic Lighthouse waypoints of this course.
Our podium three didn't have an easy task as the top positions were hotly contended from as far out as Passage Island Light so our congratulations and admiration go to our final victors! Nicely done, guys!

Races
Next Race: 00d 00h 00m
---
Current Races:
PEP Sprint 2017
Eddystone Lighthouse marks a nasty patch of rocks about 10 nm SSW of the approach to Plymouth. With the prevailing winds generally out of the SW in this part of the world, chances then are this race departing from inner Plymouth harbour, is going to be a beat out to the Light, requiring inter alia the avoidance of a very substantial breakwater, followed by a run to the finish out on open water. Perhaps 18 nm as the crows flies, and therefore, even as your FinnGulf 43 flies, a quickie.
Race #1096
INFOby brainaid.de
Finngulf 43 Particulars
WX Updates:
0430 / 1030 / 1630 / 2230
RANKING:
SPRCH-SUPSOL-SPRR3-SYC
ALT CLIENT: Classic
Race starts: Nov 25th 10:00 Registration will open soon
GO TO RACE
Yates Cup 2017
RAYC welcomes Sailonline to the 2017 running of this Category 3+ race from Auckland around the Hauraki Gulf and challenges us to pit our skills against the real fleet who use the course as training for larger offshore events.
Race #1093
INFOfrom brainaid.de
Beneteau First 44.7 Particulars
WX Updates: 0430 / 1030 / 1630 / 2230
Ranking: SYC
ALT. CLIENT:Classic
Race starts: Nov 23rd 21:00 Registration Open!
GO TO RACE
Lake Superior Lights 2017
Sailonline loves lighthouses and our classic race around the famous lights of Lake Superior is a grand tour of 572nm . With fickle weather worldwide, this could be interesting!
Race #1092
INFOfrom brainaid.de
First47.7 Particulars
NAM_AWIP WX Updates:
0245 / 0845 / 1445 / 2045
Ranking: SYC
PRIZE: SMPF
ALT. CLIENT: Classic
RACE CLOSE: Thursday, 23 November at 2300utc
Race starts: Nov 17th 18:00 Registration Closed
GO TO RACE
SWR 17/18 Leg 2 - Lisbon to Cape Town
The second of eleven legs of the 2017/18 Sailonline World Race takes us from Lisbon to Cape Town!
In this leg we must catch the Trade Winds, avoid the Azores High, pick the thinnest spot in the Doldrums to go through, then avoid the St. Helena High and catch the Westerly Storm Track that will get us to Cape Town
The southern race boundary has been set at 51°S to mark the Antarctic Ice Exclusion Zone
Race #1095
INFOfrom brainaid.de
OD65v3 Particulars
WX Updates: 0430 / 1030 / 1630 / 2230
Ranking: OCCH-OCQ4-SUPSOL-SWR-SYC
ALT. CLIENT:Classic
Race starts: Nov 05th 14:00 Registration Open!
GO TO RACE
SYC Ranking
Series
Mobile Client
SYC members have the benefit of access to our mobile/lightweight web client!