Online Sailracing!
Sailonline.org is owned and operated by Sailonline NavSim AB, a not for profit, community-owned company.
Sailonline's mission is to offer a superior internet-based sailing and navigation simulation to the global sailing community, whilst ensuring a future of growth and continuous enhancement to benefit its users through financial viability and long term vision.
Sailonline is free for everyone to play and is supported by SYC Memberships.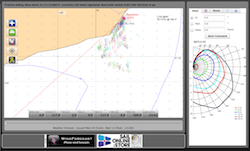 Create your account
News from the blog
Welcome!
Now login with our guest account to view currently running races: Username: guest - Password: guest
PLEASE ONLY REGISTER YOUR OWN USERNAME AND PASSWORD IF YOU INTEND TO RACE.
All times on Sailonline are in UTC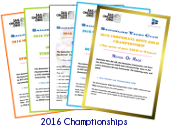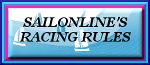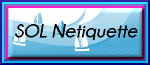 Current Ocean Race



Sailonline is delighted to announce that for the first time, we will be partnering with the prestigious San Diego Yacht Club (SDYC) for the second ever running of the SoCal 300 race. SDYC has been racing in the waters off San Diego for 130yrs, and will be the first USA West Coast yacht club to bring virtual sailing navigation to its members and the west coast sailing community.
The SoCal 300 is the third and final event of this year's California Race Week and sees the fleet race a slalom course from Santa Barbara to San Diego, starting on 3 June.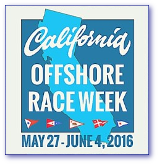 Sailonline will be going head to head with the real fleet – it is intended to bring the tracks of the real racers on-screen – and as we are racing our Santa Cruz 52 polar, there are three direct competitors in the current Entry List – Elyxir , Lucky Duck , and Prevail . Sailonline's race will open for practice on Tuesday, 24 May at 1900utc.
Current Entry List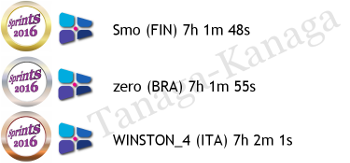 click on results image to see larger
ONNEKSI OLKOON Smo!!! PARABÈNS zero!! CONGRATULAZIONI WINSTON_4
Race Leaderboard
Sprinting is always fun and, irrespective of the time zone, if it seems as if the winds are favourable and the race won't be a long one, the temptation is always to stay up for its duration. Not doing so leads to cruise-mode being engaged! Despite being set in the waters of Alaska, this sprint started at 1700utc which meant it was a pretty decent weekend start-time for the majority of our global racers. Some of us failed to concentrate properly and paid the penalty of seeing top spots disappearing, and some of us who are rarely near the front clearly got something right-er than usual for some of the time, while others, especially our podium really slugged it out to the finish.
This was the third Sprint race of Sailonline's 2016 Q2 Racing Calendar – if you are an SYC Member you may wish to keep your eye on the Sprint Series Quarterly and Annual rankings!
Many congratulations to our podium – your racing precision is impressive! For the rest of us? Why not see how your track matched up with the top three at hmm's Race Data Centre.
Reports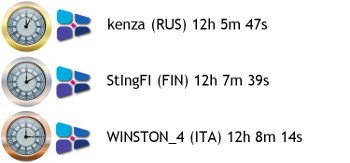 click on results image to see larger
поздравления kenza!!! GRATTIS StIngFI!! CONGRATULAZIONI WINSTON_4!
Race Leaderboard
Sailonline's first race around the island of Iceland was a Volcano Tour of the entire coastline in 2010 – since then this remarkable place and its challenging offshore waters have been a frequent venue for several races with different boats – we even inspected Eyjafjallajokull one year (after its ash cloud had closed a wide section of airspace!) and most recently brought our Viking longships here from Norway. This TIMED race along Iceland's Southern coast was fun, and a display of skill by those who secured its podium. As everyone knows, TIMED races themselves can be a bit of a lottery (if the optimum weather is just at the wrong time for one's lifestyle/commitments) but even if a chance at a top spot is not possible, the ability to re-register and run again after finishing, as often as you like, makes them ideal for learning and honing SOL-skills, as well as affording opportunities for sightseeing via Google Earth, and even matchracing (declared overtly or secretly!).
Congratulations podium on racing well and gaining our top spots!
Reports



Races
Next Race: 00d 00h 00m
---
Current Races:
SoCal 300 2016
Sailonline is delighted to welcome you to the first running of the SoCal300 race, hosted by San Diego Yacht Club. Be on your mettle SOLers, we have stiff competition here in the Pacific SE!
Race #936
INFO by brainaid.de
Santa Cruz 52 INFO
WX Updates: 0430 / 1030 / 1630 / 2230
Ranking: SYC
ALT. CLIENT:Classic
PRIZE: SMPF
Race starts: Jun 03rd 19:00 Registration Open!
GO TO RACE
Jester Azores Challenge 2016
Once in a while a group of intrepid single-handed sailors agree to sail from Plymouth to the Azores - it's a gentlemanly affair and it is called the Jester Challenge. For the first time, Sailonline will be racing her Twister 28 at the same time as the real adventure. Let's see who arrives first in Terceira!
Race #935
INFO from brainaid.de
Twister 28 POLAR
WX Updates: 0430 / 1030 / 1630 / 2230
Ranking: OCQ2 - OCCH - SUPSOL -SYC
ALT. CLIENT:Classic
Race starts: May 15th 12:00 Registration Open!
GO TO RACE
SYC Ranking
Series
Mobile Client
SYC members have the benefit of access to our mobile/lightweight web client!