Online Sailracing!
Sailonline.org is owned and operated by Sailonline NavSim AB, a not for profit, community-owned company.
Sailonline's mission is to offer a superior internet-based sailing and navigation simulation to the global sailing community, whilst ensuring a future of growth and continuous enhancement to benefit its users through financial viability and long term vision.
All Sailonline boats and their properties are purely virtual and do not necessarily reflect real world data.
Sailonline is free for everyone to play and is supported by SYC Memberships.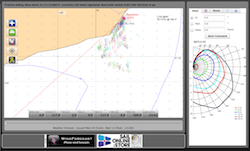 Create your account
News from the blog
Welcome!
Now login with our guest account to view currently running races: Username: guest - Password: guest
PLEASE ONLY REGISTER YOUR OWN USERNAME AND PASSWORD IF YOU INTEND TO RACE.
All times on Sailonline are in UTC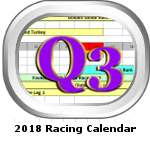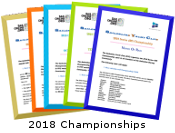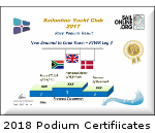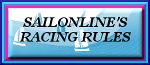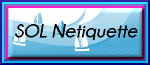 GDPR - General Data Protection Regulations
- Sailonline wishes to reassure all SOLers that it is aware of the regulation changes in relation to the protection of personal data. Sailonline cares about your privacy and will continue to let you control the personal information you provide.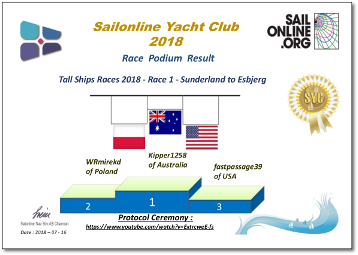 click on results image to see larger
GOOD ONYA Kipper1258!!!
GRATULACJE WRMirekd!! CONGRATULATIONS fastpassage29!
Race Leaderboard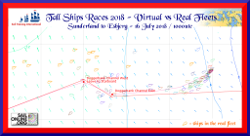 16 July 2018
Commentary
This was the third of five races in this year's Tall Ships Series and the first of the two races in the Tall Ships Races 2018 where Sailonline partners with Sail Training International.
Sailonline's 90m Barque polar is a classic, making our almost-direct-to-Esbjerg-from-Sunderland course somewhat challenging. With just a couple of waypoints to avoid the Dogger Bank to add interest, the challenge was to play with the winds offered by the North Sea this time and do our best. The real fleet had its own adventures which you can all read about here in the excellent Sailonboard Blogs .
As ever, some of us did better than others, and it is for this reason our admiration must go to our excellent Podium – first and second separated by 2 seconds, second and third by 21 seconds! Were Tall Ships ever timed so precisely! Congratulations guys!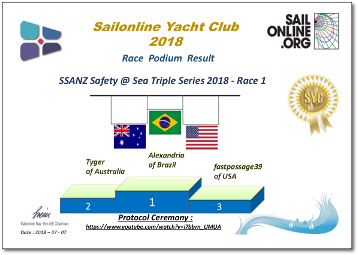 click on results image to see larger
PARABÉNS Alexandria!!!
GOOD ONYA Tyger!! CONGRATULATIONS fastpassage39!
Race Leaderboard
Images

SSANZ (LiveSailDie) made a video: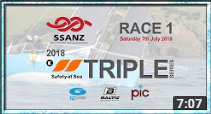 Commentary
The SSANZ Two-handed Triple Series is one of Sailonline's all-time favourites. The combination of three middle-distance inshore races with the waters of the Hauraki Gulf and the competition from the real racers of the Young 88 Association really makes this a truly must-do series! For Europeans it is a big ask, as the races all start very late in the European day, so a reliance on DCs (or a preparedness to forego sleep) are the only choices. For the rest of the world, this has the potential to be really challenging and so it is unsurprising to find our podium three coming from Brazil, Australia and USA.
The course for this SSANZ60 was a little different this year and the wind gods were certainly smiling on everyone taking part as the winds permitted a reasonable broad reach to the first turn at the Tiri Navy Buoy. From here to Gannet Rock, while definitely DC-able (risking an overnight wind update!) the optimal course included some judicious manoeuvring for best VMG. A few Europeans, by this point, were either beached overnight or sailing relatively randomly, but the competition for the top spots was still pretty full-on with nearly 9 boats arriving in the first 10 minutes. The real fleet was tracked in real-time and this gave a sense of just where we and our virtual Young 88s were in the field. The SSANZ Results show that the best corrected time for the Young 88 start, S/Y Skitzo was 6h 53m 29s while Alexandria arrived at 8h 10m 1s. This time it would see that the local tides/currents cut in favour of our IRL opposition!
Congratulations to our podium for a great start to this year's series!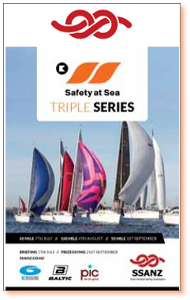 Auckland, on New Zealand's North Island, is really one of Sailonline's homes-from-home, as it is from here that, in addition to racing around the local area, we also head off on many a Pacific adventure. For the seventh year running, we are delighted to be here again as the virtual partner of the Short-handed Sailing Association of New Zealand (SSANZ) for the SSANZ Safety @ Sea Triple Series 2018. This is an annual three-race series – currently the biggest Two Handed Series in New Zealand – raced in the waters of the Hauraki Gulf.
In 2014 Sailonline began an association with the Young 88 Owners Association and once more will be racing all three events this year with our Young88 Polar .
If any SOLers are taking part - do let us know and we'll feature you here on the blogpost!
The three races will be raced on Sailonline on the following dates (UTC):
Race 1 Safety @ Sea 60 --- 6 July
Race 2 Safety @ Sea 100 --- 3 August
Race 3 Safety @ Sea 50 --- 5 September


Races
Next Race: 00d 00h 00m
---
Current Races:
Manilla - Calbayog
Welcome to a brand-new race, created by sassy63.
He's taken us to the Philippines to race around islands on a 377 nm course.
We sail the Steinlager 2 and in Calbayog we'll enjoy our well-deserved Palatan dish and drink it with San Miguel.
Race #1159
INFOby brainaid.de
Steinlager 2 Particulars
WX Updates: 0430 / 1030 / 1630 / 2230
Ranking: SYC
ALT. CLIENT:Classic

Race starts: Jul 24th 17:00 Registration will open soon
GO TO RACE
2018 40' Series Championship - Hawaiian Zig Zag
Welcome to the 7th race in our 2018 40' series!
This time we will use "Jaws" Hawaiian Zig Zag course for our race.
Shifting winds, beaches, rocks and headlands, zig and zag; 430nm not for the faint hearted! Your challenge is to get your choice of 40' to Niihau without breaking neither the boat nor your spirit.

The Race Conditions contains NOR, particulars, polars and a list of used boats, and will be updated for each race in 2018, so please read it to avoid disqualification.

40' Series 2018 – Race Conditions (updated)

Race # 1164
INFOfrom brainaid.de
WX Updates:
0430 / 1030 / 1630 / 2230
Ranking:
40CH – SYC
ALT. CLIENT:Classic
Race starts: Jul 20th 16:00 Registration Open!
GO TO RACE
Greenland to Alaska
This race is a repetition of leg 2 in last years RED DOT race.
It is 2.099 splendid nautical miles from Nuuk, Greenland to Barrow, Alaska, leaving both North Canada and North Alaska to port.
Race #1163
INFO by brainaid.de
SuperMaxi 100 Particulars
WX Updates:
0430 / 1030 / 1630 / 2230
RANKING: OCCH-OCQ3-SUPERSOL-SYC
ALT. CLIENT: Classic
PRIZE: SMPF
RACE CLOSE: Tuesday, 24 July at 23:00 UTC
Race starts: Jul 09th 16:00 Registration Closed
GO TO RACE
Cape Horn Timed Run
Welcome to Chile, welcome to Cape Horn, and welcome to a new course round these inhospitable waters. This is a place with plenty of wind and strong currents. Our 161 nm triangular TIMED RUN goes around two groups of small islands that are an important nesting site for a number of southern seabirds. To kick start this new challenge we will ride the IMOCA 60; hold tight your harness and goggles, there will be plenty of sea spray on deck!
RE-REGISTER HERE to race again after finishing a run
Race #1097
INFO by brainaid.de
IMOCA 60 Particulars
WX Updates:
0430 / 1030 / 1630 / 2230
RANKING:
TRCH-SUPSOL-TRQ3-SYC
ALT. CLIENT: Classic
RACE CLOSE: Sunday,
22 July at 2300utc
Race starts: Jul 02nd 12:00 Registration Open!
GO TO RACE
Golden Globe Race - Leg 1 to Storm Bay
Welcome, all, to the 2018 Golden Globe Race and Sailonline's virtual version of this iconic 50th anniversary rerun of 1968's first ever non-stop single-handed round-the-world race in yachts and with technology in keeping with that historic time.
To reflect the challenge being undertaken by the real racers, as announced previously, SOL invites all who feel so inclined to add their boat name to the post in FORUM declaring you will race by the proverbial "Seat Of The Pants" (SOTP) with no outside assistance from routing software or other external aids, BEFORE THE STARTING GUN IS FIRED.
To simulate the real race which features a 90 minute minimum stopover in Storm Bay, SOL's online version has been divided into two legs. This first leg then is from Les Sables-d'Olonne to Storm Bay. When the leaders approach Storm Bay, Leg 2 from thence back to Les Sables via Cape Horn, will open. YOU MAY NOT START LEG 2 UNTIL AT LEAST 90 MINUTES AFTER FINISHING LEG 1. The penalty for starting Leg 2 before finishing Leg 1 is NO RANKING. The penalty for starting Leg 2 within 90 minutes of finishing Leg 1 is 5x the time you started too early.
DO NOT START TOO EARLY!
Fair winds and good luck!!
Race #1154
INFO by brainaid.de
Rustler 36 PARTICULARS
WX Updates:
0430 / 1030 / 1630 / 2230
Ranking: GGR
ALT. CLIENT:Classic
Race starts: Jul 01st 10:00 Registration Open!
GO TO RACE
SYC Ranking
Series
Mobile Client
SYC members have the benefit of access to our mobile/lightweight web client!