Online Sailracing!
Sailonline.org is owned and operated by Sailonline NavSim AB, a not for profit, community-owned company.
Sailonline's mission is to offer a superior internet-based sailing and navigation simulation to the global sailing community, whilst ensuring a future of growth and continuous enhancement to benefit its users through financial viability and long term vision.
Sailonline is free for everyone to play and is supported by SYC Memberships.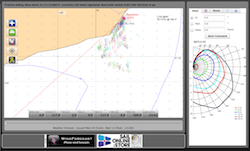 Create your account
News from the blog
Welcome!
Now login with our guest account to view currently running races: Username: guest - Password: guest
PLEASE ONLY REGISTER YOUR OWN USERNAME AND PASSWORD IF YOU INTEND TO RACE.
All times on Sailonline are in UTC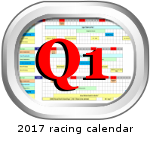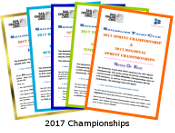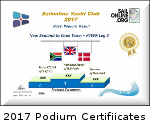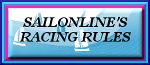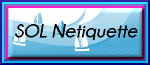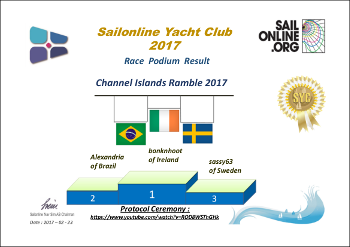 click on results image to see larger
GOOD ONYA Kipper1258!!!
ПОЗДРАВЛЕНИЯ kenza!! GEFELICITEERD DIKKEHENK!
Race Leaderboard
Reports


Commentary
On shore, California's drought may have been broken by some extraordinary rainfall, but offshore the slalom course of Sailonline's Channel Island Ramble in pleasant conditions proved gently entertaining as always. Interesting winds, using the nam_awip model for increased density, led to some onshore/offshore effects that only the smartest could take advantage of. The final leg of the race, a run for a close-to-shore finish line required a skilful reading of the shift(s) and it was here that some found themselves rolled by the podium takers. Nicely done!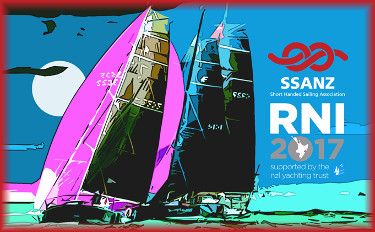 Once every three years, sailors have the opportunity to pit their courage, their skill and their competitive natures in a race around New Zealand's North Island. This is not an event for the faint-hearted –racing left-about the North Island, and contending with the swirl of the Southern Oceans mixing with the Pacific and the challenge of navigating the Cook Strait, where these waters are funnelled between North and South Islands. WX systems accompany these often turbulent waters, making Sailonline's virtual event, using wind grib forecasts from NOAA downloaded four times a day and released into the game in 10 minute pieces, a truly realistic navigation challenge.
Sailonline is delighted to be racing the Virtual RNI for the third time in association with SSANZ and looks forward to sharing in the reports and tales of how the race pans out. The race will start from Auckland, at 0100utc on 25 February 2017 and Sailonline's virtual event will be available for preview from 21 February and registration will open for pre-race practice on 22 February.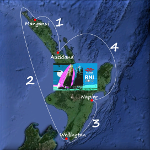 Essential Reading
The real race has a formula by which race legs will open (after the initial one) which is explained
here. PLEASE NOTE: Sailonline will be competing as closely as is virtually possible with the real yachts but will at all times give a minimum of 24hrs notice of a start time. It is intended to close each leg promptly, in harmony with the real race, but there will be some allowance here. The aim is for the overlap between legs of the virtual race to not exceed 24hrs. As always, race ranking will be your position at race close for each leg.
Entry List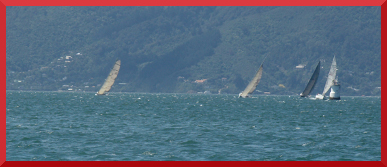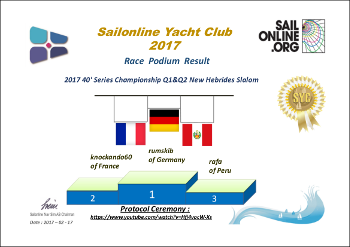 HERZLICHEN GLÜCKWUNSCH rumskib!!!
FELICITATIONS knockando60!! FELICIDADES rafa!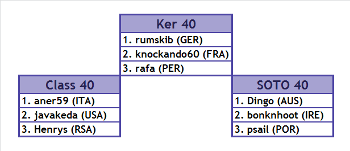 Commentary
The second of six races of the Sailonline's new-style 40ft Championship 2017 was keenly anticipated, with considerable discussion about which boat to choose for what could be a speedy event with interesting winds or, just as easily, could prove to be a bit of an upwind slog as the South Pacific can see some super-fickle conditions. The advice in the Race Description to log in and preview the forecast via the guest boat is very sound indeed, and it was clear from how registrations jumped in the 24hrs prior to race start, that many SOLers found the boat-choice aspect of this clever series really quite tricky indeed. Our winning podium all came from the Ker 40 group with the Class 40s putting in a good performance and, again, the SOTO 30s revealing the lack of versatility in design. Congratulations top three!

Races
Next Race: 00d 00h 00m
---
Current Races:
SSANZ Round North Island Race 2017 - Leg 1
This epic circuit of New Zealand's North Island is an extremely tough challenge. There are four legs altogether. For this first leg we will be competing with the real fleet with a 150nm run from from Auckland to Mangonui.
Race #1016
INFO by brainaid.de
Young 11 Particulars
WX Updates:
0430 / 1030 / 1630 / 2230
Ranking:
RNI - SYC
ALT. CLIENT: Classic
Race starts: Feb 25th 01:00 Registration Open!
GO TO RACE
Channel Islands Ramble 2017
Welcome to a 300 NM slalom through the beautiful Channel Islands off the sunny Southern California coast. We start from Santa Barbara, and make a dash to San Miguel Island before weaving back towards Anacapa Island. We then head for San Nicolas Island and glide past Santa Catalina Island. After a run South to San Clemente Island, we turn back East to San Diego. When arriving, watch out for low flying naval aircrafts, for surfacing submarines, and for aircraft carriers of the US 7th fleet manoeuvring their way to the Coronado carrier berths.
Race #1021
INFO by brainaid.de
Santa Cruz 52 Particulars
USA_SW WX Updates:
0245 / 0845 / 1445 / 2045.
Ranking: SYC
ALT. CLIENT:Classic
RACE CLOSE: Sunday, February 26 at 23:00 utc
Race starts: Feb 21st 10:00 Registration Closed
GO TO RACE
Iceland TIMED Race 2017
Welcome to the chilly north of the world and what should be a fast-paced TIMEDrace in Orange Cats off the S coast of Iceland - 150nm for you to race as often as you like over the coming weeks - volcano watching optional!
RE-REGISTER HERE to race again after finishing a run
Race #1011
INFO by brainaid.de
Orange Cat Particulars
WX Updates:
0430 / 1030 / 1630 / 2230
RANKING:
TRCH-SUPSOL-TRQ1-SYC
ALT. CLIENT: Classic
RACE CLOSE:Sunday, 26 February at 2300utc<
Race starts: Feb 17th 10:00 Registration Open!
GO TO RACE
RTWR 2016 - Leg 3 - Auckland to Cape Town
The third leg of Sailonline's wrong-way Round the World Race 2016 sees the fleet meeting head-on the challenge of the Southern Oceans in a truly tough leg from Auckland, New Zealand, to Cape Town, South Africa.
Race #1003
INFO from brainaid.de
VO70 Particulars
WX Updates:
0430 / 1030 / 1630 / 2230
Ranking: OCQ1 - OCCH - RTWR - SUPSOL -SYC
ALT. CLIENT:Classic
PRIZE: SMPF
Race starts: Feb 01st 10:00 Registration Closed
GO TO RACE
SYC Ranking
Series
Mobile Client
SYC members have the benefit of access to our mobile/lightweight web client!