Online Sailracing!
Sailonline.org is owned and operated by Sailonline NavSim AB, a not for profit, community-owned company.
Sailonline's mission is to offer a superior internet-based sailing and navigation simulation to the global sailing community, whilst ensuring a future of growth and continuous enhancement to benefit its users through financial viability and long term vision.
All Sailonline boats and their properties are purely virtual and do not necessarily reflect real world data.
Sailonline is free for everyone to play and is supported by SYC Memberships.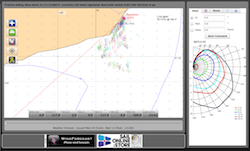 Create your account
News from the blog
Welcome!
Now login with our guest account to view currently running races: Username: guest - Password: guest
PLEASE ONLY REGISTER YOUR OWN USERNAME AND PASSWORD IF YOU INTEND TO RACE.
All times on Sailonline are in UTC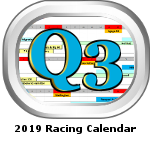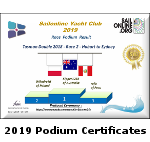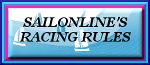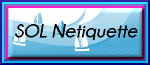 GDPR - General Data Protection Regulations
- Sailonline wishes to reassure all SOLers that it is aware of the regulation changes in relation to the protection of personal data. Sailonline cares about your privacy and will continue to let you control the personal information you provide.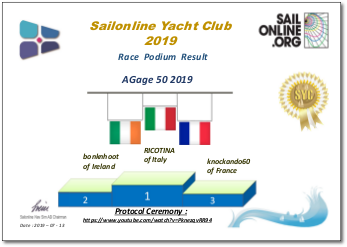 click on results image to see larger
CONGRATULAZIONI RICOTINA!!!
MAITH AN FEAR bonknhoot!! FELICITATIONS knockando60!
Race Leaderboard
Reports


Commentary

This year's race on the waters of the Gulf St Vincent, to honour our memory of Aaron Gage who contributed so much to the enhancement of SOL, was another very tightly contest affair, ending in a photo-finish for first place after more than six hours of racing through tricky wrf wind.
After some careful calculations, the server came up with a result: RICOTINA had taken it by milliseconds, which his competitors noted had been achieved by going for the 'wrong' end of the line, in terms of angle, but, obviously the 'right' end in terms of 'pressure'. Two very thorough competitor reports leave nothing more to be said, except: "Very well done, RICOTINA!!!" and to award three specially minted virtual medals to our podium three.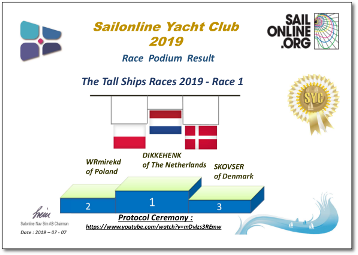 click on results image to see larger
GEFELICITEERD DIKKEHENK!!!
GRATULACJE WRmirekd!! TILLYKKE SKOVSER!
Race Leaderboard
Reports


Commentary
The third race of Sailonline's 2019 Tall Ships Series and the first of two races in the 2019 Tall Ships Races saw our virtual Clipper ship start from the Aalborg mark at 1200utc on Saturday 6 July. The real ships, whose progress is blogged here were still in port when we started and only made their way to the start some 24hrs later. Sailonline relies on information provided and has to marry that information with our immutable rule that no change to race start will be made within 24hrs of the published race start so that SOLers the world over are able to be sure that any delayed commands (DCs) they pre-set at that point will fire correctly.
Once under way, the "washing machine" of the winds and waters of the Skagerrak truly demonstrated a variety of cycles as winds, channelling through the North Sea, swirled in and around the entrance to this tricky-to-sail body of water. For some, who were unable to be awake for the regular wx updates, their DCs were lamentably off-track, while others somehow successfully navigated themselves to the front of the pack. Racing a Tall Ship takes a lot of skill and racing a virtual Clipper is also challenging!
SOLers flying the flags of 27 nations took part in our race and our podium three, from Netherlands, Poland and Denmark are to be congratulated for arriving first in Fredriksberg! Well done, guys!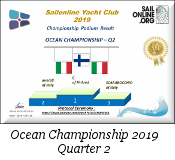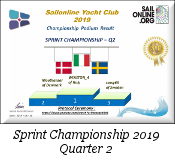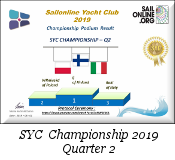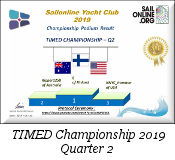 2019 Q2 SRC Review
This has been a tragic quarter during which we have lost one of our hardiest SOLers João Malafaia ('psail') who died on Sunday 7th April in Lisbon while having lunch with his son and his father. João had been a stalwart SOL sailor who had submitted many new polars to SOL for which he should be remembered in the years to come. In addition, he had been the most prolific protestor of SRC, requesting redress, and from those constructive discussions SRC and SOL have only got stronger. full report continues here
Q2 Championship Results and Prizes
Ocean races
Sprint races
SYC races
TIMED races

Races
Next Race: 00d 00h 00m
---
Current Races:
The Tall Ships Races 2019 - Race 2
Welcome again to Bergen, this time for the second of the two races in this year's European Tall Ships Races and the final race of Sailonline's 2019 Tall Ships Series. This is a race of 398nm fom the Bergen Tall Ships Festival southwards, round a mark at the entrance to the Skagerrak, to arrive at the Aarhus Tall Ships Festival
NOTE:Starts and Finishes in tall ships racing are offshore to avoid conflict with shipping and shipping lanes.
Race #1268
INFO by brainaid.de
Clipper 240 Particulars
WX Updates:
0430 / 1030 / 1630 / 2230
RANKING: Tall Ships - SYC
ALT. CLIENT: Classic
Race starts: Jul 25th 08:00 Registration Open!
GO TO RACE
Tour Down Under 2019
Boats, not bicycles for SOL's own version of the "Tour Down Under" designed by AGage.
No hot dusty roads for us, just 694 NM of ocean in Seacart 30s!
Race #1277
INFOfrom brainaid.de
Seacart 30 Particulars
WX Updates: 0430 / 1030 / 1630 / 2230
Ranking: SYCCH-SYCQ3-SUPSOL-SYC
ALT. CLIENT:Classic

Race starts: Jul 18th 20:00 Registration Closed
GO TO RACE
Galveston to Galway TransAt 2019
This is a truly testing and massive new ocean race for Sailonline across the Gulf of Mexico and the Atlantic Ocean! Leaving the estuary of the Galveston Bay, you'll sail your OD65v3 across the Gulf of Mexico and into the Atlantic Ocean. You are, of course, free to navigate your way to Galway, Ireland, in any direction you like. Your only objective: get to Galway first!
PRIZE: SMPF
Race #1254
NORfrom brainaid.de
OD65v3 Particulars
WX Updates:
0430 / 1030 / 1630 / 2230
RANKING:
OCQ3-OCCH-SUPSOL-SYC
ALT. CLIENT: Classic
Race starts: Jul 15th 14:00 Registration Open!
GO TO RACE
Hormuz TIMED Race 2019
Strait of Hormuz is a really busy and congested waters with shipping and military vessels. For Sailonline however, racing here is with impunity, nothing is off limits!!
This is a TIMEDrace designed by NZL Scotsman
RE-REGISTER HEREto race again after finishing a run
Race #1266
Infofrom brainaid.de
X-35 OD Particulars
WX Updates:
0430 / 1030 / 1630 / 2230
Rankings:
TRCH-TRQ3-SUPSOL-SYC
ALT. CLIENT:Classic
REGISTRATION CLOSE:
Monday, 22. July at 22:00 UTC.
RACE CLOSE:
Monday, 22. July at 23:00 UTC.
Race starts: Jul 08th 12:00 Registration Open!
GO TO RACE
SYC Ranking
Series
Mobile Client
SYC members have the benefit of access to our mobile/lightweight web client!