Online Sailracing!
Sailonline.org is owned and operated by Sailonline NavSim AB, a not for profit, community-owned company.
Sailonline's mission is to offer a superior internet-based sailing and navigation simulation to the global sailing community, whilst ensuring a future of growth and continuous enhancement to benefit its users through financial viability and long term vision.
Sailonline is free for everyone to play and is supported by SYC Memberships.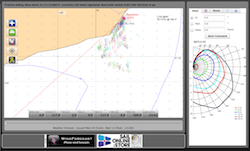 Create your account
News from the blog
Welcome!
Now login with our guest account to view currently running races: Username: guest - Password: guest
PLEASE ONLY REGISTER YOUR OWN USERNAME AND PASSWORD IF YOU INTEND TO RACE.
All times on Sailonline are in UTC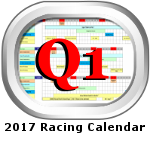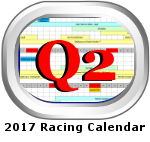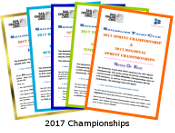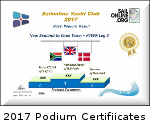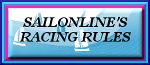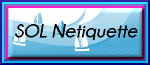 Sailonline.org is pleased to team with the organising authority of the Melbourne to Osaka Double-Handed Yacht Race 2018 to bring to prospective entrants and armchair navigators, our 2017 'Prelude 2' of the real race. The lucky podium place-takers of the Sailonline virtual race will each win a prize supplied by Gill Australia as follows:
1st - Deck Shoes
2nd - Race Dry Bag
3rd - Race Sun Shirt
With Sailonline's almost real time weather downloads from NOAA, this is intended to give prospective entrants in the real race a great opportunity to test their weather navigation skills. The 'Prelude' is timed to run at the same time of the year as the real race so weather patterns may be similar.
The Melbourne to Osaka Yacht Race is a 5,500 nautical mile 2 handed yacht race - one of the longest two handed yacht races in the world and the only one running from the southern hemisphere to the northern hemisphere. It encounters multiple weather systems and seasons as it crosses the Pacific ocean. The course takes the competitors into Bass Strait, up the east coast of Australia into the southeast tradewinds then through the doldrums on the equator. It then heads into the northeast tradewinds to the finish in the port of Osaka.
The race, first held in 1987 to commemorate the 120th anniversary of the opening of the Port of Osaka, is held approx. every four years to celebrate the City of Melbourne and the City of Osaka sister city relationship. The 2018 event coincides with the 40th anniversary of this relationship and is a collaborative effort of three yacht clubs:
Sandringham Yacht Club - the Melbourne Host
Ocean Racing Club of Victoria - administering the on-water activities, and
Osaka Hokko Yacht Club - the Osaka Host
For the virtual 2017 M2O Prelude 2, Sailonline will be using the polar of a Class 40 yacht. Melbourne yacht 'Lord Jiminy' is a Class 40 and is already entered in the 2018 event. 'Lord Jiminy' and 'Nexba' are the 2 currently entered Class 40 yachts but two more are expected to enter the race.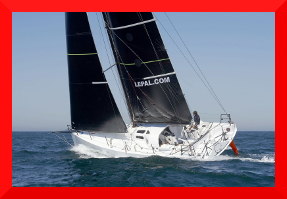 The Sailonline race will open for practice at 2200utc on 28 March 2017 and the race itself starts on 1 April at 2200utc.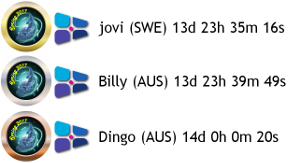 click on results image to see larger
Podium Certificate
GRATTIS jovi!!!
GOOD ONYA Billy!! GOOD ONYA Dingo!
Race Leaderboard
Although Sailonline has race the W coast of N America several times following migrating NE Pacific gray whales, this is only the second time that we have swum the mother and baby route from their breeding grounds in the warm waters off Mexico up to the rich feeding grounds off Alaska, in the Bering Sea. In an area prone to extreme weather conditions, it was somewhat surprising that the wild winds spent a lot of the time far away from our course, creating a truly tricky-to-strategise event.
Our podium and first finishers are to be congratulated for completing the course in just over 13 days, and with roughly 5 minutes separating the first and second finishers, this really was a remarkable close finish! Bravo podium and thank you for writing of your experiences for us all to share!
Reports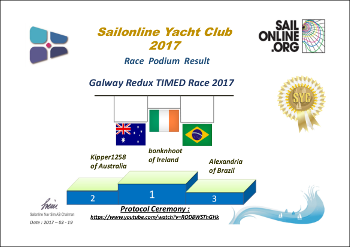 Race Leaderboard
GEFELICITEERD bonknhoot!!!
GOOD ONYA Kipper1258!! PARABÉNS Alexandria!
Reports

Commentary
The west coast of Ireland, butting on to the Atlantic ocean can be a particularly wild sailing venue, especially during the winter months. For a TIMED race, then, it is absolutely ideal and this course, deceptively straightforward, gives some racers a perfect opportunity to do well and others a chance to bbq!
Our podium three all started within 25mins of each other on the morning of 16 March, and in fact this was the ideal window, as the first 11 top finishers also chose this time to run. Very well done guys!

Races
Next Race: 00d 00h 00m
---
Current Races:
Melbourne to Osaka 2017 - Prelude 2
Welcome to the 5,500nm race from Melbourne, Australia, in the Southern hemisphere, to Osaka, Japan, in the Northern hemisphere.
This is the 2017 Prelude to the main event which will run in reality in 2018. This is your virtual opportunity to test navigation and routing skills!
Race #1036
INFO from brainaid.de
Class 40 Pariculars
WX Updates: 0430 / 1030 / 1630 / 2230
Ranking: SYC
Race starts: Apr 01st 22:00 Registration will open soon
GO TO RACE
2017 40' Series Championship Q1&Q2 Boston to Newport Race
It's time for the third of six races in the 40' Q1 and Q2 Championship!
This time we are racing from Boston to Newport.
DON'T RISK DISQUALIFICATION!
There are three boat designs to choose from and each one may NOT be used more than twice during the six race Series, according to the NORof the series
The three boat designs are:
40' Particulars
IMPORTANT:
Before you choose the boat design, log in with the "Guest" boat (Username=guest/Password=guest) so you can view the predicted winds to help you choose the best boat/polar for the upcoming race. Once you have chosen to register a boat design for this race, it cannot be undone!
REMEMBER:
Choosing the same boat design more than twice will get you disqualified from this race!!
View this list to see what boats you've already used:
USED BOATS
Race # 1026
INFOfrom brainaid.de
WX Updates:
0430 / 1030 / 1630 / 2230
Ranking:
40Q1&2CH –SYC
ALT. CLIENT:Classic
Race starts: Mar 30th 10:00 Registration Open!
GO TO RACE
Carcass to Beaver PYOC 2017
Another quick race round the rocks and isles of the Falklands. 55nm as the crow flies, but PYOC and see how best you can get from Carcass to Beaver in your IMOCA60.
Race #1023
INFO by brainaid.de
IMOCA60 Particulars
WX Updates:
0430 / 1030 / 1630 / 2230
Ranking:
SPRCH - SUPSOL - SPRR1 - SYC
ALT. CLIENT: Classic
RACE CLOSE: Tuesday, 28 March at 2300utc
Race starts: Mar 25th 18:00 Registration Closed
GO TO RACE
A3 2016 - Leg 7 - Cairns to Darwin
SOL's gift to AGage's memory is the A3 - Agage's Around Australia Series. This race is Leg 7 of the series - a race of 1405nm in 60ft trimarans from Cairns, the hub of Australia's tropical holiday zone, to Darwin, the frontier with Asia.
Race #1027
INFO by brainaid.de
60ft Trimaran Particulars
WX Updates:
0430 / 1030 / 1630 / 2230
Ranking: A3 - SYC
ALT. CLIENT:Classic
Race starts: Mar 22nd 02:00 Registration Open!
GO TO RACE
SYC Ranking
Series
Mobile Client
SYC members have the benefit of access to our mobile/lightweight web client!