Online Sailracing!
Sailonline.org is owned and operated by Sailonline NavSim AB, a not for profit, community-owned company.
Sailonline's mission is to offer a superior internet-based sailing and navigation simulation to the global sailing community, whilst ensuring a future of growth and continuous enhancement to benefit its users through financial viability and long term vision.
All Sailonline boats and their properties are purely virtual and do not necessarily reflect real world data.
Sailonline is free for everyone to play and is supported by SYC Memberships.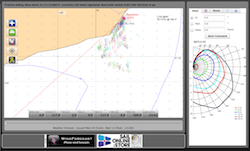 Create your account
News from the blog
Welcome!
Now login with our guest account to view currently running races: Username: guest - Password: guest
PLEASE ONLY REGISTER YOUR OWN USERNAME AND PASSWORD IF YOU INTEND TO RACE.
All times on Sailonline are in UTC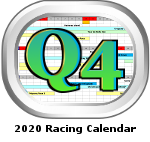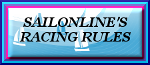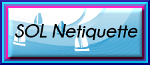 GDPR - General Data Protection Regulations
- Sailonline wishes to reassure all SOLers that it is aware of the regulation changes in relation to the protection of personal data. Sailonline cares about your privacy and will continue to let you control the personal information you provide. More info
here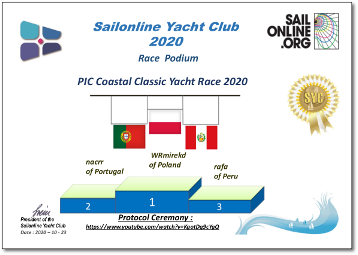 click on results image to see larger
GRATULACJE WRmirekd!!!
PARABÉNS nacrr!! FELICIDADES rafa!
Race Leaderboard
Reports

Commentary
It scarcely seems a year since Sailonline last watched the PIC Coastal Classic fleet depart from Auckland for this wonderful mixed-fleet race to Russell, up the east coast of New Zealand's North Island. The Start Video by LiveSailDie shows just how light the start conditions were although our virtual 60ft trimarans were marginally luckier without the real currents to contend with.
As always a superb report of the real race is available from Sailworld here and, of course, the full results are posted on the race's homepage here.
Winds on the nose once past North Head meant that the fleet had its work cut out to find the best run to Cape Brett – the virtual fleet has an open run, which means that going well outside The Hen and Chickens is certainly an option, although that was not popular. A leading group soon formed but, sadly, some distance behind the front runners in the real race and, if you read the reports posted above, you'll see how it was for those keenly competing for top honours in these difficult windward conditions. Our winner, WRmirekd, arrived in a record time all right – sadly the slowest recorded time ever for a Sailonline winner of the Coastal Classic – 23h 23m 59s! Even back in 2009 and 2010 when we raced Young 88s the winds let us arrive in half that time – what a change from our best winning time in 2019!
With a fleet of 147 racing, flying the flags of 33 nations, there was good competition for the podium with 10 boats arriving within 10m of our winner. Our podium must of course be congratulated for taking the stop spots – our winner was 29s ahead of the second place taker, who was more than a minute ahead of the third. Very well done guys – a tougher than usual Coastal Classic so an excellent result!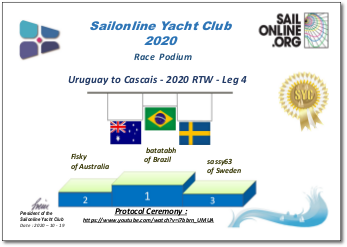 click on results image to see larger
PARABÉNS batatabh!!!
GOOD ONYA Fisky!! GRATTIS sassy63!
Race Leaderboard
Reports



Commentary
More than two hundred SOLers gathered on the starting line off Punta del Este for this classic ocean race from south west to north east across the Atlantic. As you can glean from the reports and as per the poetry of Ella Wheeler Wilcox shared with us by Jawz:
"One ship drives east and another west
with the self same winds that blow.
'Tis the set of the sails and not the gales
which decides the way to go."
Well quite, and it was batatabh, driving east, who set his sails the best for his premier SOL victory, by a handy three quarters of an hour from Fisky, who in turn recorded his premier SOL podium, with SOL veteran sassy63 taking third spot. But, with all due respect to Ms Wheeler Wilcox, the gales and finding them also had something to do with it. See the reports under the buttons above to read how that was. Congratulations, guys!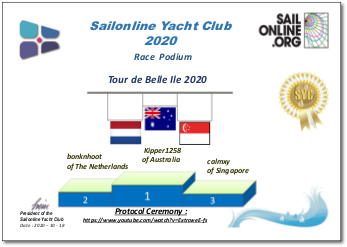 click on results image to see larger
GOOD ONYA Kipper1258!!!
GEFELICITEERD bonknhoot!! CONGRATULATIONS calmxy!
Race Leaderboard
Commentary
This classic TR, from Quiberon round la Belle Ile and home, opened just as Atlantic Storm Alex had hit the peak of its power along the Breton coast, and with a little, but not too much north in its direction, was offering racers near optimal conditions for an immediate run. No surprise then that the usual TR suspects hit the virtual water as soon as they could, and thus, what turned out to be a winning time of 02:39:02 was up on the board just 02:40:00 hours exact after the race opened for registration.
A second window of opportunity did open briefly a day later, but that early circuit time set by Kipper1258 could not be bested, although a few racers did avail of the second chance to improve their position on the leaderboard, and thus things stayed quite quiet on the bay thereafter, with little more than 200 runs being attempted over the two weeks that the course was open. Good on Kipper1258, though!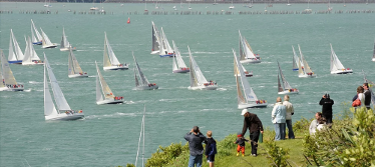 Welcome to the PIC Coastal Classic Yacht Race 2020 - one of New Zealand's iconic yacht races up the E coast of North Island, from Auckland to the harbour at Russell. Originally raced by speedboats in the 1920s, aiming at speed records, the yacht race, now a classic in it's own right, was first conceived in the 1980s by a member of the Auckland Multihull Sailing Association who wanted to recapture the historic course. The event is, of course, now raced in classes – Multihull, Monohull and Cruising – and continues to have a wide range of prizes on offer, not just for division winners, but for seamanship and even for the littlest boat to finish!
Sailonline is delighted once again to be hosting the virtual version of the "Coastal Classic", sponsored as always by PIC, and we shall again be racing our trusty 60ft Trimaran, which should keep us reasonably competitive with the IRL Multihull racers. The virtual race will open for practice on 17 October 2020 at 2100utc to allow ample time for friends and family of IRL racers to find us and learn how to compete on our platform.
Entrants
Race Tracker


Races
Next Race: 00d 00h 00m
---
Current Races:
Two Oceans Doublecross 2020
This race was first designed for Sailonline in 2010 by SOLer Jawz, and now, ten years on, we again invite you to sail our Fox 9.50s the 185nm around Cape Point and twice over the imaginary line demarcating the meeting of the Atlantic and Indian Oceans. Count the number of wrecks of previous vessels both old and new that underestimated the fury of the Cape of Storms! Celebrate your survival at the Tavern of the Seas.
Race #1403
INFO by brainaid.de
Fox 9.50 PARTICULARS
WX Updates:
0430 / 1030 / 1630 / 2230
Ranking: SYC
ALT. CLIENT:Classic
Race starts: Oct 29th 16:00 Registration Open!
HTML5 Client (beta) GO TO RACE
The Odyssey 2020 - Leg 2
Welcome back to the second leg of Sailonline's Virtual Odyssey which takes us from Cape Maleas at the south eastern tip of the Peloponnese across the Mediterranean to the land of the drug-dependent Lotus Eaters, probably Djerba on the Tunisian coast, where Odysseus nearly tarries too long, but gets away in time, only to end up on the southern coast of Sicily near present-day Sciacca, where a one-eyed cyclops named Polyphemus holds terrible sway and has to be dealt with after he has devoured a number of the crew. 850nm of epic adventure; enjoy!
Race #1389
INFOby brainaid.de
Trireme PARTICULARS
WX Updates:
0430 / 1030 / 1630 / 2230
Ranking: SYC - ODY
ALT. CLIENT: Classic
Race starts: Oct 27th 16:00 Registration Open!
HTML5 Client (beta) GO TO RACE
Sailonline's South China Sea Classic 2020
Welcome to the South China Sea and a fun downwind course of 366nm in TP52s from Lantau Island, Hong Kong to the island of Hainan in southern China.
Race #1402
INFO by brainaid.de
TP-52 PARTICULARS
WX Updates:
0430 / 1030 / 1630 / 2230
RANKING:
SYCQ4 - SYCCH - SUPSOL -SYC
ALT. CLIENT: Classic
RACE CLOSE: Thursday, 29 October at 2300utc
Race starts: Oct 23rd 03:15 Registration Closed
HTML5 Client (beta) GO TO RACE
Uruguay to Cascais - 2020 RTW - Leg 4
The last leg of Sailonline's Round the World Race 2020 takes racers from Punta del Este, deep in the South Atlantic, to Portugal's Cascais on the North Atlantic seaboard. More than 5000nm of almost only open water, bar three easily avoidable, well-known island groups and Fernando de Noronha and Madeira, in our much-loved Orange 125ft catamaran for your leisurely enjoyment of only wind, wind and wind and maybe some wine, chat and cheese!
PRIZE: SMPF
Race #1399
INFO from brainaid.de
Orange 125ft Particulars
WX Updates:
0430 / 1030 / 1630 / 2230
Ranking: OCQ4 - OCCH - SUPSOL - SYC - RTW20
ALT. CLIENT:Classic
RACE CLOSE: Thursday,
October 29 at 2300 UTC.
Race starts: Oct 02nd 20:00 Registration Closed
HTML5 Client (beta) GO TO RACE
SYC Ranking
Series
Mobile Client
SYC members have the benefit of access to our mobile/lightweight web client!