23 June 2016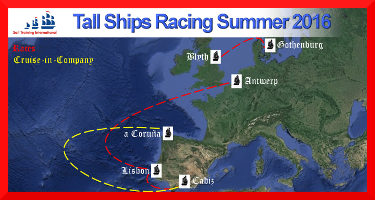 For the sixth year, Sailonline is delighted to be continuing its relationship as the virtual partner of Sail Training International for its summer season of tall ships racing around Europe, where Sailonline's virtual races will mirror the schedules and courses of the real events as closely as possible.
This year will see a total of four events, the three Tall Ships Races – a race from Antwerp in Belgium to Lisbon the capital of Portugual, a race from Lisbon on to Cadiz in Spain and a Cruise in Company from Cadiz to A Coruña also in Spain – and then, at the end of August, the North Sea Regatta – a race from Blyth on the UK's Northumberland coast, to Gothenburg in southern Sweden.
Sailonline's virtual sailing experience runs hand in hand with Sail Training International's mission - the development and education of young people through the sail training experience, regardless of nationality, culture, religion, gender or social background. Sail Training International and Sailonline both count heavily on volunteer support with financial gain excluded from the equation.
Navigating a tall ship is a remarkably challenging affair, especially if you are more familiar with modern yachts, and gives a real insight into the true nature of ocean exploration in days gone by, so why not start learning the basics today so you will be ready for your Tall Ships experience!
There are four classes of Tall Ship in the real races, ranging from the biggest Class A Square Rigged ships of more than 40m in length, down to training yachts of 9.14m. Sailonline has developed performance polars based on published data for several tall ships, and races to compete against Class A ships.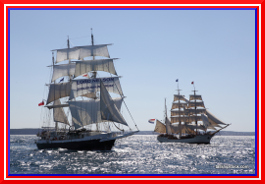 Races
Next Race: 00d 00h 00m
---
Current Races:
Sydney to Mooloolaba 2017
Its January, so Sailonline has decided to race the 468nm from Sydney, on Australia's SE coast, north to the holiday, surfing and sailing centre of Mooloolaba on the Sunshine Coast of Queensland.
Race #1107
INFO by brainaid.de
60ft Trimaran Particulars
WX Updates: 0430 / 1030 / 1630 / 2230
Ranking: SYC
ALT. CLIENT:Classic
Race starts: Jan 23rd 02:00 Registration Open!
GO TO RACE
2018 40' Series Championship Race 1 - Sardinia Cup
Welcome to a new season and the first of twelve races in the 2018 40' Series Championship!
We will use the Sardinia Cup 223 nm racecourse round Sardinia in the Mediterranean Sea to test your skills.
It seems that there's a lot to see here, so watch your Google Earth feed closely
HOW TO BE DISQUALIFIED!!
READ THIS CAREFULLY !!!!

Race # 1111
INFOfrom brainaid.de
The Chart is NOT available for this race !
WX Updates:
0430 / 1030 / 1630 / 2230
Ranking:
40CH - SYC
ALT. CLIENT:Classic

Race starts: Jan 19th 11:00 Registration Open!
GO TO RACE
Rio In-Port TIMED Race 2018
Many years ago, when the Volvo Round-The-World yachts were 70 foot long and not restricted much in any other way, SOL organized their own little round-the-cans race outside the harbour of Rio de Janeiro. To start our 2018 series of TIMEDRUNS , we are setting those cans out again for you, and this time they will stay in the water for 20 days for all comers to try as often as they wish to set a best time. We won't be racing a VO70 though, but the slightly more sedate X35, which, given that the course is some 80nm in length, will mean you will be confronted by a change of forecast or two during your runs. You'll have to take a view!
RE-REGISTER HERE to race again after finishing a run
Race #1106
INFO by brainaid.de
X-35 OD Particulars
WX Updates:
0430 / 1030 / 1630 / 2230
RANKING:
TRCH-SUPSOL-TRQ1-SYC
ALT. CLIENT: Classic
RACE CLOSE: Thursday,
25 January at 2300utc
Race starts: Jan 05th 11:00 Registration Open!
GO TO RACE
SWR 17/18 Leg 4 - Melbourne to Hong Kong
After celebrating Christmas and New Year it is time for Leg 4 of this fantastic Sailonline World Race 2017/18.
After leaving Melbourne on this (about) 5.500 NM course, we will leave the Solomon Islands, Papua New Guinea and the Philippines, all to port
And remember, once again we'll have to choose the best way to cross the Doldrums
Race #1104
INFOfrom brainaid.de
OD65v3 Particulars
WX Updates: 0430 / 1030 / 1630 / 2230
Ranking: OCCH-OCQ1-SUPSOL-SWR-SYC
ALT. CLIENT:Classic
Race starts: Jan 02nd 03:00 Registration Open!
GO TO RACE
SYC Ranking
Series
Mobile Client
SYC members have the benefit of access to our mobile/lightweight web client!