23 June 2016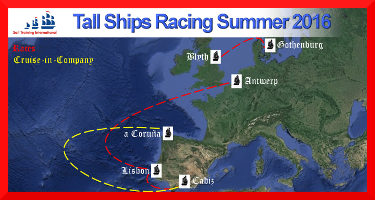 For the sixth year, Sailonline is delighted to be continuing its relationship as the virtual partner of Sail Training International for its summer season of tall ships racing around Europe, where Sailonline's virtual races will mirror the schedules and courses of the real events as closely as possible.
This year will see a total of four events, the three Tall Ships Races – a race from Antwerp in Belgium to Lisbon the capital of Portugual, a race from Lisbon on to Cadiz in Spain and a Cruise in Company from Cadiz to A Coruña also in Spain – and then, at the end of August, the North Sea Regatta – a race from Blyth on the UK's Northumberland coast, to Gothenburg in southern Sweden.
Sailonline's virtual sailing experience runs hand in hand with Sail Training International's mission - the development and education of young people through the sail training experience, regardless of nationality, culture, religion, gender or social background. Sail Training International and Sailonline both count heavily on volunteer support with financial gain excluded from the equation.
Navigating a tall ship is a remarkably challenging affair, especially if you are more familiar with modern yachts, and gives a real insight into the true nature of ocean exploration in days gone by, so why not start learning the basics today so you will be ready for your Tall Ships experience!
There are four classes of Tall Ship in the real races, ranging from the biggest Class A Square Rigged ships of more than 40m in length, down to training yachts of 9.14m. Sailonline has developed performance polars based on published data for several tall ships, and races to compete against Class A ships.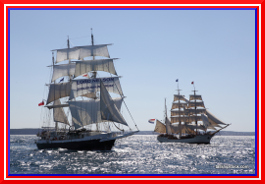 Races
Next Race: 00d 00h 00m
---
Current Races:
3CR - Caen Channel Craic 2020
This 975 NM course first run in 2011 mixes challenging coastal sailing through the Solent with a tricky triangular course across the Celtic Sea before finishing in Normandy.
You are provided with our excellent "Club Swan 50" to do it!
Race #1320
INFO from brainaid.de
Club Swan 50 Particulars
WX Updates:
0430 / 1030 / 1630 / 2230
Ranking: SYC
ALT. CLIENT:Classic
Race starts: Jan 19th 16:00 Registration Open!
New HTML5 Client GO TO RACE
South Sandwich Islands TIMED Race 2020
No time to stop off for a quick snack as we hit a truly fire and ice trail round volcanoes and a stationary iceberg in this 93nm TIMEDrace. We sail in our VO70_4's on a course provided by NZL_Scotsman.
RE-REGISTER HEREto race again after finishing a run.
Race #1318
INFOby brainaid.de
VO70_v4 Particulars
WX Updates:
0430 / 1030 / 1630 / 2230
Ranking:
TRQ1-TRCH-SUPSOL-SYC
ALT. CLIENT:Classic
REGISTRATION CLOSE: Sunday, 26. January at 22:00 UTC
RACE CLOSE: Sunday, 26. January at 23:00 UTC.
Race starts: Jan 13th 12:00 Registration Open!
New HTML5 Client GO TO RACE
Abu Dhabi to Dondra 2020
Almost exactly five years ago, SOL, shadowing a real live ocean race, set a mighty fleet of honed and updated OD65s off on a gruelling voyage from Abu Dhabi to Sanya on the southern tip of China's Hainan Island. A month later, the race closed with half the fleet still out at sea. This year, this January, we re-enact this race, but are putting in a stop halfway, after about 2000nm, at Sri Lanka's Dondra, with the second leg scheduled to start a month later; both to count towards 2020's OCCH series. Fair winds!
PRIZE: SMPF
Race #1308
INFOby brainaid.de
OD65v3 Particulars
WX Updates:
0430 / 1030 / 1630 / 2230
Ranking:
OCCH – OCQ1 - SUPSOL - SYC
ALT. CLIENT: Classic
RACE CLOSE: Sunday,
January 26 at 2300 UTC.
Race starts: Jan 06th 17:00 Registration Closed
New HTML5 Client GO TO RACE
SYC Ranking
Series
Mobile Client
SYC members have the benefit of access to our mobile/lightweight web client!