23 June 2016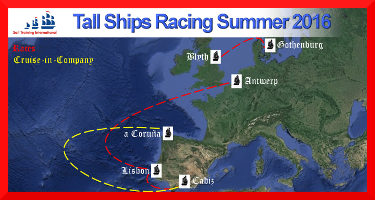 For the sixth year, Sailonline is delighted to be continuing its relationship as the virtual partner of Sail Training International for its summer season of tall ships racing around Europe, where Sailonline's virtual races will mirror the schedules and courses of the real events as closely as possible.
This year will see a total of four events, the three Tall Ships Races – a race from Antwerp in Belgium to Lisbon the capital of Portugual, a race from Lisbon on to Cadiz in Spain and a Cruise in Company from Cadiz to A Coruña also in Spain – and then, at the end of August, the North Sea Regatta – a race from Blyth on the UK's Northumberland coast, to Gothenburg in southern Sweden.
Sailonline's virtual sailing experience runs hand in hand with Sail Training International's mission - the development and education of young people through the sail training experience, regardless of nationality, culture, religion, gender or social background. Sail Training International and Sailonline both count heavily on volunteer support with financial gain excluded from the equation.
Navigating a tall ship is a remarkably challenging affair, especially if you are more familiar with modern yachts, and gives a real insight into the true nature of ocean exploration in days gone by, so why not start learning the basics today so you will be ready for your Tall Ships experience!
There are four classes of Tall Ship in the real races, ranging from the biggest Class A Square Rigged ships of more than 40m in length, down to training yachts of 9.14m. Sailonline has developed performance polars based on published data for several tall ships, and races to compete against Class A ships.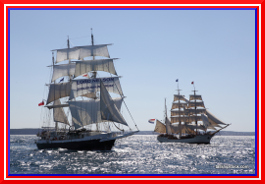 Races
Next Race: 00d 00h 00m
---
Current Races:
PIC Coastal Classic Yacht Race 2019
Welcome back to Auckland on New Zealand's North Island and the 2019 running of the classic annual race from Auckland to Russell. This can be a tricky race, with pretty much all conditions possible - from flat out spinnaker rides, speedy reaching and even dying breezes before sunrise! As always, arriving yachties will find a traditional welcome of bacon butties and rum.
Race #1286
INFO by brainaid.de
60ft Trimaran Particulars
WX Updates:
0430 / 1030 / 1630 / 2230
Ranking: SYC
ALT. CLIENT:Classic
Race starts: Oct 24th 21:00 Registration Open!
GO TO RACE
Key Lime Pie-gatta 2019
Rum runners, conch fritters and shrimp! You don't race this, you're a whimp.
Or a Po-boy, thinks it's cold; just get a shirt on, go, go, go!
170 nautical miles
criss-cross the causeway,
in Far Easts, a tad far west,
would you not say?
And mez-res NAM wind,
Eh? Okay?
Race #1292
INFOby brainaid.de
Fareast 28R Particulars
WX Updates:
0245 / 0845 / 1445 / 2045
Ranking: SYC
ALT. CLIENT: Classic
Race starts: Oct 21st 18:00 Registration Open!
GO TO RACE
Galloo Islands Sprint 2019
There is so much more to New York than that collection of towering skyscrapers at the mouth of the Hudson river. Upstate, it is rolling pastures, mountain ranges and lakelands, stretching all the way to the U.S. border with Canada – the St Lawrence Seaway and the waters of two great inland seas, Lakes Erie and Ontario. This race takes you right to the top of this bucolic wonderland for a 24nm sprint in classy Club Swan 50s out to the historic lighthouse on the southern tip of Galloo Island on the eastern reaches of Ontario, round the island and back to Henderson Bay. Enjoy!
Race #1291
INFO by brainaid.de
Club Swan 50 Particulars
WX Updates:
0430 / 1030 / 1630 / 2230
RANKING:
SPRCH-SUPSOL-SPRQ4-SYC
ALT. CLIENT:Classic
RACE CLOSE: Thursday,
October 24 at 2300 UTC.
Race starts: Oct 19th 18:00 Registration Open!
GO TO RACE
Itajai to Newport 2019
While we are waiting for the next edition of our Sailonline World Race (SWR) why not refresh the memory by re-racing the 17/18 leg from Itajai in Brazil to Newport, USA.
Do you remember all the different hurdles on the route?
Well, here they are in order of occurrence:
St Helena High:
The Trade Winds S:
On the beach:
The Doldrums:
The Trade Winds N:
Azores High:
The Westerly Stormtrack:

That's it folk's.
Now you know what to expect!!!
Race #1288
INFO from brainaid.de
OD65v3 Particulars
WX Updates: 0430 / 1030 / 1630 / 2230
Ranking: OCCH-OCQ4-SUPSOL-SYC
PRIZE: SMPF
ALT. CLIENT: Classic
Race starts: Oct 03rd 18:00 Registration Open!
GO TO RACE
SYC Ranking
Series
Mobile Client
SYC members have the benefit of access to our mobile/lightweight web client!