23 June 2016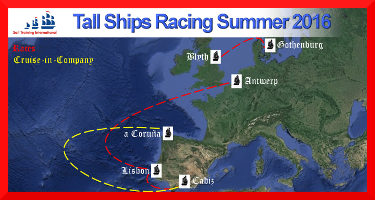 For the sixth year, Sailonline is delighted to be continuing its relationship as the virtual partner of Sail Training International for its summer season of tall ships racing around Europe, where Sailonline's virtual races will mirror the schedules and courses of the real events as closely as possible.
This year will see a total of four events, the three Tall Ships Races – a race from Antwerp in Belgium to Lisbon the capital of Portugual, a race from Lisbon on to Cadiz in Spain and a Cruise in Company from Cadiz to A Coruña also in Spain – and then, at the end of August, the North Sea Regatta – a race from Blyth on the UK's Northumberland coast, to Gothenburg in southern Sweden.
Sailonline's virtual sailing experience runs hand in hand with Sail Training International's mission - the development and education of young people through the sail training experience, regardless of nationality, culture, religion, gender or social background. Sail Training International and Sailonline both count heavily on volunteer support with financial gain excluded from the equation.
Navigating a tall ship is a remarkably challenging affair, especially if you are more familiar with modern yachts, and gives a real insight into the true nature of ocean exploration in days gone by, so why not start learning the basics today so you will be ready for your Tall Ships experience!
There are four classes of Tall Ship in the real races, ranging from the biggest Class A Square Rigged ships of more than 40m in length, down to training yachts of 9.14m. Sailonline has developed performance polars based on published data for several tall ships, and races to compete against Class A ships.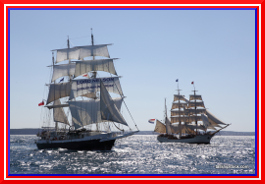 Races
Next Race: 00d 00h 00m
---
Current Races:
Pacific NW Inshore 2019
Welcome to a 137nm SOL Classic, from Seattle to Vancouver, past historic Port Townsend, home of the famous wooden boat festival, then on past Whale Watch Park where there is often a pod of orca whales to be seen, continuing on round and through the beautiful San Juan Islands Nature Reserve and then up into the Strait of Georgia for a finish in English Bay. Enjoy it all!
Race #1229
INFO at brainaid.de
Elan 410 PARTICULARS
WX Updates:
0430 / 1030 / 1630 / 2230
Ranking: SYC
ALT. CLIENT:Classic
Race starts: Apr 25th 21:00 Registration Open!
GO TO RACE
Hong Kong to Puerto Galera 2019
Welcome all to SOL's fourth race in this year's twelve race SYC Championships, and to another prestigious buddy-up with RHKYC for their inaugural Hong Kong to Puerto Galera ocean race. 650nm as the red-footed booby flies, and for our Santa Cruz 52's just a quick dash with the sheets more than likely well-eased.
Race #1227
INFOby brainaid.de
Santa Cruz 52 Particulars
WX Updates:
0430 / 1030 / 1630 / 2230
Ranking:
None
ALT. CLIENT:Classic
RACE CLOSE: Thursday,
April 25 at 2300 UTC.
Race starts: Apr 17th 04:20 Registration Closed
GO TO RACE
Boston to Plymouth TransAt 2019
Sailonline first raced between Plymouth and Boston in 2008, but it was in 2009 that the course was reversed, creating our classic Boston to Plymouth route. Usually sailed as a TIMED TransAt, this time we are racing as a fleet. Crossing the North Atlantic in N Hemisphere Spring can be a challenging enterprise and now, in this era of increasing climate instability, traditional routes may not prove to be the best! Have fun deciding your strategy!
Race #1245
NORfrom brainaid.de
90ft Monohull Particulars
WX Updates:
0430 / 1030 / 1630 / 2230.
RANKING: None
ALT. CLIENT: Classic
Race starts: Apr 15th 20:00 Registration Closed
GO TO RACE
Golden Globe Race 2018 - Leg 2 Storm Bay to Les-Sables d'Olonne
Welcome to Leg 2 of Sailonline's virtual version of the 2018 Golden Globe Race. After a brief respite in Storm Bay, Tasmania, of a minimum of 90 minutes after arrival, we are now racing across the Pacific, round Cape Horn and home to Les-Sables d'Olonne.
DO NOT START TOO EARLY
If you raced Leg 1 then you MUST wait 90 minutes before starting this leg. The penalty for starting Leg 2 before finishing Leg 1 is NO RANKING. The penalty for starting Leg 2 within 90 minutes of finishing Leg 1 is 5x the time you started too early.
Race #1181
INFO by brainaid.de
Rustler 36 PARTICULARS
WX Updates:
0430 / 1030 / 1630 / 2230
Ranking: GGR
ALT. CLIENT:Classic
Race starts: Sep 15th 12:00 Registration Open!
GO TO RACE
SYC Ranking
Series
Mobile Client
SYC members have the benefit of access to our mobile/lightweight web client!