23 June 2016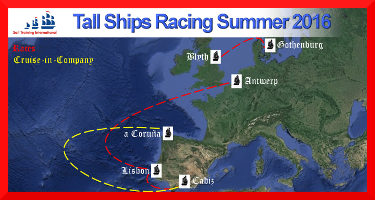 For the sixth year, Sailonline is delighted to be continuing its relationship as the virtual partner of Sail Training International for its summer season of tall ships racing around Europe, where Sailonline's virtual races will mirror the schedules and courses of the real events as closely as possible.
This year will see a total of four events, the three Tall Ships Races – a race from Antwerp in Belgium to Lisbon the capital of Portugual, a race from Lisbon on to Cadiz in Spain and a Cruise in Company from Cadiz to A Coruña also in Spain – and then, at the end of August, the North Sea Regatta – a race from Blyth on the UK's Northumberland coast, to Gothenburg in southern Sweden.
Sailonline's virtual sailing experience runs hand in hand with Sail Training International's mission - the development and education of young people through the sail training experience, regardless of nationality, culture, religion, gender or social background. Sail Training International and Sailonline both count heavily on volunteer support with financial gain excluded from the equation.
Navigating a tall ship is a remarkably challenging affair, especially if you are more familiar with modern yachts, and gives a real insight into the true nature of ocean exploration in days gone by, so why not start learning the basics today so you will be ready for your Tall Ships experience!
There are four classes of Tall Ship in the real races, ranging from the biggest Class A Square Rigged ships of more than 40m in length, down to training yachts of 9.14m. Sailonline has developed performance polars based on published data for several tall ships, and races to compete against Class A ships.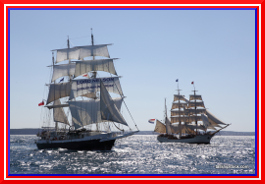 Races
Next Race: 00d 00h 00m
---
Current Races:
Shetland Winter Race 2021
A-OI!!! The cry should soon be ringing out in the streets of Lerwick as the Guizer Jarl and his crew, along with the other teams in the Up Helly Aa parade complete their preparations for the biggest fire festival in Europe. While Shetland continues to manage #COVID19 well, Up Helly Aa has been cancelled but this won't stop SOLers racing their Elan 410s this 383nm course from Aberdeen to be sociable in Lerwick Harbour. SAILING NOTE: Gruney may be approached from any direction but must be passed for rounding purposes as indicated on the chart.
Race #1421
INFO by brainaid.de
Elan 410 PARTICULARS
WX Updates:
0430 / 1030 / 1630 / 2230
RANKING: SYC
Race starts: Jan 24th 11:00 Registration Open!
Old Flash Client GO TO RACE
Race to Geelong 2021
Welcome again to Australia and this time instead of racing out of Port Phillip Bay and offshore, we are racing a speedy slalom course to Geelong of 40nm in First 27s.
Race #1433
INFO by brainaid.de
First 27 PARTICULARS
WX Updates:
0430 / 1030 / 1630 / 2230
RANKING: SYC
Race starts: Jan 23rd 21:00 Registration Open!
Old Flash Client GO TO RACE
Boston to Newport TIMED Race 2021
Last raced as part of the 2018 40 footer series, we return to Boston for another race to Newport. However, instead of choosing a boat for a given start time, you get to choose a start time for the given boat choice of the speedy R/P 66! How quickly can you complete this  132nm run? 
RE-REGISTER HERE to race again after finishing a run. 
Race # 1430
INFO by brainaid.de 
R/P 66 PARTICULARS
NAM_AWIP WX Updates:
0245 / 0845 / 1445 / 2045
Ranking:
TRQ1 - TRCH - SUPSOL - SYC
RACE CLOSE: Sunday, 31 January at 23:00 UTC
Race starts: Jan 18th 12:00 Registration Open!
Old Flash Client GO TO RACE
Foiling Wellington to Ushant 2021
Time to don full weather gear and put the foot down as we race Sailonline's new foiling Imocas over the 11200nm from Wellington NZ to Ushant, France! We will cross two oceans, round Cape Horn, and try to stay on the foils through the notorious highs of the south and north Atlantic Oceans.
Race #1420
INFOby brainaid.de
IMOCA 60 foil PARTICULARS
WX Updates:
0430 / 1030 / 1630 / 2230
Ranking: SYC
Race starts: Jan 03rd 21:00 Registration Closed
Old Flash Client GO TO RACE
SYC Ranking
Series
Mobile Client
SYC members have the benefit of access to our mobile/lightweight web client!