11 August 2017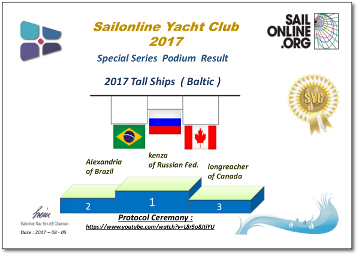 click on results image to see larger
Поздравляю kenza !!!
PARABÉNS Alexandria!! CONGRATULATIONS longreacher!
Series Leaderboard
Race Results Blogposts



Commentary
We have come to the end of our Tall Ships racing in Europe for 2017 and we owe a big "thank you" to Sail Training International for another year of excellent buddy-racing. Bringing Class A ships on-screen and tracking their progress is a real bonus for Sailonline's racing, creating as it does a real sense of interactivity with the real ships and the festivals they are taking part in.
For possibly the first year, there seemed to be a real recognition of the way in which tall ships perform – set against our usual repertoire of mono- and multi-hull yachts, these grand ladies of the oceans, representing an era of maritime exploration, remind us of the difficult conditions faced by those early navigators. As we lolled, almost becalmed at times, we could begin to understand the frustrations this must have caused on-board in an era without satellite communications, where voyages lasted not just weeks but months.
Many congratulations to our wonderful podium – to win any tall ships race on Sailonline is a pretty remarkable achievement, but to finish on the podium at the end of a series is just excellent. Very well done guys!


Races
Next Race: 00d 00h 00m
---
Current Races:
The Three Festivals Tall Ships Regatta 2018 - Race 1
Welcome to the first of two races of The Three Festivals Tall Ships Regatta - a run of 147nm from Liverpool, around the Isle of Man to finish offshore Dublin. A pleasant outing for our elegant Clipper ships.
NOTE:Starts and Finishes in Tall Ships racing are offshore to avoid conflict with shipping and shipping lanes.
Race #1143
INFO by brainaid.de
Clipper 240 Particulars
WX Updates:
0430 / 1030 / 1630 / 2230
RANKING: Tall Ships - SYC
ALT. CLIENT: Classic
Race starts: May 28th 15:00 Registration Open!
GO TO RACE
SWR 17/18 Leg 9 - Newport to Cardiff
We are back in the northern hemisphere!
After a good rest in Newport it's time to head for Europe, more specifically Cardiff in Wales
"A smooth trip" you might think, but The Atlantic Ocean can offer many surprises. One of them could be The Azores High, which in the late spring can drift north and block your route to Cardiff.
Consider yourself warned.
Race #1146
INFO from brainaid.de
OD65v3 Particulars
WX Updates: 0430 / 1030 / 1630 / 2230
Ranking: 2017SWR-2018OCCH-2018SUPSOL-2018OCQ2-SYC
PRIZE: SMPF
SOL Classic Client
Race starts: May 20th 18:00 Registration Open!
GO TO RACE
Van Isle 360 2018
Welcome back to Vancouver and the 525nm delightful course designed by SOLer fastpassage39. This is a tricky race, combining tight channels and open water which our TP 52 will love.
Race #1147
INFO by brainaid.de
TP 52 Particulars
WX Updates: 0430 / 1030 / 1630 / 2230
Ranking: SYC
ALT. CLIENT:Classic
Race starts: May 17th 16:00 Registration Open!
GO TO RACE
Tristan TIMED Race 2018
Welcome to the South Atlantic and a challenging 68nm course around the three quaintly and incongruously named islands of the remote outpost known as Tristan da Cunha. The gales may come and go but the sea is everlasting. This is a TIMED race originally designed by NZL_Scotsman.
RE-REGISTER HERE to race again after finishing a run.
Race #1130
INFO by brainaid.de
Farr 38 Particulars
WX Updates:
0430 / 1030 / 1630 / 2230
Ranking:
TRCH-SUPSOL-TRQ2-SYC
ALT CLIENT: Classic RACE CLOSE: Sunday,
27 May at 2300utc
Race starts: May 06th 12:00 Registration Open!
GO TO RACE
SYC Ranking
Series
Mobile Client
SYC members have the benefit of access to our mobile/lightweight web client!