12 October 2017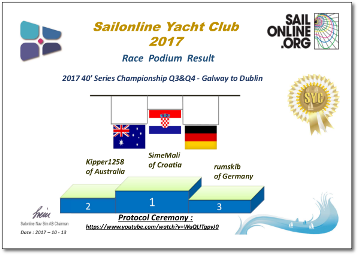 ČESTITAMO SimeMali!!!
GOOD ONYA Kipper!! HERZLICHEN GLÜCKWUNSCH rumskib!

Commentary
This was the second race of the 2017 Q3Q4 40ft Championships . Despite the best efforts of all involved with publicising the rules for this brilliant championship, there continue to be people who, for whatever reason, pay no attention and, as a consequence, find themselves DSQ from the race in question. The series permits a discard but it really is a pity that somehow the requirement to exercise judgment to select the best boat, out of a choice of three, but to race each no more than twice, just doesn't seem to register with some!
Racing around the southern coast of Ireland at the start of the winter gale season was always going to be interesting and so it proved to be. Facing strong winds ahead of the arrival of Hurricane Ophelia, the SOL fleet arrived in Dublin in time to celebrate the finish and be away before the real storm!
The three-boat podium shows who raced their choices best and, the race podium is a tribute to those who managed to pip their Class 40 competitors to the top spots. Well done guys!

Races
Next Race: 00d 00h 00m
---
Current Races:
2018 40' Series Championship Race 1 - Sardinia Cup
Welcome to a new season and the first of twelve races in the 2018 40' Series Championship!
We will use the Sardinia Cup 223 nm racecourse round Sardinia in the Mediterranean Sea to test your skills.
It seems that there's a lot to see here, so watch your Google Earth feed closely
HOW TO BE DISQUALIFIED!!
READ THIS CAREFULLY !!!!

Race # 1111
INFOfrom brainaid.de
The Chart is NOT available for this race !
WX Updates:
0430 / 1030 / 1630 / 2230
Ranking:
40CH - SYC
ALT. CLIENT:Classic

Race starts: Jan 19th 11:00 Registration Open!
GO TO RACE
Ouzo Sprint 2018
Ouzo is a blend of ethanol (rectified spirit) and water with mysterious hints of aniseed and other botanicals such as fennel, mastic, cardamom, coriander, cloves, and cinnamon. Same as designer gin really, but with aniseed rather than juniper as the dominant flavour. By Greek law, the ABV (alcohol by volume) has to be at least 35%. Think of the water as the sea, the alcohol as the rocks and islands of the Inner Aegean you must not founder on, and the secret flavourings as the wind to waft you from Koufonisi to Akra Sounion, and you have The Ouzo Sprint. In our spanking new Club Swan 50s you may even be round before the thought gives you a headache!
Race #1108
INFO from brainaid.de
Club Swan 50 INFO
WX Updates:
0430 / 1030 / 1630 / 2230
Ranking:
SPRCH - SPRQ1 - SUPSOL - SYC
ALT. CLIENT:Classic
RACE CLOSE: Tuesday, January 16 at 2300 UTC.
Race starts: Jan 13th 11:00 Registration Open!
GO TO RACE
Rio In-Port TIMED Race 2018
Many years ago, when the Volvo Round-The-World yachts were 70 foot long and not restricted much in any other way, SOL organized their own little round-the-cans race outside the harbour of Rio de Janeiro. To start our 2018 series of TIMEDRUNS , we are setting those cans out again for you, and this time they will stay in the water for 20 days for all comers to try as often as they wish to set a best time. We won't be racing a VO70 though, but the slightly more sedate X35, which, given that the course is some 80nm in length, will mean you will be confronted by a change of forecast or two during your runs. You'll have to take a view!
RE-REGISTER HERE to race again after finishing a run
Race #1106
INFO by brainaid.de
X-35 OD Particulars
WX Updates:
0430 / 1030 / 1630 / 2230
RANKING:
TRCH-SUPSOL-TRQ1-SYC
ALT. CLIENT: Classic
RACE CLOSE: Sunday,
25 January at 2300utc
Race starts: Jan 05th 11:00 Registration Open!
GO TO RACE
SWR 17/18 Leg 4 - Melbourne to Hong Kong
After celebrating Christmas and New Year it is time for Leg 4 of this fantastic Sailonline World Race 2017/18.
After leaving Melbourne on this (about) 5.500 NM course, we will leave the Solomon Islands, Papua New Guinea and the Philippines, all to port
And remember, once again we'll have to choose the best way to cross the Doldrums
Race #1104
INFOfrom brainaid.de
OD65v3 Particulars
WX Updates: 0430 / 1030 / 1630 / 2230
Ranking: OCCH-OCQ1-SUPSOL-SWR-SYC
ALT. CLIENT:Classic
Race starts: Jan 02nd 03:00 Registration Open!
GO TO RACE
SYC Ranking
Series
Mobile Client
SYC members have the benefit of access to our mobile/lightweight web client!