12 October 2017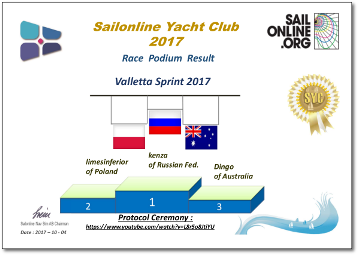 click on results image to see larger
ПОЗДРАВЛЯЕМ kenza!!!
GRATULACJE limesinferior!! GOOD ONYA Dingo!
Commentary
Ever since fending off the Ottoman Empire back in the 16th Century, the ceremonial shot of cannon has echoed off the buildings and fortifications of Valetta at changing times of the day. All well and good, but when starting a serious race, online or otherwise, the question can arise "Was that the gun?" and thus inevitably SOL's fifth consecutive running of our always longest sprint of the year saw the odd confused competitor starting late.
It mattered little. Many days of light, shifting winds provided all with plenty of opportunity to make amends, if such was needed, but a winner would out, and our podium three are to be much congratulated for neither needing to make said amends nor ever wandering much off the ideal course, more than nine days long. It was a close run thing with only 13 secs (a.k.a. 1 server jump) separating silver from gold. My goodness!

Races
Next Race: 00d 00h 00m
---
Current Races:
Yates Cup 2017
RAYC welcomes Sailonline to the 2017 running of this Category 3+ race from Auckland around the Hauraki Gulf and challenges us to pit our skills against the real fleet who use the course as training for larger offshore events.
Race #1093
INFOfrom brainaid.de
Beneteau First 44.7 Particulars
WX Updates: 0430 / 1030 / 1630 / 2230
Ranking: SYC
ALT. CLIENT:Classic
Race starts: Nov 23rd 21:00 Registration Open!
GO TO RACE
Lake Superior Lights 2017
Sailonline loves lighthouses and our classic race around the famous lights of Lake Superior is a grand tour of 572nm . With fickle weather worldwide, this could be interesting!
Race #1092
INFOfrom brainaid.de
First47.7 Particulars
NAM_AWIP WX Updates:
0245 / 0845 / 1445 / 2045
Ranking: SYC
PRIZE: SMPF
ALT. CLIENT: Classic
Race starts: Nov 17th 18:00 Registration Open!
GO TO RACE
SWR 17/18 Leg 2 - Lisbon to Cape Town
The second of eleven legs of the 2017/18 Sailonline World Race takes us from Lisbon to Cape Town!
In this leg we must catch the Trade Winds, avoid the Azores High, pick the thinnest spot in the Doldrums to go through, then avoid the St. Helena High and catch the Westerly Storm Track that will get us to Cape Town
The southern race boundary has been set at 51°S to mark the Antarctic Ice Exclusion Zone
Race #1095
INFOfrom brainaid.de
OD65v3 Particulars
WX Updates: 0430 / 1030 / 1630 / 2230
Ranking: OCCH-OCQ4-SUPSOL-SWR-SYC
ALT. CLIENT:Classic
Race starts: Nov 05th 14:00 Registration Open!
GO TO RACE
SYC Ranking
Series
Mobile Client
SYC members have the benefit of access to our mobile/lightweight web client!