31 October 2017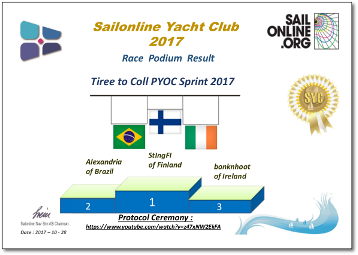 click on results image to see larger
ONNEKIS OLKOON StIngFI!!!
PARABÉNS Alexandria!! MAITH AN FEAR bonknhoot!
Race Leaderboard
Commentary
It is wet and windy in the British Isles in autumn, and this year it was so in particular, with Ophelia being followed by storm Brian in quick order. Thus, a relatively moderate F5 from points slightly north of west greeted the entrants for our by now annual sprint from Tiree to Coll, and an encouragingly large number there were too: 125 of which 93 finishers. With wind blowing in from the sea parallel to a pretty cold flat islandscape, even WRF can't get the wind to bend much, so on the face of it, it was going to be a straightforward race. However, above F3, our very own Mini 6.50 is able to sail unusually deep at high speed, courtesy one assumes of some great big magic sail. Nevertheless, it goes much much faster with the wind abeam at c 130 true, and ever more so as the wind builds, presumably flying an asymmetric. Changing sail is known as 'hopping' in Solland and so the winners had to not only figure the windier northround route as the better way to go, but also how high to sail with and then douse the asymmetric, hoist their oversized spinnaker, and 'hop' down to the finish.
Turned out StIngFI got that just right, and possibly got in a particular sharp corner leaving Tiree as well, to take the Gold, closely followed by Alexandria and bonknhoot and 25 others finishing less than 2 minutes adrift. Well done all!

Races
Next Race: 00d 00h 00m
---
Current Races:
Stockholm to St Petersburg 2018
Welcome to Stockholm - are you ready to race to St Petersburg? Our 431nm course from Sweden to Russia includes a couple of slight detours past Saaremaa and Hoglandet but if you keep a good lookout and avoid stealthy submarines, you should soon be docking your J130s at the home of the world renowned Hermitage Museum!
Race #1114 INFO by brainaid.de J130 Particulars WX UPDATES:
0430 / 1030 / 1630 / 2230 RANKING: SYCALT. CLIENT:Classic
Race starts: Feb 27th 11:00 Registration will open soon
GO TO RACE
Perth-Fremantle ISAF Sprint 2018
To celebrate the running of the 2011 ISAF World Championships in Perth, Australia, SOL organized an overnight offshore race and a Sprint: 65nm in a J-80 sportsboat along the Perth/Freemantle shoreline. We have raced the course several times since then. This year, to hurry things up, we're going to do it in an Open 60. Proper sprinting!
Race #1118
INFO at brainaid.de
Open 60 Particulars
WX Updates:
0430 / 1030 / 1630 / 2230
Ranking:
SPRCH - SUPSOL – SRQ1 - SYC
ALT. CLIENT:Classic
Race starts: Feb 24th 03:00 Registration Open!
GO TO RACE
SWR 17/18 Leg 6 - Hong Kong to Auckland
While others have spent the two-week stay in Hong Kong sailing up and down the Zhujiang River and around Hong Kong Island, we have been able to completely relax and spend the days preparing for Leg 6 from Hong Kong to Auckland.
We will (almost) sail the exactly same way back to where we came from and that means another meeting with the Doldrums, which hopefully this time will be kinder to us. But if that does not happen... no one said this SWR 17/18 would be easy!
Race #1113
INFOfrom brainaid.de
The Chart is NOT available for this race !
OD65v3 Particulars
WX Updates:
0430 / 1030 / 1630 / 2230
Ranking:
OCCH-OCQ1-SUPSOL-SWR-SYC
ALT. CLIENT:Classic
Race starts: Feb 07th 05:00 Registration Open!
GO TO RACE
SYC Ranking
Series
Mobile Client
SYC members have the benefit of access to our mobile/lightweight web client!