31 October 2017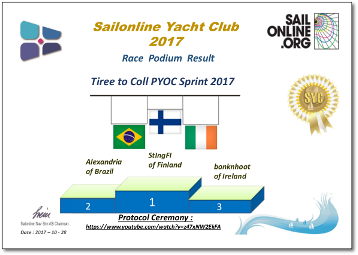 click on results image to see larger
ONNEKIS OLKOON StIngFI!!!
PARABÉNS Alexandria!! MAITH AN FEAR bonknhoot!
Race Leaderboard
Commentary
It is wet and windy in the British Isles in autumn, and this year it was so in particular, with Ophelia being followed by storm Brian in quick order. Thus, a relatively moderate F5 from points slightly north of west greeted the entrants for our by now annual sprint from Tiree to Coll, and an encouragingly large number there were too: 125 of which 93 finishers. With wind blowing in from the sea parallel to a pretty cold flat islandscape, even WRF can't get the wind to bend much, so on the face of it, it was going to be a straightforward race. However, above F3, our very own Mini 6.50 is able to sail unusually deep at high speed, courtesy one assumes of some great big magic sail. Nevertheless, it goes much much faster with the wind abeam at c 130 true, and ever more so as the wind builds, presumably flying an asymmetric. Changing sail is known as 'hopping' in Solland and so the winners had to not only figure the windier northround route as the better way to go, but also how high to sail with and then douse the asymmetric, hoist their oversized spinnaker, and 'hop' down to the finish.
Turned out StIngFI got that just right, and possibly got in a particular sharp corner leaving Tiree as well, to take the Gold, closely followed by Alexandria and bonknhoot and 25 others finishing less than 2 minutes adrift. Well done all!

Races
Next Race: 00d 00h 00m
---
Current Races:
PEP Sprint 2017
Eddystone Lighthouse marks a nasty patch of rocks about 10 nm SSW of the approach to Plymouth. With the prevailing winds generally out of the SW in this part of the world, chances then are this race departing from inner Plymouth harbour, is going to be a beat out to the Light, requiring inter alia the avoidance of a very substantial breakwater, followed by a run to the finish out on open water. Perhaps 18 nm as the crows flies, and therefore, even as your FinnGulf 43 flies, a quickie.
Race #1096
INFOby brainaid.de
Finngulf 43 Particulars
WX Updates:
0430 / 1030 / 1630 / 2230
RANKING:
SPRCH-SUPSOL-SPRR3-SYC
ALT CLIENT: Classic
Race starts: Nov 25th 10:00 Registration Open!
GO TO RACE
Yates Cup 2017
RAYC welcomes Sailonline to the 2017 running of this Category 3+ race from Auckland around the Hauraki Gulf and challenges us to pit our skills against the real fleet who use the course as training for larger offshore events.
Race #1093
INFOfrom brainaid.de
Beneteau First 44.7 Particulars
WX Updates: 0430 / 1030 / 1630 / 2230
Ranking: SYC
ALT. CLIENT:Classic
Race starts: Nov 23rd 21:00 Registration Open!
GO TO RACE
SWR 17/18 Leg 2 - Lisbon to Cape Town
The second of eleven legs of the 2017/18 Sailonline World Race takes us from Lisbon to Cape Town!
In this leg we must catch the Trade Winds, avoid the Azores High, pick the thinnest spot in the Doldrums to go through, then avoid the St. Helena High and catch the Westerly Storm Track that will get us to Cape Town
The southern race boundary has been set at 51°S to mark the Antarctic Ice Exclusion Zone
Race #1095
INFOfrom brainaid.de
OD65v3 Particulars
WX Updates: 0430 / 1030 / 1630 / 2230
Ranking: OCCH-OCQ4-SUPSOL-SWR-SYC
ALT. CLIENT:Classic
Race starts: Nov 05th 14:00 Registration Open!
GO TO RACE
SYC Ranking
Series
Mobile Client
SYC members have the benefit of access to our mobile/lightweight web client!