31 December 2018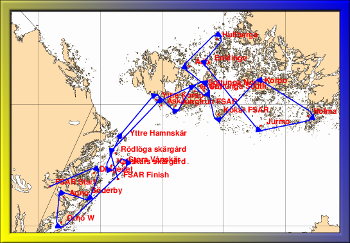 Race Leaderboard
In 2013 two SOLers, JakeS and Smo, had the bright idea that Sailonline, with its love of archipelago racing, should create a non-stop version of a real race between the Swedish and Finnish archipelagos (the real race has three overnight stops). In reality, and in virtuality, this race is really not for the faint hearted as it requires tremendous stamina to win and dogged determination in all participants. Participation requires a special kind of SOLer, completing the course is truly an achievement, while winning through to the podium is remarkable!
Check out the reports of previous runnings of the race here:
2013 -- 2014 -- 2016
The anticipation of making the 2018 running something special sadly came to nothing when our webserver encountered a technical problem, a new one for our Tech Team, which resulted in several hours of ignored commands. As a not-for-profit organisation, the small team of volunteers that keeps Sailonline running, year in and year out, can only ever do their best when circumstance throws a technical Chinese gybe our way. That our server was afflicted by an as-yet unexplained, albeit resolved, problem is a matter of great regret as it meant that those racing formidably for success at the time of the outage were unable to fulfil their promise, particularly sassy63 who was well on course to turn his previous best 2nd place here into a brilliant win. For those who doggedly persisted in finishing or trying to finish the course, you are to be commended for your determination.
As a footnote to this, if any one of you thinks you have both the expertise and a few hours a month that you are willing to offer to Sailonline's Tech Team, please do email an enquiry to admin@sailonline.org and offer your services, particularly if you are in N America or Australia/NZ, as our current team are all based in Europe.
_________________________________
Races
Next Race: 00d 00h 00m
---
Current Races:
The Tall Ships Races 2019 - Race 2
Welcome again to Bergen, this time for the second of the two races in this year's European Tall Ships Races and the final race of Sailonline's 2019 Tall Ships Series. This is a race of 398nm fom the Bergen Tall Ships Festival southwards, round a mark at the entrance to the Skagerrak, to arrive at the Aarhus Tall Ships Festival
NOTE:Starts and Finishes in tall ships racing are offshore to avoid conflict with shipping and shipping lanes.
Race #1268
INFO by brainaid.de
Clipper 240 Particulars
WX Updates:
0430 / 1030 / 1630 / 2230
RANKING: Tall Ships - SYC
ALT. CLIENT: Classic
Race starts: Jul 25th 08:00 Registration Open!
GO TO RACE
Tour Down Under 2019
Boats, not bicycles for SOL's own version of the "Tour Down Under" designed by AGage.
No hot dusty roads for us, just 694 NM of ocean in Seacart 30s!
Race #1277
INFOfrom brainaid.de
Seacart 30 Particulars
WX Updates: 0430 / 1030 / 1630 / 2230
Ranking: SYCCH-SYCQ3-SUPSOL-SYC
ALT. CLIENT:Classic

Race starts: Jul 18th 20:00 Registration Closed
GO TO RACE
Galveston to Galway TransAt 2019
This is a truly testing and massive new ocean race for Sailonline across the Gulf of Mexico and the Atlantic Ocean! Leaving the estuary of the Galveston Bay, you'll sail your OD65v3 across the Gulf of Mexico and into the Atlantic Ocean. You are, of course, free to navigate your way to Galway, Ireland, in any direction you like. Your only objective: get to Galway first!
PRIZE: SMPF
Race #1254
NORfrom brainaid.de
OD65v3 Particulars
WX Updates:
0430 / 1030 / 1630 / 2230
RANKING:
OCQ3-OCCH-SUPSOL-SYC
ALT. CLIENT: Classic
Race starts: Jul 15th 14:00 Registration Open!
GO TO RACE
Hormuz TIMED Race 2019
Strait of Hormuz is a really busy and congested waters with shipping and military vessels. For Sailonline however, racing here is with impunity, nothing is off limits!!
This is a TIMEDrace designed by NZL Scotsman
RE-REGISTER HEREto race again after finishing a run
Race #1266
Infofrom brainaid.de
X-35 OD Particulars
WX Updates:
0430 / 1030 / 1630 / 2230
Rankings:
TRCH-TRQ3-SUPSOL-SYC
ALT. CLIENT:Classic
REGISTRATION CLOSE:
Monday, 22. July at 22:00 UTC.
RACE CLOSE:
Monday, 22. July at 23:00 UTC.
Race starts: Jul 08th 12:00 Registration Open!
GO TO RACE
SYC Ranking
Series
Mobile Client
SYC members have the benefit of access to our mobile/lightweight web client!