4 December 2018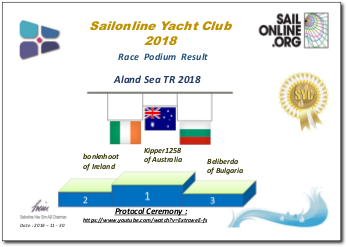 click on results image to see larger
GOOD ONYA Kipper1258!!!
MAITH AN FEAR bonknhoot!! ЧЕСТИТО Beliberda!
Race Leaderboard
Commentary
And so, the TIMED RUN Series ends with a tricky triangle in beautiful modern cruiser racers on the beautiful, if slightly chilly waters of the Aland Sea. Was that Smo on his long touring skates on the eastern horizon as we negotiated Tollingarna? As per the previous instalment, the best wind was once again found right at the end of the three week window, with Kipper1258's nose for the perfect breeze proving infallible for a last time in 2018.
Well done then Kipper1258, who also wins the Series overall, and well done Beliberda too, gaining a first Timed podium place; more to come, your reporter reckons!

Races
Next Race: 00d 00h 00m
---
Current Races:
Baltic 500 2019
Sailonline welcomes you to Kiel and our running of the Baltic 500 Challenge. With shallow waters and strong local currents in the Baltic and Danish waters, this close race will truly be a challenge for the IRL fleet, but also for the SOL fleet, which will have to contend with the vagaries of WRF weather. Will our Sunfast 3600 be a match for the real fleet's 51 different boat designs? Time will tell!

It is imperative that you read AND understand these special Starting Conditions for the Baltic 500 2019
Starting Conditions!!
Race #1258
INFO
from brainaid.de
Sunfast 3600
Particulars
WX Updates:
0430 / 1030 / 1630 / 2230
Ranking: SYC
ALT. CLIENT
Classic
Race starts:
May 30th 08:00
Registration Open!
GO TO RACE
Jubilant Race 2019
Yacht Jubilant crewed by SOLers and chums, will be racing round the Eddystone Lighthouse this weekend, in the second of her two qualifiers for the 2019 Irish Rock Race and invites Sailonline to join her in this 230nm event.
Race #1257
INFO from brainaid.de
J30 Particulars
WX Updates:
0430 / 1030 / 1630 / 2230
Ranking: None
ALT. CLIENT:Classic
Race starts: May 25th 08:30 Registration Open!
GO TO RACE
Tokyo to San Francisco 2019
Welcome to a quick 4500nm jaunt in our 60ft Trimarans.
Don't forget to stow a bonito and some miso and something to drink for this transpacific race from Tokyo to San Francisco in hopefully good weather and good wind.
PRIZE: SMPF
Race #1251
INFO from brainaid.de
60ft TrimaranParticulars
WX Updates:
0430 / 1030 / 1630 / 2230
Rankings: OCCH-OCQ2-SUPERSOL-SYC
ALT. CLIENT: Classic
Race starts: May 15th 17:00 Registration Open!
GO TO RACE
Golden Globe Race 2018 - Leg 2 Storm Bay to Les-Sables d'Olonne
Welcome to Leg 2 of Sailonline's virtual version of the 2018 Golden Globe Race. After a brief respite in Storm Bay, Tasmania, of a minimum of 90 minutes after arrival, we are now racing across the Pacific, round Cape Horn and home to Les-Sables d'Olonne.
DO NOT START TOO EARLY
If you raced Leg 1 then you MUST wait 90 minutes before starting this leg. The penalty for starting Leg 2 before finishing Leg 1 is NO RANKING. The penalty for starting Leg 2 within 90 minutes of finishing Leg 1 is 5x the time you started too early.
Race #1181
INFO by brainaid.de
Rustler 36 PARTICULARS
WX Updates:
0430 / 1030 / 1630 / 2230
Ranking: GGR
ALT. CLIENT:Classic
Race starts: Sep 15th 12:00 Registration Open!
GO TO RACE
SYC Ranking
Series
Mobile Client
SYC members have the benefit of access to our mobile/lightweight web client!