12 July 2018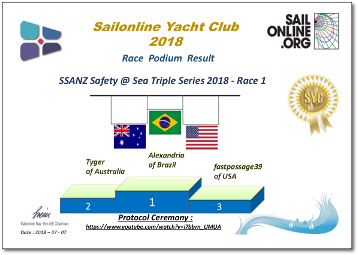 click on results image to see larger
PARABÉNS Alexandria!!!
GOOD ONYA Tyger!! CONGRATULATIONS fastpassage39!
Race Leaderboard
Images

SSANZ (LiveSailDie) made a video: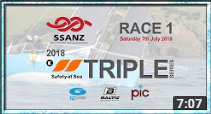 Commentary
The SSANZ Two-handed Triple Series is one of Sailonline's all-time favourites. The combination of three middle-distance inshore races with the waters of the Hauraki Gulf and the competition from the real racers of the Young 88 Association really makes this a truly must-do series! For Europeans it is a big ask, as the races all start very late in the European day, so a reliance on DCs (or a preparedness to forego sleep) are the only choices. For the rest of the world, this has the potential to be really challenging and so it is unsurprising to find our podium three coming from Brazil, Australia and USA.
The course for this SSANZ60 was a little different this year and the wind gods were certainly smiling on everyone taking part as the winds permitted a reasonable broad reach to the first turn at the Tiri Navy Buoy. From here to Gannet Rock, while definitely DC-able (risking an overnight wind update!) the optimal course included some judicious manoeuvring for best VMG. A few Europeans, by this point, were either beached overnight or sailing relatively randomly, but the competition for the top spots was still pretty full-on with nearly 9 boats arriving in the first 10 minutes. The real fleet was tracked in real-time and this gave a sense of just where we and our virtual Young 88s were in the field. The SSANZ Results show that the best corrected time for the Young 88 start, S/Y Skitzo was 6h 53m 29s while Alexandria arrived at 8h 10m 1s. This time it would see that the local tides/currents cut in favour of our IRL opposition!
Congratulations to our podium for a great start to this year's series!


Races
Next Race: 00d 00h 00m
---
Current Races:
Pacific NW Inshore 2019
Welcome to a 137nm SOL Classic, from Seattle to Vancouver, past historic Port Townsend, home of the famous wooden boat festival, then on past Whale Watch Park where there is often a pod of orca whales to be seen, continuing on round and through the beautiful San Juan Islands Nature Reserve and then up into the Strait of Georgia for a finish in English Bay. Enjoy it all!
Race #1229
INFO at brainaid.de
Elan 410 PARTICULARS
WX Updates:
0430 / 1030 / 1630 / 2230
Ranking: SYC
ALT. CLIENT:Classic
Race starts: Apr 25th 21:00 Registration Open!
GO TO RACE
Hong Kong to Puerto Galera 2019
Welcome all to SOL's fourth race in this year's twelve race SYC Championships, and to another prestigious buddy-up with RHKYC for their inaugural Hong Kong to Puerto Galera ocean race. 650nm as the red-footed booby flies, and for our Santa Cruz 52's just a quick dash with the sheets more than likely well-eased.
Race #1227
INFOby brainaid.de
Santa Cruz 52 Particulars
WX Updates:
0430 / 1030 / 1630 / 2230
Ranking:
None
ALT. CLIENT:Classic
RACE CLOSE: Thursday,
April 25 at 2300 UTC.
Race starts: Apr 17th 04:20 Registration Closed
GO TO RACE
Boston to Plymouth TransAt 2019
Sailonline first raced between Plymouth and Boston in 2008, but it was in 2009 that the course was reversed, creating our classic Boston to Plymouth route. Usually sailed as a TIMED TransAt, this time we are racing as a fleet. Crossing the North Atlantic in N Hemisphere Spring can be a challenging enterprise and now, in this era of increasing climate instability, traditional routes may not prove to be the best! Have fun deciding your strategy!
Race #1245
NORfrom brainaid.de
90ft Monohull Particulars
WX Updates:
0430 / 1030 / 1630 / 2230.
RANKING: None
ALT. CLIENT: Classic
Race starts: Apr 15th 20:00 Registration Closed
GO TO RACE
Golden Globe Race 2018 - Leg 2 Storm Bay to Les-Sables d'Olonne
Welcome to Leg 2 of Sailonline's virtual version of the 2018 Golden Globe Race. After a brief respite in Storm Bay, Tasmania, of a minimum of 90 minutes after arrival, we are now racing across the Pacific, round Cape Horn and home to Les-Sables d'Olonne.
DO NOT START TOO EARLY
If you raced Leg 1 then you MUST wait 90 minutes before starting this leg. The penalty for starting Leg 2 before finishing Leg 1 is NO RANKING. The penalty for starting Leg 2 within 90 minutes of finishing Leg 1 is 5x the time you started too early.
Race #1181
INFO by brainaid.de
Rustler 36 PARTICULARS
WX Updates:
0430 / 1030 / 1630 / 2230
Ranking: GGR
ALT. CLIENT:Classic
Race starts: Sep 15th 12:00 Registration Open!
GO TO RACE
SYC Ranking
Series
Mobile Client
SYC members have the benefit of access to our mobile/lightweight web client!