14 October 2018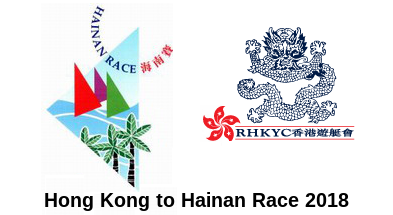 Sailonline is delighted to announce that for the third time it is partnering with Royal Hong Kong Yacht Club in the virtual version of it's Hong Kong to Hainan Race 2018.
The Hong Kong to Hainan Race is organised and conducted by the Royal Hong Kong Yacht Club (RHKYC) with co-operation with the Bureau of Culture, Broadcast & TV, Publication and Sports of the Sanya Municipal Government with the finish hosted by Serenity Marina in Sanya, Hainan
Sailonline's virtual yacht will again be based on the polar of a TP52 racing yacht, and, like the real fleet, we will be doing our best to beat the 2016 course record of 23h 31m 52s, set by Seng Huang Lee's 100ft Super Maxi Scallywag. Our direct competition this year will be Sam Chan's TP52, FreeFire. As always we hope to track the fleet via YB Tracking so racers on Sailonline will be able to see the real fleet positions, as updated, on the virtual race screen.

Sailonline's race is open for pre-race practice. Please note that the virtual race will be starting E of Hong Kong Island to permit delayed commands to be set for the start (remember, our racers are in all time zones!) and later by 30mins of the real start time to allow the real fleet to get to us and make a real race of it!

Races
Next Race: 00d 00h 00m
---
Current Races:
Caspian Chilov Chiller 2019
So here we are on the shores of the Caspian Sea in December. Ice is breaking up along the beach and the sheets grind over each other. Further North,the sea is wholly frozen over. Undaunted, clad in thermal suits, balaclavas, ski gloves and insulated Dubarry's, and with the space heater on down below, we invite you to venture out for a brisk 28nm race in Linjett 33s, round Chilov island and back home to Gurgan harbour. Don't dawdle!
Race #1300
INFOby brainaid.de
Linjett 33 Particulars
WX Updates:
0430 / 1030 / 1630 / 2230
Ranking:
SPRCH - SRQ4 - SUPSOL - SYC
ALT. CLIENT: Classic
Race starts: Dec 14th 18:00 Registration Open!
GO TO RACE
Yates Cup TIMED Race 2019
Welcome to a replication of the shortened 2017 edition of this Category 3+ race from Auckland around the Hauraki Gulf which, on this occasion is being run in the form of a TIMEDRACE.
Also, we are pleased to introduce you to a brand-new arrival in the Sailonline boathouse, namely the MC 38. Be sure to check out its "Particulars".
Race #1306
RE-REGISTER HERE to race again after finishing a run.
Race #1306
INFOfrom brainaid.de
MC 38 Particulars
WX Updates:
0430 / 1030 / 1630 / 2230
Ranking:
TRQ4-TRCH-SUPSOL-SYC
ALT. CLIENT:Classic
Race starts: Dec 10th 12:00 Registration Open!
GO TO RACE
Christmas(W) to Christmas(E) Island 2019
Welcome to Sailonline's race to Christmas!
5,827nm in Volvo 70s provides a sailing adventure for the run up to the festive season. Our race takes us from Christmas Island in the Indian Ocean to Christmas Island in the Pacific – how many of you knew there were two?! Many routing options so please have fun! Fair winds!
Race #1303
INFO by brainaid.de
Volvo 70_v4 Particulars
WX Updates:
0430 / 1030 / 1630 / 2230
RANKING: OCCH-OCQ4-SUPSOL- SYC
PRIZE: SMPF
ALT. CLIENT: Classic
Race starts: Nov 26th 16:00 Registration Open!
GO TO RACE
SYC Ranking
Series
Mobile Client
SYC members have the benefit of access to our mobile/lightweight web client!