4 October 2018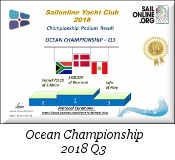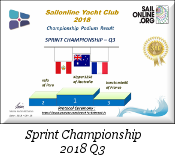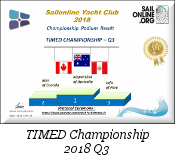 2018 Q3 SRC Review
Q3 started on 1st July with the most popular race that SRC has seen for many a year with the Golden Globe Race (Leg 1) starting from Les Sables d'Olonne in uncharacteristically benign Bay of Biscay conditions. At the time of this article, 3rd October, race entry is closed and we have 567 entrants of whom 214 have already made it to Storm Bay in Tasmania and, after most of them have waited the prescribed 90 minutes, have set off on GGR Leg 2 back to Les Sables d'Olonne. The Seat Of The Pants sailors are doing very well with many in the top twenty. Their bigger challenge will be in matching the routers up the Atlantic.
Our regular Series have continued in Q3 with the Ocean series being dominated by Skovser with two bullets and a 3rd. He was chased home by Patrick70119 and rafa. In the Timed series of just two races Kipper1258 brooked no opposition with two bullets. Azur and rafa were keeping him on his mettle. Again in the 4 race Sprint series Kipper1258 was on form with 1, 2, 3 and 9 closely chased by rafa with knockando claiming third.
To learn about our SSANZ races, 40ft series, Tall Ships racing, Shackleton series and of course the Balloon race. continue reading here
RESULTS AND PRIZES FOR EACH CHAMPIONSHIP
Ocean races
Sprint races
TIMED races

Races
Next Race: 00d 00h 00m
---
Current Races:
Migaloo Migration 2019
Welcome to "Migaloo's Migration".
We will escort Migaloo, the white humpback whale, from his winter quarters near Antarctica, to his summer residence at the northern Great Barrier Reef, in our 125' catamaran.
Enjoy the 3200 NM journey.
PRIZE: SMPF
Race #1261
INFOby brainaid.de
Orange 125' Cat. Particulars
WX Updates:
0430 / 1030 / 1630 / 2230
Ranking:
OCCH-OCQ2-SUPERSOL-SYC
ALT. CLIENT:Classic
Race starts: Jun 19th 15:00 Registration Open!
GO TO RACE
Liberty Tall Ships Regatta 2019 - Race 1
Welcome to France for the start of Sailonline's Tall Ships Racing 2019 with the first of the two races of The Liberty Tall Ships Regatta 2019 - a race of 110nm from the start offshore Rouen/Le Havre, north-east up the English Channel/La Manche to the finish off the coast of Belgium. The real ships will then sail on to the festival in The Hague.
NOTE:Starts and Finishes in tall ships racing are offshore to avoid conflict with shipping and shipping lanes.
Race #1180
INFO by brainaid.de
Clipper 240 Particulars
WX Updates:
0430 / 1030 / 1630 / 2230
RANKING: Tall Ships - SYC
ALT. CLIENT: Classic
Race starts: Jun 17th 10:00 Registration Open!
GO TO RACE
Nantucket to Edgartown 2019
It's summer in New England and you are all welcome back to Nantucket, from whence Herman Melville's Cap'n Ahab sailed off past the Cape of Good Hope to find the northern Pacific Ocean to hunt the white sperm whale. The toil and hardship of Ahab and his contemporaries are distant memories and outdoor sea and beach fun is what the island is all about today. So, let's sail, this time to Edgartown and Martha's Vineyard.
Race #1234
INFOby brainaid.de
J130 Particulars
WX Updates:
0430 / 1030 / 1630 / 2230
RANKING:
SPRCH-SUPSOL-SPRQ2-SYC
ALT CLIENT: Classic
Race starts: Jun 16th 17:00 Registration Open!
GO TO RACE
Golden Globe Race 2018 - Leg 2 Storm Bay to Les-Sables d'Olonne
Welcome to Leg 2 of Sailonline's virtual version of the 2018 Golden Globe Race. After a brief respite in Storm Bay, Tasmania, of a minimum of 90 minutes after arrival, we are now racing across the Pacific, round Cape Horn and home to Les-Sables d'Olonne.
DO NOT START TOO EARLY
If you raced Leg 1 then you MUST wait 90 minutes before starting this leg. The penalty for starting Leg 2 before finishing Leg 1 is NO RANKING. The penalty for starting Leg 2 within 90 minutes of finishing Leg 1 is 5x the time you started too early.
Race #1181
INFO by brainaid.de
Rustler 36 PARTICULARS
WX Updates:
0430 / 1030 / 1630 / 2230
Ranking: GGR
ALT. CLIENT:Classic
RACE CLOSE: 30 June 2019 at 2300utc
Race starts: Sep 15th 12:00 Registration Closed
GO TO RACE
SYC Ranking
Series
Mobile Client
SYC members have the benefit of access to our mobile/lightweight web client!