15 April 2019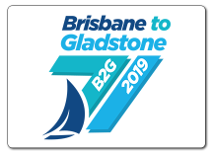 Who can forget the fabulous commentary at the start of last year's B2G with accomplished yachtsmen, David Turton and Grant Cooper, the popular Nic 'Adventures of a Sailor Girl' Douglass and QCYC's very own roving reporter, Jodie Visser. Once again Sailonline.org will be partnering with the Queensland Cruising Yacht Club (QCYC) to bring the Brisbane to Gladstone Yacht Race 2019 to armchair navigators around the world and Dave, Grant, Nic and Jodi will be back doing the start commentary. The virtual race starts at the same time as the real race on Good Friday, 19th April at 11:00am local time (0100 UTC) in the waters of Moreton Bay off Brisbane.
As usual, the 308 nautical mile ocean classic will start in Moreton Bay off Shorncliffe, a bayside suburb of Brisbane. The yachts proceed via a mark off Redcliffe, then across the bay to a mark off Tangalooma, Moreton Island, through the North West Channel out to the open ocean, around the top of Fraser Island and Lady Elliot Island and through to the city of Gladstone.
Entrants will include some of the countries best racing yachts such as the Reichel-Pugh 100 'Black Jack' and the Botin 52 'Ichi Ban', as well as a number of veteran yachts whose names are cemented in Australian yachting history such as the original 'Ragamuffin' and 'Too Impetuous', both veteran Admirals Cup yachts.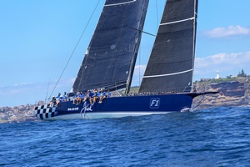 "Black Jack" – picture QCYC
The virtual B2G19 boat will have characteristics close to those of a Super Maxi 100 so participants will be able to test their navigational skills against 'Black Jack'. 'Black Jack' is the updated old 'Alfa Romeo' which was the basis for the Sailonline super maxi 100 polar.
Sailonline's virtual race will open shortly for registration to allow ample time to practise.
In cooperation with the Race's tracker provider, YB Tracking, Sailonline will be displaying a selection of yachts on its virtual racing screen so we can see how we are competing against the 'real' fleet.
2019 Entry List
Livestream of the 2019 Race Start


Races
Next Race: 00d 00h 00m
---
Current Races:
The Tall Ships Races 2019 - Race 2
Welcome again to Bergen, this time for the second of the two races in this year's European Tall Ships Races and the final race of Sailonline's 2019 Tall Ships Series. This is a race of 398nm fom the Bergen Tall Ships Festival southwards, round a mark at the entrance to the Skagerrak, to arrive at the Aarhus Tall Ships Festival
NOTE:Starts and Finishes in tall ships racing are offshore to avoid conflict with shipping and shipping lanes.
Race #1268
INFO by brainaid.de
Clipper 240 Particulars
WX Updates:
0430 / 1030 / 1630 / 2230
RANKING: Tall Ships - SYC
ALT. CLIENT: Classic
Race starts: Jul 25th 08:00 Registration Open!
GO TO RACE
Tour Down Under 2019
Boats, not bicycles for SOL's own version of the "Tour Down Under" designed by AGage.
No hot dusty roads for us, just 694 NM of ocean in Seacart 30s!
Race #1277
INFOfrom brainaid.de
Seacart 30 Particulars
WX Updates: 0430 / 1030 / 1630 / 2230
Ranking: SYCCH-SYCQ3-SUPSOL-SYC
ALT. CLIENT:Classic

Race starts: Jul 18th 20:00 Registration Closed
GO TO RACE
Galveston to Galway TransAt 2019
This is a truly testing and massive new ocean race for Sailonline across the Gulf of Mexico and the Atlantic Ocean! Leaving the estuary of the Galveston Bay, you'll sail your OD65v3 across the Gulf of Mexico and into the Atlantic Ocean. You are, of course, free to navigate your way to Galway, Ireland, in any direction you like. Your only objective: get to Galway first!
PRIZE: SMPF
Race #1254
NORfrom brainaid.de
OD65v3 Particulars
WX Updates:
0430 / 1030 / 1630 / 2230
RANKING:
OCQ3-OCCH-SUPSOL-SYC
ALT. CLIENT: Classic
Race starts: Jul 15th 14:00 Registration Open!
GO TO RACE
Hormuz TIMED Race 2019
Strait of Hormuz is a really busy and congested waters with shipping and military vessels. For Sailonline however, racing here is with impunity, nothing is off limits!!
This is a TIMEDrace designed by NZL Scotsman
RE-REGISTER HEREto race again after finishing a run
Race #1266
Infofrom brainaid.de
X-35 OD Particulars
WX Updates:
0430 / 1030 / 1630 / 2230
Rankings:
TRCH-TRQ3-SUPSOL-SYC
ALT. CLIENT:Classic
REGISTRATION CLOSE:
Monday, 22. July at 22:00 UTC.
RACE CLOSE:
Monday, 22. July at 23:00 UTC.
Race starts: Jul 08th 12:00 Registration Open!
GO TO RACE
SYC Ranking
Series
Mobile Client
SYC members have the benefit of access to our mobile/lightweight web client!