4 August 2019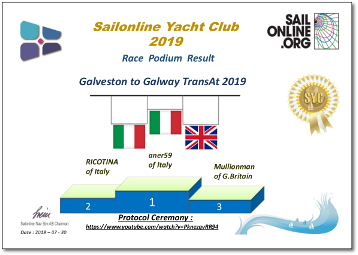 click on results image to see larger
CONGRATULAZIONI aner59!!!
CONGRATULAZIONI RICOTINA !!CONGRATULATIONS Mullionman!
Race Leaderboard
Commentary
When the idea of a race from Galveston to Galway was first suggested, the initial impression was of "just a TransAt" but… how wrong could we have been. The designer, SOLer Renegade, in fact created for us an ocean race of two parts – first, the crossing of the Gulf of Mexico which, in itself is a fairly major achievement, given the winds that arrive from the Atlantic and swirl in a loop around the Gulf, and second, a crossing of the N Atlantic itself. What a great race! It was intended by our SRC (Sailonline Race Committee) to be a 14-18 day race and, such is the accuracy of pre-routing that our first finisher arrived in 14 days 16 hours!
For most SOLers the Gulf of Mexico was a good challenge to begin with – figuring the best way to manage the Florida Keys! The choice was either to thread through the 'Keys or avoid them pretty much altogether. Our leaders immediately showed us that the most direct route was the most efficient! With Florida behind us, the next question was whether to head directly across the Atlantic towards Galway or, head north, hugging E Coast USA and then make a traditional TransAt, taking advantage of both the conventionally prevailing W-E flow of the northern latitudes and, of course, the shorter physical distance. A compromise on this was what chiefly occurred – perhaps with winds reflecting our changing climate, the sea crossings that have been part of history will be altered forever. SOLers are always adventurous spirits so if it were possible to re-create the tracks of our crossing, you would see that pretty much every option was attempted!
In any event, a leading pack soon developed and leaving the bulk of the fleet streaming behind, these Maestros of SOL looked to have the race well in hand – for a long while it seemed as if an all-Italian podium might be on the cards but…. by one second, that full-house was denied! Congratulations must go to our amazing podium three, and special mention to those who, but for a few seconds, might also have been victorious!

Races
Next Race: 00d 00h 00m
---
Current Races:
Caspian Chilov Chiller 2019
So here we are on the shores of the Caspian Sea in December. Ice is breaking up along the beach and the sheets grind over each other. Further North,the sea is wholly frozen over. Undaunted, clad in thermal suits, balaclavas, ski gloves and insulated Dubarry's, and with the space heater on down below, we invite you to venture out for a brisk 28nm race in Linjett 33s, round Chilov island and back home to Gurgan harbour. Don't dawdle!
Race #1300
INFOby brainaid.de
Linjett 33 Particulars
WX Updates:
0430 / 1030 / 1630 / 2230
Ranking:
SPRCH - SRQ4 - SUPSOL - SYC
ALT. CLIENT: Classic
Race starts: Dec 14th 18:00 Registration Open!
GO TO RACE
Yates Cup TIMED Race 2019
Welcome to a replication of the shortened 2017 edition of this Category 3+ race from Auckland around the Hauraki Gulf which, on this occasion is being run in the form of a TIMEDRACE.
Also, we are pleased to introduce you to a brand-new arrival in the Sailonline boathouse, namely the MC 38. Be sure to check out its "Particulars".
Race #1306
RE-REGISTER HERE to race again after finishing a run.
Race #1306
INFOfrom brainaid.de
MC 38 Particulars
WX Updates:
0430 / 1030 / 1630 / 2230
Ranking:
TRQ4-TRCH-SUPSOL-SYC
ALT. CLIENT:Classic
Race starts: Dec 10th 12:00 Registration Open!
GO TO RACE
Christmas(W) to Christmas(E) Island 2019
Welcome to Sailonline's race to Christmas!
5,827nm in Volvo 70s provides a sailing adventure for the run up to the festive season. Our race takes us from Christmas Island in the Indian Ocean to Christmas Island in the Pacific – how many of you knew there were two?! Many routing options so please have fun! Fair winds!
Race #1303
INFO by brainaid.de
Volvo 70_v4 Particulars
WX Updates:
0430 / 1030 / 1630 / 2230
RANKING: OCCH-OCQ4-SUPSOL- SYC
PRIZE: SMPF
ALT. CLIENT: Classic
Race starts: Nov 26th 16:00 Registration Open!
GO TO RACE
SYC Ranking
Series
Mobile Client
SYC members have the benefit of access to our mobile/lightweight web client!