6 August 2019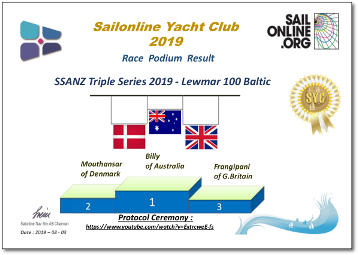 click on results image to see larger
GOOD ONYA Billy!!!
TILLYKKE Mouthansar!! CONGRATULATIONS Frangipani!
Race Leaderboard
Images

SSANZ (LiveSailDie) Video: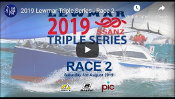 Reports



Commentary
Race 2 of the 2019 SSANZ Two-handed Triple Series completed and the three-race series win is up for grabs! Once of the speediest races experienced around the Hauraki Gulf for quite some time, while some were BBQ-ing the top finishers were already home and dry! The course was new for this year and while the real racers had their course adjusted because of the strong conditions, Sailonline's winner completed the full distance in an excellent time of 6h 23m 13s. Racing in the waters off Auckland really is a home from home for us now, and racing the Young 88 is always fun so it isn't surprising to see the top places so hotly contested. Even with a start late in the European evening (the majority of racers on Sailonline are based in Europe) tough European competition can't be counted out and, so it was this time that our podium three are a fair representation of both hemispheres!
The SSANZ Results show that only four of the Y88 entrants were able to complete the course, but the best corrected time was again from S/Y Split Decision with 5h53m25s (elapsed: 8h21m18s) . Again the locals win!
With SOLers flying the flags of 29 nations taking part, our podium three are to be congratulated on grabbing the top spots – mere seconds between them and mere seconds ahead of those following fast after them! Bravo guys!


Races
Next Race: 00d 00h 00m
---
Current Races:
Caspian Chilov Chiller 2019
So here we are on the shores of the Caspian Sea in December. Ice is breaking up along the beach and the sheets grind over each other. Further North,the sea is wholly frozen over. Undaunted, clad in thermal suits, balaclavas, ski gloves and insulated Dubarry's, and with the space heater on down below, we invite you to venture out for a brisk 28nm race in Linjett 33s, round Chilov island and back home to Gurgan harbour. Don't dawdle!
Race #1300
INFOby brainaid.de
Linjett 33 Particulars
WX Updates:
0430 / 1030 / 1630 / 2230
Ranking:
SPRCH - SRQ4 - SUPSOL - SYC
ALT. CLIENT: Classic
Race starts: Dec 14th 18:00 Registration Open!
GO TO RACE
Yates Cup TIMED Race 2019
Welcome to a replication of the shortened 2017 edition of this Category 3+ race from Auckland around the Hauraki Gulf which, on this occasion is being run in the form of a TIMEDRACE.
Also, we are pleased to introduce you to a brand-new arrival in the Sailonline boathouse, namely the MC 38. Be sure to check out its "Particulars".
Race #1306
RE-REGISTER HERE to race again after finishing a run.
Race #1306
INFOfrom brainaid.de
MC 38 Particulars
WX Updates:
0430 / 1030 / 1630 / 2230
Ranking:
TRQ4-TRCH-SUPSOL-SYC
ALT. CLIENT:Classic
Race starts: Dec 10th 12:00 Registration Open!
GO TO RACE
Christmas(W) to Christmas(E) Island 2019
Welcome to Sailonline's race to Christmas!
5,827nm in Volvo 70s provides a sailing adventure for the run up to the festive season. Our race takes us from Christmas Island in the Indian Ocean to Christmas Island in the Pacific – how many of you knew there were two?! Many routing options so please have fun! Fair winds!
Race #1303
INFO by brainaid.de
Volvo 70_v4 Particulars
WX Updates:
0430 / 1030 / 1630 / 2230
RANKING: OCCH-OCQ4-SUPSOL- SYC
PRIZE: SMPF
ALT. CLIENT: Classic
Race starts: Nov 26th 16:00 Registration Open!
GO TO RACE
SYC Ranking
Series
Mobile Client
SYC members have the benefit of access to our mobile/lightweight web client!