8 January 2019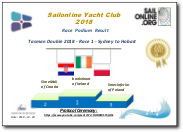 __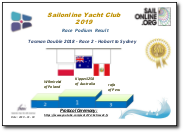 click Leg 1 results to see largerI_____I click Leg 2 results to see larger
GOOD ONYA Kipper1258!!!
GRATULACJE WRmirekd!! MAITH AN FEAR bonknhoot!
Sydney Hobart Leaderboard __ Hobart Sydney Leaderboard
Report

Commentary
Either side of New Year's Eve, the turnout for our annual Tasman Double is always surprisingly strong. How exactly the six-hourly rhythm of our WX updates rhymes at all with the unavoidable late night festivities and resultant long lie-ins is really quite a mystery. Our Leg 1 of course does coincide with the start of the IRL world-reknown Sydney Hobart, and once in Hobart one might as well race the return home. Apart from that, Leg 2 turned out to be the inaugural race of the SYC 12-race 2019 Championship of mid-distance races in high resolution winds when possible. So, more than 200 SOLers reported on the starting line (some only eventually) and some 160 made the return home a week later.
600-odd nautical miles basically all one way, and then in fast boats requiring the WX area to stretch well beyond the racing area so as to not confuse our predictor lines, turned out to be a bit of challenge for the wrfems grib generator, causing glitches at several WX updates, and a few racers were disadvantaged by these stochastic events. See the report by our runner-up on countback for some of the issues that had to be dealt with. Nevertheless, both on the approach into Hobart and on the exit back to Sydney, the vagaries of the light variable winds modelled in Storm Bay provided competitors with some real challenges. In the end, it was Kipper1258 who, by coming in first back into Sydney, won the series overall. A truly impressive display of skill and perseverance and appropriately from an Australian!

Races
Next Race: 00d 00h 00m
---
Current Races:
The Tall Ships Races 2019 - Race 2
Welcome again to Bergen, this time for the second of the two races in this year's European Tall Ships Races and the final race of Sailonline's 2019 Tall Ships Series. This is a race of 398nm fom the Bergen Tall Ships Festival southwards, round a mark at the entrance to the Skagerrak, to arrive at the Aarhus Tall Ships Festival
NOTE:Starts and Finishes in tall ships racing are offshore to avoid conflict with shipping and shipping lanes.
Race #1268
INFO by brainaid.de
Clipper 240 Particulars
WX Updates:
0430 / 1030 / 1630 / 2230
RANKING: Tall Ships - SYC
ALT. CLIENT: Classic
Race starts: Jul 25th 08:00 Registration Open!
GO TO RACE
Tour Down Under 2019
Boats, not bicycles for SOL's own version of the "Tour Down Under" designed by AGage.
No hot dusty roads for us, just 694 NM of ocean in Seacart 30s!
Race #1277
INFOfrom brainaid.de
Seacart 30 Particulars
WX Updates: 0430 / 1030 / 1630 / 2230
Ranking: SYCCH-SYCQ3-SUPSOL-SYC
ALT. CLIENT:Classic

Race starts: Jul 18th 20:00 Registration Closed
GO TO RACE
Galveston to Galway TransAt 2019
This is a truly testing and massive new ocean race for Sailonline across the Gulf of Mexico and the Atlantic Ocean! Leaving the estuary of the Galveston Bay, you'll sail your OD65v3 across the Gulf of Mexico and into the Atlantic Ocean. You are, of course, free to navigate your way to Galway, Ireland, in any direction you like. Your only objective: get to Galway first!
PRIZE: SMPF
Race #1254
NORfrom brainaid.de
OD65v3 Particulars
WX Updates:
0430 / 1030 / 1630 / 2230
RANKING:
OCQ3-OCCH-SUPSOL-SYC
ALT. CLIENT: Classic
Race starts: Jul 15th 14:00 Registration Open!
GO TO RACE
Hormuz TIMED Race 2019
Strait of Hormuz is a really busy and congested waters with shipping and military vessels. For Sailonline however, racing here is with impunity, nothing is off limits!!
This is a TIMEDrace designed by NZL Scotsman
RE-REGISTER HEREto race again after finishing a run
Race #1266
Infofrom brainaid.de
X-35 OD Particulars
WX Updates:
0430 / 1030 / 1630 / 2230
Rankings:
TRCH-TRQ3-SUPSOL-SYC
ALT. CLIENT:Classic
REGISTRATION CLOSE:
Monday, 22. July at 22:00 UTC.
RACE CLOSE:
Monday, 22. July at 23:00 UTC.
Race starts: Jul 08th 12:00 Registration Open!
GO TO RACE
SYC Ranking
Series
Mobile Client
SYC members have the benefit of access to our mobile/lightweight web client!