30 June 2019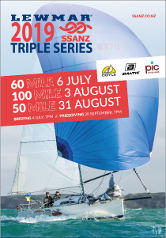 Sailonline is delighted to be returning to Auckland, on New Zealand's North Island. Feeling like a home-from-home, the waters of the Hauraki Gulf have, over the years, become more familiar to our virtual racers than our own home waters around the globe! For the eighth year in succession, Sailonline is looking forward to racing as the virtual partner of the Short-handed Sailing Association of New Zealand (SSANZ) for the SSANZ Lewmar Triple Series 2019. Raced annually in the waters off Auckland, this three-race series remains the biggest two-handed sailing series in New Zealand.
In 2014 Sailonline began an association with the Young 88 Owners Association and will again be racing all three events with our virtual Young 88.
If any SOLers are taking part – remember to let us know and we'll feature you here on the blogpost!
The three races will be raced on Sailonline on the following dates (UTC):
Race 1 – Lewmar 60 Baltic --- 5 July
Race 2 – Lewmar 100 Baltic ---2 August
Race 3 – Lewmar 50 Baltic --- 30 August
Sailonline's first race will open for registration and pre-race practice on the evening (UTC) of 1 July.


Races
Next Race: 00d 00h 00m
---
Current Races:
Lake Superior Lights 2019
Welcome to the Great Lakes region of North America and to a Sailonline classic "lighthouse" race this time around Lake Superior - starting at Wisconsin Point Light - click here to see some of the other famous lighthouses you will see on-course. This race always proves to be an interesting challenge as the waters and shoreline of Lake Superior are among the most rugged and isolated in the United States!
Race #1296
INFOfrom brainaid.de
SOTO 30 Particulars
NAM_AWIP WX Updates:
0245 / 0845 / 1445 / 2045
Ranking: SYC
ALT. CLIENT: Classic
Race starts: Nov 21st 19:00 Registration Open!
GO TO RACE
Stockholm to St Petersburg 2019
The Gulf of Finland is still ice-free, so board your X-35´s and get ready for a 450nm passage from one great historic Baltic city to another, via a slight detour south. Take care, keep a weather eye. The odd stray submarine or ice-breaker may need to be avoided.
Race #1298
INFO by brainaid.de
X-35 OD Particulars
WX Updates:
0430 / 1030 / 1630 / 2230
Ranking:
SYCCH - SYQ4 - SUPSOL - SYC
ALT. CLIENT Classic
Race starts: Nov 17th 15:00 Registration Open!
GO TO RACE
Raja Muda Selangor International 2019
For the second time, Sailonline has been invited to race in company with the real yachts racing in this year's run from Port Klang to Pangkor. In reality, this is just one race in a full-on week including three overnight passages and three days of inshore racing in the waters of Penang and Langkawi, all organised by the Royal Selangor Yacht Club in association with the RORC.
Race #1295
INFO by brainaid.de
First 44.7 Particulars
WX Updates:
0430 / 1030 / 1630 / 2230
Ranking: SYC
ALT. CLIENT: Classic
RACE CLOSE: Wednesday, 20 November at 2300utc
Race starts: Nov 16th 05:20 Registration Closed
GO TO RACE
Gray Whale Migration Autumn 2019
It is autumn in the N Hemisphere and just as memories of the warmth of summer are fast fading, it is time for SOLers everywhere to get ready to follow the Gray whales in their 4000nm annual migration from feeding grounds in the chilly, but nutrient rich waters of the Bering Sea to the idyllic, warm conditions of Mexico's coast.
PRIZE: SMPF
Race #1290
INFO from brainaid.de
90ft Monohull Particulars
WX Updates:
0430 / 1030 / 1630 / 2230
Ranking:
OCCH-OCQ4-SUPSOL-SYC
ALT. CLIENT:Classic
Race starts: Nov 01st 20:00 Registration Open!
GO TO RACE
SYC Ranking
Series
Mobile Client
SYC members have the benefit of access to our mobile/lightweight web client!