24 May 2019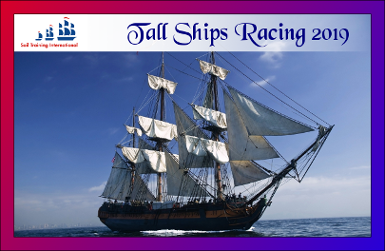 2019 sees the ninth season of Sailonline's association with tall ships races organised by Sail Training International. This year we won't be going "intercontinental" but the four races in Sailonline's series will all take part around Europe in two separate events and we will be aiming to bring the tracks of the Class A entrants in all races on-screen so we can compare performances!
This is what we have in store:
In June, two races of the Liberty Tall Ships Regatta - Race 1 from a Tall Ships Festival in Rouen, France, to one in The Hague/Scheveningen, Netherlands and then Race 2 from The Hague/Scheveningen to the Tall Ships Festival in Aalborg, Denmark.
In July, two races of The Tall Ships Races 2019 - in July this year – Race 1 from Aalborg, Denmark to Fredrikstad, Norway and Race 2 from Bergen, Norway, to Aarhus, Denmark. As always, the real ships will sail a Cruise-In-Company between Fredrikstad and Bergen during which time there can be crew exchanges as the ships make their way to various welcome-ports along the way.
This virtual sailing experience runs hand in hand with Sail Training International's mission - the development and education of young people through the sail training experience, regardless of nationality, culture, religion, gender or social background. Sail Training International and Sailonline both count heavily on volunteer support with financial gain excluded from the equation.
Navigating a tall ship is a remarkably challenging affair, especially if you are more familiar with modern yachts, and gives a real insight into the true nature of ocean exploration in days gone by, so why not start learning the basics today so you will be ready for your Tall Ships experience!
There are four classes of Tall Ship in the real races, ranging from the biggest Class A Square Rigged ships of more than 40m in length, down to training yachts of 9.14m. Sailonline has developed performance polars based on published data for several different tall ships, and races to compete against Class A ships.
Sailonline's first race will open for practice on Tuesday, 11 June and this year we will be sailing the polar of our Clipper ship.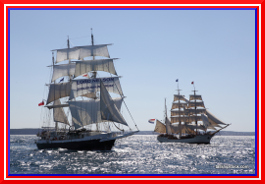 Races
Next Race: 00d 00h 00m
---
Current Races:
Sail Around Turkey 2019
Welcome to one of Sailonline's iconic races, where our fleet races the length of the Turkish coastline. This is a 1,372nm race from Hopa (the easternmost point of the Turkish Black Sea coast) to Iskenderun (the easternmost point of Turkey's Mediterranean coast).
Race #1279
INFOfrom brainaid.de
Sailonline_Falkun Particulars
WX Updates:
0430 / 1030 / 1630 / 2230
Ranking: SYC
ALT. CLIENT:Classic
Race starts: Aug 20th 14:00 Registration Open!
GO TO RACE
hmm's Delivery 2019
When, back in 2014, SOLer hmm went to Kiel in Germany and bought himself a very fine First 36.7, it came complete with the challenge of how to get her home to Helsinki, Finland. With summer fast approaching and press-ganging progressing slowly, SOL decided to help out with moral support and in the end nearly 200 SOLers accompanied him and his crew on the 588nm trip. A big success! Today hmm still sails his yacht all summer long on his home waters of the Gulf of Finland. So, five years on, let's re-enact his passage and get over there to join him as fast as we can, in our very quick Ker 40s on this occasion.
Race #1271
INFO by brainaid.de
Ker 40 PARTICULARS
WX Updates:
0430 / 1030 / 1630 / 2230
Ranking:
SYCCH – SYQ3 – SUPSOL – SYC
ALT. CLIENT:Classic
Race starts: Aug 15th 14:00 Registration Open!
GO TO RACE
Aden to Goa 2019
Europeans are mainly familiar with the history of how spices arrived in that continent from far away places, but the trade in spices from Goa to Aden predates the modern era as is detailed here. Sailonline is reversing this route and making it an eastbound yacht race of about 1700nm across the Arabian Sea for our 21st century Sunfast yachts! Fair winds and may the aroma of spices bring you safely to your destination!
PRIZE: SMPF
Race #1255
INFOfrom brainaid.de
Sunfast 3600 Particulars
WX Updates:
0430 / 1030 / 1630 / 2230
RANKING:
OCQ3-OCCH-SUPSOL-SYC
ALT. CLIENT: Classic
Race starts: Aug 12th 16:00 Registration Open!
GO TO RACE
Auckland to Russell 2019
Welcome to New Zealand and the iconic annual race up the east coast of North Island from Auckland to Russell. Racing conditions can be mixed - from flat out spinnaker rides, speedy reaching and even dying breezes before sunrise! On arrival thirsty yachties will find a traditional welcome of bacon butties and rum, before doing it all again.
This is a TIMEDrace.
RE-REGISTER HEREto race again after finishing a run
Race #1278
INFO by brainaid.de
Riptide 50 Particulars
WX Updates:
0430 / 1030 / 1630 / 2230
Rankings:
TRCH-TRQ3-SUPSOL-SYC
ALT. CLIENT:Classic
REGISTRATION CLOSE:
Wednesday, 21. August at 22:00 UTC.
RACE CLOSE:
Wednesday, 21. August at 23:00 UTC
Race starts: Aug 07th 12:00 Registration Open!
GO TO RACE
SYC Ranking
Series
Mobile Client
SYC members have the benefit of access to our mobile/lightweight web client!