24 November 2019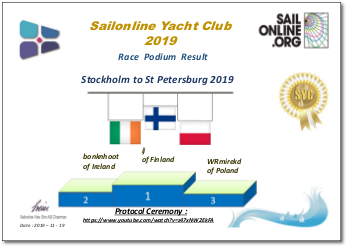 click on results image to see larger
ONNITTELUT ij!!!
MAITH AN FEAR bonknhoot!! GRATULACJE WRmirekd!
Race Leaderboard
Reports


Commentary

A moderate breeze coming up from the south gave the 130-odd starters of this year's race to St Petersburg some warmth for comfort. A little up and a little down here and there proved to be the fastest route to a tack point some time in the middle of the night for a lay to the turning mark at Saarema, but judging when to tack proved even more crucial than the wiggles and the waggles and it was ij who got to the bottom first.
Despite some interesting variations in the routes chosen from Saarema to St Petersburg (read all about it in two excellent reports from the podium above, and see how it unfolded in Bimmer's timelapse below), in the end it was ij who held on to his lead to score his fourth P1 in this year's SOL Championships. Superior SOLing, ij!!

Races
Next Race: 00d 00h 00m
---
Current Races:
Caspian Chilov Chiller 2019
So here we are on the shores of the Caspian Sea in December. Ice is breaking up along the beach and the sheets grind over each other. Further North,the sea is wholly frozen over. Undaunted, clad in thermal suits, balaclavas, ski gloves and insulated Dubarry's, and with the space heater on down below, we invite you to venture out for a brisk 28nm race in Linjett 33s, round Chilov island and back home to Gurgan harbour. Don't dawdle!
Race #1300
INFOby brainaid.de
Linjett 33 Particulars
WX Updates:
0430 / 1030 / 1630 / 2230
Ranking:
SPRCH - SRQ4 - SUPSOL - SYC
ALT. CLIENT: Classic
Race starts: Dec 14th 18:00 Registration Open!
GO TO RACE
Yates Cup TIMED Race 2019
Welcome to a replication of the shortened 2017 edition of this Category 3+ race from Auckland around the Hauraki Gulf which, on this occasion is being run in the form of a TIMEDRACE.
Also, we are pleased to introduce you to a brand-new arrival in the Sailonline boathouse, namely the MC 38. Be sure to check out its "Particulars".
Race #1306
RE-REGISTER HERE to race again after finishing a run.
Race #1306
INFOfrom brainaid.de
MC 38 Particulars
WX Updates:
0430 / 1030 / 1630 / 2230
Ranking:
TRQ4-TRCH-SUPSOL-SYC
ALT. CLIENT:Classic
Race starts: Dec 10th 12:00 Registration Open!
GO TO RACE
Christmas(W) to Christmas(E) Island 2019
Welcome to Sailonline's race to Christmas!
5,827nm in Volvo 70s provides a sailing adventure for the run up to the festive season. Our race takes us from Christmas Island in the Indian Ocean to Christmas Island in the Pacific – how many of you knew there were two?! Many routing options so please have fun! Fair winds!
Race #1303
INFO by brainaid.de
Volvo 70_v4 Particulars
WX Updates:
0430 / 1030 / 1630 / 2230
RANKING: OCCH-OCQ4-SUPSOL- SYC
PRIZE: SMPF
ALT. CLIENT: Classic
Race starts: Nov 26th 16:00 Registration Open!
GO TO RACE
SYC Ranking
Series
Mobile Client
SYC members have the benefit of access to our mobile/lightweight web client!