22 January 2020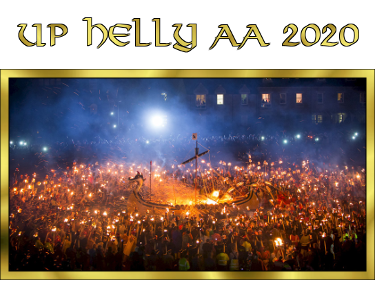 This will be the tenth consecutive year in which Sailonline, in association with Promote Shetland brings it's virtual fleet to Lerwick in celebration of the 2020 Up Helly Aa fire festival.
You may have heard of Shetland but you may not know that much about its history or its remarkably vibrant community. Shetland is the name given to a group of about 100 islands off the NE coast of the British mainland, as close to Norway as they are to Aberdeen in Scotland. The islands have been inhabited for about 5000 years and have to this day retained many of the traditions and customs of those who lived there over the centuries. Little is known about the original Pictish people as they appear to have been displaced when the Vikings arrived in the 700s. Over many years there was a strong Viking and Scandinavian influence until the islands were given to Scotland by Norway in the 15th century as part of a royal dowry.
Fire festivals on Shetland are a relatively modern tradition – thought originally to have taken place when tar-barrel fires were lit to celebrate victory in the Napoleonic wars in the early part of the 19th century and when these caught people's imagination, over the years, the tar barrels were replaced with Viking ships and so, nowadays, the festivals serve the dual purpose of raising spirits in the long dark winter and of reminding folk of historic Viking influences. Up Helly Aa in Lerwick has developed into an inclusive, entertaining and colourful fire festival involving almost the entire community, when the streets fill with "guizers" - groups of people in themed disguises of all kinds - and the Jarl Squad (the Vikings) while a livestream of the event is broadcast over the internet enabling everyone around the globe to join in!
Sailonline's Race:
Sailonline will again be racing Elan 410s from Aberdeen to Lerwick, starting on Monday, 27 January @1100utc. Our route is unchanged from previous years and takes us past Inverness, a mark in the Moray Firth, past Fair Isle and then around several of the islands of Shetland to the finish in Lerwick Harbour. The Lerwick Up Helly Aa festival this year is on Tuesday, 28 January. Sailonline's race will open for practice on Thursday, 23 January at 1100utc.
What the Helly Aa? VIDEO
Visitors' Guide to Up Helly Aa
Shetland Webcams


Races
Next Race: 00d 00h 00m
---
Current Races:
Van Isle 360 2020
Welcome back to Vancouver and the 525nm delightful course designed by SOLer fastpassage39. This is a tricky race, combining tight channels and open water which our seldom sailed and elegant Dufour 40 will love.
Race #1336
INFO by brainaid.de
Dufour 40 Particulars
WX Updates: 0430 / 1030 / 1630 / 2230
Ranking: SYC
ALT. CLIENT:Classic

Race starts: Apr 01st 17:00 Registration Open!
New HTML5 Client GO TO RACE
A3 2020- Leg 3 - Hobart to Sydney
SOL's continuing tribute to AGage is the A3 - Agage's Around Australia Series. This race is Leg 3 of a 9-race series. Not a race goes by without the name of AGage appearing somewhere in race chat. We continue our running of this tribute circumnavigation of Australia in his memory. Leg 3 is a 630nm race from Hobart to Sydney.
Race #1330
INFO by brainaid.de
First 47.7 Particulars
WX Updates: 0430 / 1030 / 1630 / 2230
Ranking: A3 - SYC
ALT. CLIENT:Classic

Race starts: Mar 28th 19:00 Registration Open!
New HTML5 Client GO TO RACE
Lisbon to Cape Town 2020
Our third OCC race in Q1 is also our first race of a special 4-race RTW series. Given that this leg 1 is taking us on a more than 5000nm passage from Lisbon to Cape Town, the betting has to be that the subsequent legs will be into the wind. Hopefully not in replicas of Ellen McArthurs Orange catamaran then!
PRIZE: SMPF
Race #1310
INFOby brainaid.de
Orange 125ft Cat Particulars
WX Updates:
0430 / 1030 / 1630 / 2230
Ranking: OCCH - OCQ1 - RTW - SUPSOL - SYC
ALT. CLIENT: Classic
RACE CLOSE: Sunday,
April 5 at 2300 UTC.
Race starts: Mar 08th 19:00 Registration Closed
New HTML5 Client GO TO RACE
SYC Ranking
Series
Mobile Client
SYC members have the benefit of access to our mobile/lightweight web client!