7 January 2020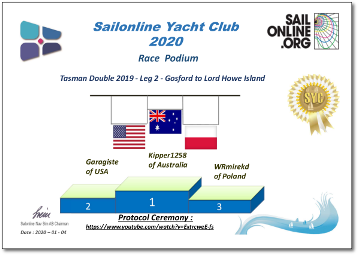 click on results image to see larger
GOOD ONYA Kipper1258!!! CONGRATULATIONS Garagiste!! Gratulacje WRmirekd!
Race Leaderboard
Reports


Commentary
Up to now, the second leg of Sailonline's Tasman Double mini-series has seen us mimic real racers who, after celebrating a finish or a win at their destination, find themselves needing to ferry their boats back to their homeports. This year, however, our Race Committee thought we should do something a little different and, instead, race again from Sydney, Australia, out to the beautiful Lord Howe Island – not just an island but a group of volcanic "remnants" that appears as one of only four island groups in the UNESCO's World Heritage list for the global significance of its natural beauty and heritage – it does rather sound like paradise!
The start of 2020 sees no let up in the stiff competition here on Sailonline and so it was that racers flying the flags of 30 different nations, most remembering to start on time, faced the conditions off Australia's Pacific coast in this 410nm race. As ever, competition in the leading pack was pretty intense – 13 boats arrived within 10m of the leader, while our leader managed to give himself a sweet lead of 2m 36s at the line! Competition further back in the field was even fiercer – 5, 6 and 7 arrived within 3s of each other, 8, 9 and 10 arrived within 25s of each other and 12, 13, 14 and 15 arrived within 31s of each other. No matter where you are in a Sailonline fleet, there is always someone to race against – whether you announce a matchrace in race chat or not – and, for most of us, a challenge to improve on a position if, like some, you are unable to be awake for all wx updates or to adjust your course more than once a day!
Let's now congratulate our first podium of 2020 for an excellent start to our racing year! Very nicely done, guys!

Timelapse by Bimmer

Races
Next Race: 00d 00h 00m
---
Current Races:
Migaloo Migration 2020
For many years, SOL has followed the migrations of the Pacific gray whale along the western coast of North America from its northern feeding grounds to its southern breeding grounds off Mexico. Down under in the far opposite corner of the Pacific, Migaloo, the white fella, and his humpback whale kin, exhibit exactly the same (or diametrically opposite) migratory habits between feeding grounds in Antarctic waters and breeding grounds off the coast of Queensland, Australia. We followed Migaloo's springtime track north for the first time in 2019 and this year we repeat the experience, now in 60ft Trimarans. Only 3200 nm. If a whale can do it, so can you!
PRIZE: SMPF
Race #1344
INFOby brainaid.de
60ft Trimaran Particulars
WX Updates:
0430 / 1030 / 1630 / 2230
Ranking:
OCCH-OCQ2-SUPERSOL-SYC
ALT. CLIENT:Classic
Race starts: Jun 05th 17:00 Registration will open soon
New HTML5 Client GO TO RACE
A3 2020 Leg 6 - Airlie Beach to Cairns
SOL's gift to AGage's memory is the A3 - Agage's Around Australia Series. This race is Leg 6 of the series - a 295nm sprint in Seacart 30 Trimarans from Airlie Beach, inside the Great Barrier Reef up to Cairns.
Race #1353
INFO by brainaid.de
Seacart 30 Particulars
WX Updates:
0430 / 1030 / 1630 / 2230
Ranking: A3 - SYC
ALT. CLIENT: Classic
Race starts: Jun 01st 18:00 Registration Open!
New HTML5 Client GO TO RACE
SoCal 300 2020


The SoCal 300, raced in the waters of California on the US West Coast is usually one of San Diego Yacht Club's most challenging races meaning that we have our work cut out for us to be competitive in our Santa Cruz 52s. This year, due to #COVID19 the real race won't be running which means that some of the real competition may well find their way to race against us in virtuality!
Race #1349
INFO
by brainaid.de
Santa Cruz 52
Particulars
NAM_AWIP WX Updates:
0245 / 0845 / 1445 / 2045
Ranking: SYC
ALT. CLIENT:
Classic
RACE CLOSE: Wednesday, 3 June at 2300utc
Race starts:
May 28th 19:00
Registration Closed
New HTML5 Client
GO TO RACE
SYC Ranking
Series
Mobile Client
SYC members have the benefit of access to our mobile/lightweight web client!