24 September 2020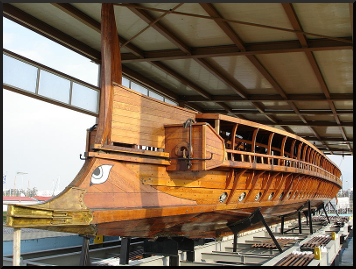 On discovering a replica of a trireme, the Olympias , to be in active service as a sail (and row) training ship with the Hellenic Navy, SOLer Zorba777 decided that Sailonline should have one too, virtually, and much research and considerable number crunching later, a speculative polar diagram was launched. Above you see a picture of our polar's real life inspiration at ease in her boathouse in Palaio Faliro, near Piraeus.
Having calculated her, we shall now race her, and what better course to follow then that of Odysseus returning home to Ithaca from Troy some time in the late second millennium BCE. Unfortunately, there are divergent views among the pre-historians as to what route exactly that was. Homer, whose epic is the first version of The Odyssey committed to paper, some 800 years after the event, is not entirely clear on the matter, but as the copyright has lapsed you can download an English translation for 'zero dollars' at Project Gutenberg and make up your own mind as you read while following Sailonline's version of the route as set out below, in four legs across the Aegean, Ionian, Sicilian and Tyrrhenian Seas availing of whatever winds you may find in Aeolus' bag (see Leg 3).
To the overall winner will go a small prize (which will also make a local shop where Zorba777 lives happy): an original Greek "mati" , which, according to tradition easily as old as Homer's writings, is used to ward off the "evil eye", and to this day you will see painted on Greek boats everywhere.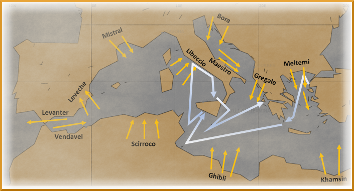 Races
Next Race: 00d 00h 00m
---
Current Races:
Christmas to Christmas Island 2020
Welcome to Sailonline's race to Christmas 2020! This year we will be racing our fabulous OD65 the 5,827nm from Christmas Island in the Pacific to Christmas Island in the Indian Ocean. All islands between our start and finish, including the "island" of Australia is in play so - enjoy whichever route you choose!
PRIZE: SMPF
Race #1413
INFO by brainaid.de
OD65 v3 PARTICULARS
WX Updates:
0430 / 1030 / 1630 / 2230
RANKING:
OCQ4 - OCCH - SUPSOL - SYC
ALT. CLIENT: Classic
Race starts: Dec 01st 16:00 Registration Open!
HTML5 Client (beta) GO TO RACE
Round Round Robben Sprint 2020
Welcome to South Africa! It's the end of spring here, so let's get racing, in our brand new C2R74 sled, designed by renowned naval architect Mark Mills specifically for our 2021 virtual Cape Town to Rio Race in collaboration with the C2R Race 2023 committee, slated for early January. This 26nm sprint, conceived by stalwart SOL-ling Saffie Sebensa, takes us round or about Robben Island and then back along the teeming beaches to a finish just outside Cape Town Harbour. Eyes ahead!
Race #1393
INFOby brainaid.de
C2R74 PARTICULARS
WX Updates:
0430 / 1030 / 1630 / 2230
RANKING:
SPRQ4 - SPRCH - SUPSOL - SYC
ALT CLIENT: Classic
Race starts: Nov 28th 16:00 Registration Open!
HTML5 Client (beta) GO TO RACE
The Odyssey 2020 - Leg 3
Leaving a blinded cyclops behind, Odysseus is immediately blown off course again, now to Pantelleria where Aeolus gifts him a bag of wind for later. Sailing on, he next reaches Telepylos, which could be back on the African coast or present-day Favignana off north west Sicily. Our Leg 3 opts for Favignana, which turns out to be inhabited by Laestryonians who start to eat the crew. To get away, the wind bag is opened too soon and they carene on north to the land of the sorceress Circe, who turns the remaining crew into pigs for a year. But once more they get away, finally in the right direction, passing the Sirens on the coast of present-day Amalfi, to end up in The Underworld, the island Vulcano. 550 exhausting miles of mayhem!
Race #1390
INFOby brainaid.de
Trireme PARTICULARS
WX Updates:
0430 / 1030 / 1630 / 2230
Ranking: SYC - ODY
ALT. CLIENT: Classic
Race starts: Nov 27th 17:00 Registration Open!
HTML5 Client (beta) GO TO RACE
Lake Superior Lights 2020
Welcome to the Great Lakes region of North America and to a Sailonline classic 'lighthouse' race, this time 572 nm in our Xp55s around Lake Superior, starting at Wisconsin Point Light. Click hereto see some of the other famous lighthouses you will see on course. This race always proves to be an interesting challenge as the waters and shorelines of Lake Superior are among the most rugged and isolated in the United States!
Race #1405
INFOby brainaid.de
Xp55 PARTICULARS
NAM_AWIP WX Updates:
0245 / 0845 / 1445 / 2045
Ranking: SYC
ALT. CLIENT: Classic
RACE CLOSE: Sunday,
November 29 at 2300 UTC.
Race starts: Nov 20th 19:00 Registration Closed
HTML5 Client (beta) GO TO RACE
Kerguelen CanCan TIMED Race 2020
Race your Maxi Trimaran in a 105nm TIMED race in the Southern Ocean through Captain Cook's Desolation Islands, once again. You may win! But can you beat hmm's record time of 4:13:09 set in 2013?
RE-REGISTER HERE to race again after finishing a run
Race #1404
INFO by brainaid.de
Maxi Trimaran PARTICULARS
WX Updates:
0430 / 1030 / 1630 / 2230
RANKING:
TRCH-TRQ4-SUPSOL-SYC
ALT. CLIENT: Classic
RACE CLOSE: Sunday 29 November at 2300UTC
Race starts: Nov 16th 12:00 Registration Open!
HTML5 Client (beta) GO TO RACE
SYC Ranking
Series
Mobile Client
SYC members have the benefit of access to our mobile/lightweight web client!