24 September 2020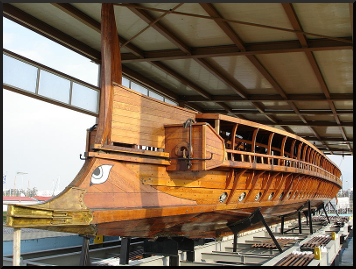 On discovering a replica of a trireme, the Olympias , to be in active service as a sail (and row) training ship with the Hellenic Navy, SOLer Zorba777 decided that Sailonline should have one too, virtually, and much research and considerable number crunching later, a speculative polar diagram was launched. Above you see a picture of our polar's real life inspiration at ease in her boathouse in Palaio Faliro, near Piraeus.
Having calculated her, we shall now race her, and what better course to follow then that of Odysseus returning home to Ithaca from Troy some time in the late second millennium BCE. Unfortunately, there are divergent views among the pre-historians as to what route exactly that was. Homer, whose epic is the first version of The Odyssey committed to paper, some 800 years after the event, is not entirely clear on the matter, but as the copyright has lapsed you can download an English translation for 'zero dollars' at Project Gutenberg and make up your own mind as you read while following Sailonline's version of the route as set out below, in four legs across the Aegean, Ionian, Sicilian and Tyrrhenian Seas availing of whatever winds you may find in Aeolus' bag (see Leg 3).
To the overall winner will go a small prize (which will also make a local shop where Zorba777 lives happy): an original Greek "mati" , which, according to tradition easily as old as Homer's writings, is used to ward off the "evil eye", and to this day you will see painted on Greek boats everywhere.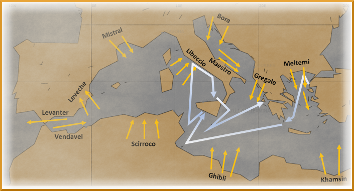 Races
Next Race: 00d 00h 00m
---
Current Races:
Hauraki TIMED Race 2021
The Hauraki Gulf is a virtual home-from-home for Sailonline as in the course of the racing year, a number of races start from Auckland. This 35nm course was part of a SSANZ series in the past and as it is fun to race, we have "borrowed it". This is a TIMED race, so that you can practise racing the Gulf in anticipation of future races here and, quite possibly, also set the fastest run here!
RE-REGISTER HERE to race again after finishing a run.
Race # 1472
INFO by brainaid.de
Young 11 PARTICULARS
WX Updates:
0430 / 1030 / 1630 / 2230
Ranking:
TRQ2 - TRCH - SUPSOL - SYC
RACE CLOSE: Sunday, 30 May at 23:00 UTC
Race starts: May 17th 12:00 Registration Open!

GO TO RACE
Vasco da Gama Ocean Race 2021


Point Yacht Club welcomes Sailonline to the 2021 running of the classic Vasco da Gama Ocean Race. This race is the oldest established international sailing event in South Africa and traditionally starts in the bay of Maputo, the old Portuguese colonial capital of Mozambique and finishes in Durban. This year, the race will be a run of 249nm from Durban to East London, through the glorious marine reserves off South Africa's Wild Coast.
Race #1446
INFO by brainaid.de
Farr 38 PARTICULARS
WX Updates:
0430 / 1030 / 1630 / 2230
Ranking: SYC
Downloadable GE Guided Tour
Race starts: May 16th 09:00 Registration Open!

GO TO RACE
Bimmer Memorial Race
It will come as no surprise that when we recently learned of the sudden death of SOLer and Danish OPS Admin Bimmer our thoughts quickly turned to running a Viking longship race in his memory. Not that long ago, Bimmer had moved house, to Svendborg from Copenhagen, so let's follow in his steps by racing this newly designed course. After leaving Copenhagen, you have the choice of racing the c. 145nm south- or north-about the Danish island of Sjaelland to the finish in Svendborg. As Bimmer was a QtVlm aficionado, everyone is encouraged to route their longship this time!
Race #1471
INFO by brainaid.de
Longship Draken PARTICULARS
WX Updates:
0430 / 1030 / 1630 / 2230
Ranking:
NONE
Race starts: May 14th 18:00 Registration Open!

GO TO RACE
ESRW3 Panama to Honolulu 2021
While you were still hanging out at the bar yarning about the Colon leg, our luxurious Gunboat 90s have been delivered to Panama ready to race the 4600nm third leg of our fabulous equatorial round the world race (ESRW) to Honolulu - quite the cocktail run this one!
PRIZE: SMPF
Race #1469
INFOby brainaid.de
GB 90 PARTICULARS
WX Updates:
0430 / 1030 / 1630 / 2230
Ranking: ESRW-OCQ2-OCCH-SUPERSOL-SYC
Race starts: May 02nd 18:00 Registration Closed

GO TO RACE
SYC Ranking
Series
Mobile Client
SYC members have the benefit of access to our mobile/lightweight web client!