28 January 2021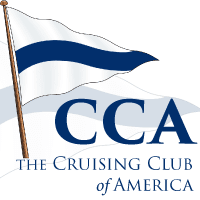 It is 2021 and for a year now, the world has been trying to defeat, or at least manage the #COVID19 pandemic, but the sad truth is that many countries remain at some form of lockdown or curtailment of activity, and sailing has been hit hard. Sailonline was therefore delighted to receive an enquiry from the prestigious Cruising Club of America (CCA) as to the possibility of creating a trio of delivery races, requiring tailored boat polars to reflect the motoring, as well as sailing, nature of the delivery experience.
Never baulking at a challenge, Sailonline's team of volunteers in cooperation with CCA, created two new cruising polars, Santa Cruise 52 and Passport Cruise 40 and three delivery cruise-races, in which participants may select whichever polar they prefer, as follows:
8 February - CCA Delivery Cruise 1 2021 - Sandwich MA to Halifax NS
6 March - CCA Delivery Cruise 2N 2021 - Halifax NS to Clarenville (leaving Newfoundland to Starboard)
10 March - CCA Delivery Cruise 2S 2021 - Halifax NS to Clarenville (leaving Newfoundland to Port)
Please note that each virtual delivery cruise is designed to permit crews to choose when to start and when or if to anchor, for example, in sheltered harbors for storm avoidance, or management of storm conditions when in reality a Jordan Series Drogue would be deployed. Anchoring is subject to a maximum of 48hrs. If Sailonline's server considers the skipper/boat to have been idle for that period of time, then the boat will be teleported back to the start (imagine a Skycrane!), but a TWA=0 (head to wind) command will reset this time limit. Just as in reality CCA skippers keep a deck log, those participating in these virtual delivery cruises are invited to do the same in respect of anchoring – you need to note the UTC date and time of deploying and of recovering the anchor or JSD to allow correction of elapsed times, so optimal cruising performance can be recognised. Sailonline racers who wish to race as usual may, of course, do so, but learning the art of delivery cruising is perhaps more of a challenge for our speedsters!


Races
Next Race: 00d 00h 00m
---
Current Races:
Santa Monica Ron Miel Regatta 2021
Welcome to Islas Canarias for the 2021 running of a classic SOL perennial: our 1220nm round-the-islands TP52 slalom, originally designed in 2012 by SOLer TheHorn, starting from and ending close to Playa del Ingles, Gran Canaria. This is our 10 year jubileum edition, as it was done for the first time in 2011 (on a slightly different track in year 1).
Race #1467
INFO by brainaid.de
TP52 PARTICULARS
WX Updates:
0430 / 1030 / 1630 / 2230
Ranking: SYC
Race starts: Apr 19th 18:00 Registration Open!

GO TO RACE
Jakob's Birthday BBQ Race 2021
Sailonline had two founders and Jakob, the more senior of the two, has his birthday in April and it is therefore fitting that Sailonline's tradition of celebrating this joyous event by racing like loons around the Stockholm Archipelago is upheld. Please join us in a tricky 30nm race in beautiful Linjet33s from Revengegrundet Lighthouse to a birthday BBQ by Baggensfjärden.
Grattis på födelsedagen Jakob!
Lycka till, alla!!
Race #1462
INFO by brainaid.de
Linjett 33 PARTICULARS
WX Updates:
0430 / 1030 / 1630 / 2230
Ranking: SYC
Race starts: Apr 18th 14:00 Registration Open!

GO TO RACE
Valletta Sprint 2021
Welcome once again to the Mediterranean and a true SOL perennial. At 588nm in often light Mediterranean airs, to-date no boat – multi or maxi, SOL or IRL – has managed to best the US's Rambler's time of 47:55:03 for this course set during the 2007 Middle Sea Race. This year, we offer you our Orange 125 catamaran, so the record is on!
Race #1458
INFO by brainaid.de
Orange 125 PARTICULARS
WX Updates:
0430 / 1030 / 1630 / 2230
Ranking: SYC
RACE CLOSE: Monday,
April 19 at 2300 UTC.
Race starts: Apr 11th 16:00 Registration Closed

GO TO RACE
Lima to Honolulu 2021
Welcome to Race 2 in our PAC6 Pacific Ocean racing championship, this a 3780nm leg from Lima to Honolulu in our fast Maxi Trimaran. Hopefully the trade winds will play ball and we should have a speedy trip, with only a small chance of the doldrums testing your light air skills!
PRIZE: SMPF
Race #1461
INFOby brainaid.de
Maxi Trimaran PARTICULARS
WX Updates:
0430 / 1030 / 1630 / 2230
Ranking: PAC6-OCQ2-OCCH-SUPERSOL-SYC
Race starts: Apr 06th 21:00 Registration Closed

GO TO RACE
Cape Horn TIMED Run 2021
Welcome to Chile, welcome to Cape Horn, and welcome to a course round these inhospitable waters. This is a place with plenty of wind and strong currents. Our 161 nm triangular TIMED RUN goes around two groups of small islands that are an important nesting site for a number of southern seabirds. Last raced in 2018, we are back here in our updated IMOCA 60s to attempt the challenge once more in these wild waters!
RE-REGISTER HERE to race again after finishing a run
Race #1463
INFO by brainaid.de
IMOCA 60 v2 PARTICULARS
WX Updates:
0430 / 1030 / 1630 / 2230
RANKING:
TRQ2 - TRCH - SUPSOL - SYC
RACE CLOSE: Sunday,
18 April at 23:00 UTC
Race starts: Apr 05th 12:00 Registration Open!

GO TO RACE
SYC Ranking
Series
Mobile Client
SYC members have the benefit of access to our mobile/lightweight web client!