Online Sailracing!
Sailonline.org is owned and operated by Sailonline NavSim AB, a not for profit, community-owned company.
Sailonline's mission is to offer a superior internet-based sailing and navigation simulation to the global sailing community, whilst ensuring a future of growth and continuous enhancement to benefit its users through financial viability and long term vision.
All Sailonline boats and their properties are purely virtual and do not necessarily reflect real world data.
Sailonline is free for everyone to play and is supported by SYC Memberships.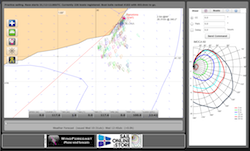 Create your account
News from the blog
Welcome!
Now login with our guest account to view currently running races: Username: guest - Password: guest
PLEASE ONLY REGISTER YOUR OWN USERNAME AND PASSWORD IF YOU INTEND TO RACE.
All times on Sailonline are in UTC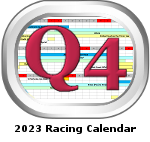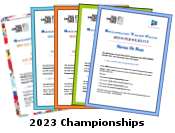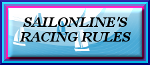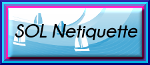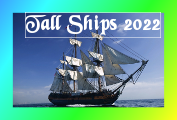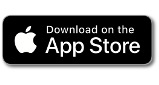 GDPR - General Data Protection Regulations - Sailonline wishes to reassure all SOLers that it is aware of the regulation changes in relation to the protection of personal data. Sailonline cares about your privacy and will continue to let you control the personal information you provide. More info here

WANTED – OPERATIONS MONITORS

We are changing how we organize our race management 'behind the scenes' at Sailonline in 2024. These changes will be various and announced later.

One change will be the introduction of a new role, for which we are seeking a number of volunteers.

– OPERATIONS MONITORS –

It is not a difficult nor a time-consuming role. It simply requires volunteers to double-check that the actions (so-called DBAs) to OPERATE a PLANNED race have been timely set.

Each OPERATIONS MONITOR volunteer will be issued (by means of daily email) a list of the set DBAs pending 'execution' with date that they will execute.
He/she will need to be familiar with the Quarterly Calendar.
He/she will also hold a copy of the SETUP TIMETABLE which sets out the agreed lead times for launching and then closing a race by type
(OCEAN, SPRINT, TIMED, BUDDY, OTHER).
If he/she finds DBAs are delayed, he/she contacts Sailonline's PRO (bonknhoot), copying the COOrdinator ( WINSTON_4). Next day, on issue of the new pending DBAs email, he/checks that the situation has been rectified.

An OPERATIONS MONITOR will be on 'deck' for a week (ideally only one week every six or seven) to be relieved by the next volunteer according to the roster that will be organized by the COOrdinator according to the availabilities indicated by the volunteers.

Training will be held by the COOrdinator and will take 15 minutes. These new roles will be very very important for the continuing integrity of the platform, but will require only very very light and occasional work for each of the volunteers.

To volunteer, please email coord@sailonline.org.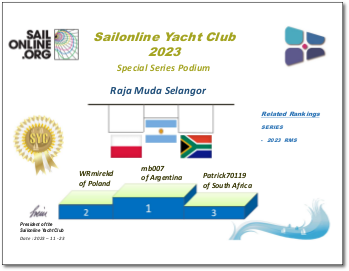 click on results image to see larger
CONGRATULATIONS mb007 !!!
GRATULACJE WRmirekd !! CONGRATULATIONS Patrick70119 !

Overall Results
Reports

Commentary
Fitful light airs - should one expect anything else in the Tropics - made our online hosting of a 3-race series in cooperation with the Royal Selangor Yacht Club's annual Raja Muda Selangor International Race Week a challenging affair for the more than 100 SOLers who ventured out onto the virtual waters of the Straits of Malacca, and gave us a new-to-SOL champion - mb007 from Argentina.

With a 4th, a 1st and a 2nd, 007 not just stirred, but quite shook the established SOL order into a cocktailed hat. It was edge-of-your-seat action as in the movies of course, and to give you a flavour Mr Bond has provided us with a brief-de-brief which you can find under the buttonized flag of Selangor above.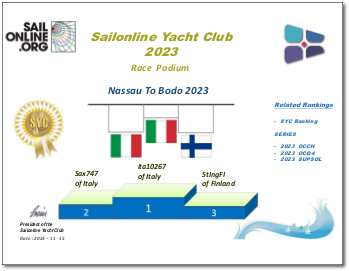 click on results image to see larger
CONGRATULAZIONI ita10267 !!!
CONGRATULAZIONI Sax747 !! GRATTIS StIngFI !

Race Leaderboard
Reports

Commentary
This race, culminating the RTW series and skilfully designed by SOL user ita10267, witnessed podium finishers covering approximately 4700 nautical miles in just under 14 days. This remarkable feat translates to an impressive average of 335 nautical miles per day at an average speed of 14 knots. The journey commenced with 111 boats setting sail on time, predominantly on a port tack in an easterly route. Twenty hours into the race, boats began tacking north, yet opinions diverged on the optimal moment, leading to a significant split among participants. The late tackers initiated their northward course after 30 hours. By the third day, a noticeable divide emerged as a small group chose a northern route, loosely following a great circle (GC) path, while the main group adhered more closely to the rhumb line. Initially, the GC route appeared faster, leaving the main group trailing by 140 miles. This gap widened, surpassing 200 miles by day 8.

A week later, the race witnessed another shift in the top positions as the final scene of ranking unfolded. The competition culminated in a thrilling finish, with the top 5 separated by a mere 1.3 nautical miles. In total, 143 boats participated, and as of the current writing, 119 of them successfully reached the finish line.

Heartfelt congratulations to the podium achievers—ita10267, Sax747, and StIngFI—for their outstanding performance and strategic prowess.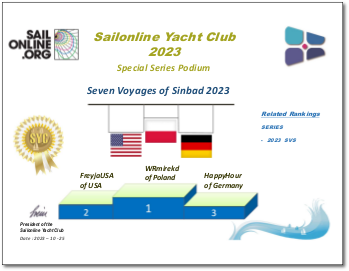 click on results image to see larger
GRATULACJE WRmirekd !!!
CONGRATULATIONS FreyjaUSA !!
HERZLICHEN GLÜCKWUNSCH HappyHour !

Overall Results
Commentary
Our reenactment of seven voyages across the length and breadth of the Indian Ocean that Sinbad might have had, if Scheherazade had only had better charts available to her when she was telling Sharyar her tales, proved to be at least as eventful as the thousand-and-one stories that saved her life. Monsoons and doldrums, ice and fire, shoals and cliffs, everything (bar waves and current) that Allah created to try sailors was encountered, but in the end, race after 2500nm-or-more race, only one bad sinner prevailed ahead of all others, and it was...

WRmirekd, who after discarding his results in the two voyages he missed entirely, just pipped FreyjaUSA, with HappyHour completing the podium (on countback from Series designer bonknhoot). Mabrouk liljamie, to the more than 300 of you who crossed at least one of the many seas that Scheherazade didn't have a chart of.

Races
Next Race: 00d 00h 00m
---
Current Races:
SOL's Bermuda Triangle TIMED Race 2023
Inspired by the America's Cup racing in Bermuda, this is a fun triangular course of 90nm, which we originally raced with psail and bonkhoot's collaborative polar for the AC72 foiling catamaran. Having tried the course in the more pedestrian Open 60 in 2021, this year we return to the AC72, in fact to the MODIFIED AC72v2, modified to remove the inconsistencies that obtained from the original interpolation of the limited data issued by the AC 2003 Principal Race Officer in connection with penalties determination. This is a TIMED race, which means you get multiple chances to try out the ramifications of the revisions. Be careful though, the polar remains a handling challenge with major stall-out potential!
RE-REGISTER HERE to race again after finishing a run
Race #1704
INFO by brainaid.de
AC72v2 PARTICULARS
WX Updates:
0430 / 1030 / 1630 / 2230
RANKING:
TRQ4 - TRCH - SUPSOL – SYC < br> RACE CLOSE: Friday,
15 December at 2300 UTC
Race starts: Dec 02nd 12:00 Registration will open soon

GO TO RACE
Christmas to Christmas Island 2023
Two waypoints, start and finish, and between them 5827 NM of two oceans. Not much time if we want to sit at the Christmas Eve table. You will need to maintain an average speed of over 10 knots, so prepare your Volvo70s well and choose the best of the many possible routes. Hands up everyone who knew there were TWO Christmas Islands?! OK, maybe you have sailed this Sailonline course before... but it's time to get ready for the 2023 challenge of racing between Christmas Island in the Pacific to Christmas Island in the Indian Ocean! It also marks the conclusion of our prestigious Ocean Race Championship 2023. Please have fun! Fair winds!
PRIZE: SMPF
Race #1745
INFO by brainaid.de
Volvo70 PARTICULARS
WX Updates:
0430 / 1030 / 1630 / 2230
Ranking: OCQ4 - OCCH - SUPSOL - SYC
Race starts: Dec 01st 23:00 Registration Open!

GO TO RACE
Finland-Sweden Archipelago Raid 2023
In 2013, SOLer "JakeS" in cooperation with "Smo" created his own version of the extreme Archipelago Raid catamaran race. The real race through the beautiful Finnish and Swedish archipelago is considered a "nightmare and a great adventure", so in our sixth run of this challenge at 415 nautical miles, our determination and skills will be tested again! This year, we changed the Italia14.98 to a Cape 31. Take care when cornering and brake early enough.
Race #1744
INFO by brainaid.de
Cape31 PARTICULARS
WX Updates:
0430 / 1030 / 1630 / 2230
Ranking: SYC
RACE CLOSE: Sunday,
December 3 at 2300 UTC.
Race starts: Nov 27th 11:00 Registration Closed

GO TO RACE
Barrow to San Francisco 2023
Hoist the sails and prepare for the nautical journey that is bound to make the history books! Starting in icy Barrow, Alaska, and finishing in sunny San Francisco, this over 3000-nautical-mile race is not to be missed! Our daring SOLers will command none other than the legendary Archer 78, a record-breaking vessel from 1978! Brace for high-seas drama and history-making moments on the way from the Arctic to the Golden Gate!
Race #1732
INFO by brainaid.de
Archer 78 PARTICULARS
WX Updates:
0430 / 1030 / 1630 / 2230
Ranking:
SYC
Race starts: Nov 16th 05:00 Registration Closed

GO TO RACE
SYC Ranking
Series
Mobile Client
SYC members have the benefit of access to our mobile/lightweight web client!