Online Sailracing!
Sailonline.org is owned and operated by Sailonline NavSim AB, a not for profit, community-owned company.
Sailonline's mission is to offer a superior internet-based sailing and navigation simulation to the global sailing community, whilst ensuring a future of growth and continuous enhancement to benefit its users through financial viability and long term vision.
All Sailonline boats and their properties are purely virtual and do not necessarily reflect real world data.
Sailonline is free for everyone to play and is supported by SYC Memberships.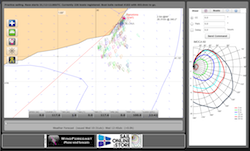 Create your account
News from the blog
Welcome!
Now login with our guest account to view currently running races: Username: guest - Password: guest
PLEASE ONLY REGISTER YOUR OWN USERNAME AND PASSWORD IF YOU INTEND TO RACE.
All times on Sailonline are in UTC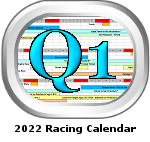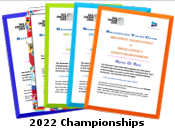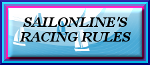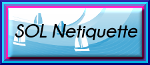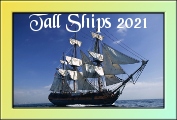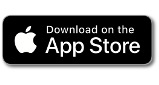 GDPR - General Data Protection Regulations - Sailonline wishes to reassure all SOLers that it is aware of the regulation changes in relation to the protection of personal data. Sailonline cares about your privacy and will continue to let you control the personal information you provide. More info here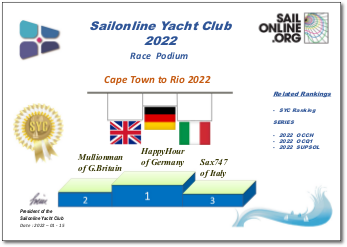 click on results image to see larger
HERZLICHEN GLÜCKWUNSCH HappyHour!!!
CONGRATULATIONS Mullionman!!
CONGRATULAZIONI Sax747!
Race Leaderboard
Reports


Commentary
Happy New Year and herewith the results of our first Ocean Race of 2022 – the iconic Cape 2 Rio, which for the second year in succession, was run as a virtual-only event in cooperation with South Africa's Royal Cape Yacht Club.
And, as so often in the past, a vast and subtly shifting St Helena High ensured that the shortest route was definitely not the fastest route for the c 180 of the 240 entrants that made it to the finish within the time limit. However, major deviations north for stronger following winds, or south for serious headwinds along the 37th parallel delimiting the extent of the racing area, were not the way to go either! Subtle shifts required subtle routing, as wsguerin's terrific report (in 2 parts for storage purposes) under the buttons above attests. Ducking and diving left and right for better pressure or better angle, one forecast after another revised the best route to follow, and it was only within a few days sailing for Guanabara Bay that a final twist gave HappyHour an handy happy advantage, which he thereafter never let slip. Toi toi toi HappyHour!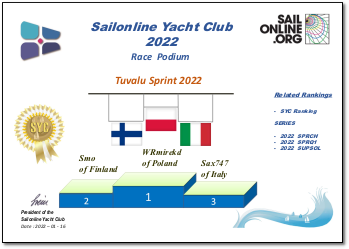 click on results image to see larger
GRATULACJE WRmirekd!!!
ONNITTELUT Smo!! CONGRATULAZIONI Sax747!
Race Leaderboard
Reports

Commentary
So the first sprint race in 2022 is over. The new route made it impossible to use the experience of previous years. The lack of WX changes during the race required precise navigation and route selection between the optimal angle and wind strength. Smo describes this best in his report to read, which we encourage you to read.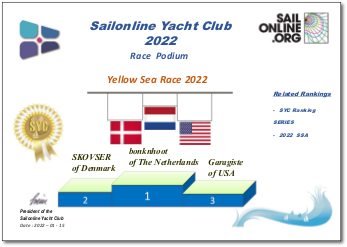 click on results image to see larger
GEFELICITEERD bonknhoot!!!
TILLYKKE SKOVSER!! CONGRATULATIONS Garagiste!
Race Leaderboard
Commentary
A fitful breeze out of the South East greeted the 135 SOLers, who assembled on the line off Tianjin for the start of SOL's first race of this year's new Seven Seas of Asia series, to be immediately confronted with the first of a series of strategic dilemmas – whether to sail free and fast for more pressure in the Yellow Sea's northern Bay of Liaodong or to sail close-hauled and pick a fist shift early for a tack south and better VMC. Perhaps a dozen boats went for the long way round arcing deep into the northern bay to establish a handy lead on the rest of the fleet on clearing the Shandong Peninsula into the Yellow Sea proper. Quite the topography lesson this race!
But with a long long way to go, the topographical learning was far from over and neither was the race, with the next dilemma being whether to keep north or south of Jeju Island off the tip of Korea en route to Yakushima Island off the tip of Japan. This time the northerners ran out of wind more and bonknhoot who had opted for south early doors went into the lead, only to lose it again to Garagiste halfway down the next leg to Japan's remote most southerly Yaeyama island group and the rounding of Taketomi tucked in behind the group's main Ishigaki Island. Alas for Garagiste and many others, another choice presented itself here but only late in the day, and no more than half a dozen, including SKOVSER, bonknoot and Kipper1258 went for the right one – to leave Ishigaki to port before leaving Taketomi to starboard.
Another long leg, mostly upwind in strong winds across the open ocean, followed, and positions changed little. But as the wind fell away approaching Korea, it became clear that an archipelago dodge through the 2000 islands of the South Jeolla prefecture in light airs was going to provide a final challenge to the fleet. Fortunately for all, the wind was kinder on the outer edges of the island maze and most made it to the finish unscathed, which SOL's race designer for this one, bonknhoot, modestly crossed first himself. Next up: the South China Sea – don't miss it!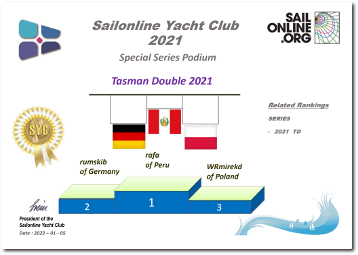 click on results image to see larger
FELICIDADES rafa!!!
HERZLICHEN GLÜCKWUNSCH rumskib!! GRATULACJE WRmirekd!
Series Leaderboard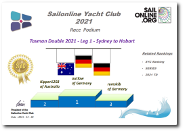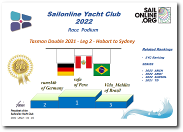 Commentary
As tradition has it, the Tasman Double is (usually) a round trip between Sydney and Hobart, in fast Super Maxi 100s, taking place across the 12 days of Christmas. The waters of Australia's SE Coast can be challenging at the best of times, with the currents and winds channeling through the Bass Strait and mixing with conditions from the Pacific. One would usually have to contend with a windhole or two along the way, with several Wx updates potentially changing the optimal strategy.
The return race from Tasmania was comparatively fast – while it started off in a windhole, rounding Tasman Island brought our boats to 15-20 knot winds from the NW that largely remained all the way to Sydney; the challenge was to round the Tasmania marks correctly without BBQing and keep just that extra bit offshore for the additional pressure and boat speed.
As ever, our congratulations and admiration to those who top our mini-series podium – to win any race in Sailonline is an achievement, but to win a series, however small, is at least doubly so! Well done to all!

Races
Next Race: 00d 00h 00m
---
Current Races:
Uruguay to New Zealand 2022
After a 6 year hiatus, we return to race the tricky route from Punta del Este in Uruguay to Auckland, New Zealand. Our former winner "longreacher" covered this route taking 16 days 10 hours 10 minutes and 44 seconds and he used the same boat. Let's see if we can bite into his record.
PRIZE: SMPF
Race #1550
INFO by brainaid.de
VO70 v4PARTICULARS
WX Updates:
0430 / 1030 / 1630 / 2230
Ranking:
OCQ1 - OCCH - SUPSOL - SYC
Race starts: Feb 01st 14:00 Registration Open!

GO TO RACE
South China Sea Race 2022
For our second Seven Seas of Asia race, we invite you to Taiwan, where a charter fleet of Cape31's await you for a circa 2100nm race around a triangular course through the politically and probably meteorologically-also tricky waters of the South China Sea. Beware of lurking submarines and battleships and keep clear of firing ranges!
Race #1539
INFOby brainaid.de
Cape 31 PARTICULARS
WX Updates:
0430 / 1030 / 1630 / 2230
Ranking: SYC - SSA
Race starts: Jan 27th 16:00 Registration Open!

GO TO RACE
Shetland Winter Race 2022
A-OI!!! The cry should soon be ringing out in the streets of Lerwick as the Guizer Jarl and his crew, along with the other teams in the Up Helly Aa parade complete their preparations for the biggest fire festival in Europe. While Shetland continues to manage #COVID19 well, Up Helly Aa has been cancelled but this won't stop SOLers racing their Elan 410s this 383nm course from Aberdeen to be sociable in Lerwick Harbour. SAILING NOTE: Gruney may be approached from any direction but must be passed for rounding purposes as indicated on the chart.
Race #1554
INFO by brainaid.de
Elan 410 PARTICULARS
WX Updates:
0430 / 1030 / 1630 / 2230
Ranking: SYC
Race starts: Jan 23rd 11:00 Registration Open!

GO TO RACE
SYC Ranking
Series
Mobile Client
SYC members have the benefit of access to our mobile/lightweight web client!