23 June 2016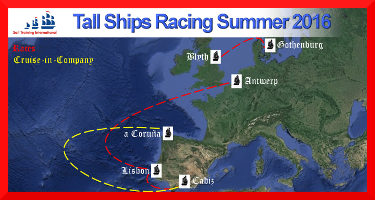 For the sixth year, Sailonline is delighted to be continuing its relationship as the virtual partner of Sail Training International for its summer season of tall ships racing around Europe, where Sailonline's virtual races will mirror the schedules and courses of the real events as closely as possible.
This year will see a total of four events, the three Tall Ships Races – a race from Antwerp in Belgium to Lisbon the capital of Portugual, a race from Lisbon on to Cadiz in Spain and a Cruise in Company from Cadiz to A Coruña also in Spain – and then, at the end of August, the North Sea Regatta – a race from Blyth on the UK's Northumberland coast, to Gothenburg in southern Sweden.
Sailonline's virtual sailing experience runs hand in hand with Sail Training International's mission - the development and education of young people through the sail training experience, regardless of nationality, culture, religion, gender or social background. Sail Training International and Sailonline both count heavily on volunteer support with financial gain excluded from the equation.
Navigating a tall ship is a remarkably challenging affair, especially if you are more familiar with modern yachts, and gives a real insight into the true nature of ocean exploration in days gone by, so why not start learning the basics today so you will be ready for your Tall Ships experience!
There are four classes of Tall Ship in the real races, ranging from the biggest Class A Square Rigged ships of more than 40m in length, down to training yachts of 9.14m. Sailonline has developed performance polars based on published data for several tall ships, and races to compete against Class A ships.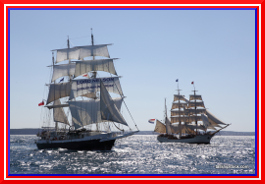 Races
Next Race: 00d 00h 00m
---
Current Races:
SOL's Bermuda Triangle TIMED Race 2023
Inspired by the America's Cup racing in Bermuda, this is a fun triangular course of 90nm, which we originally raced with psail and bonkhoot's collaborative polar for the AC72 foiling catamaran. Having tried the course in the more pedestrian Open 60 in 2021, this year we return to the AC72, in fact to the MODIFIED AC72v2, modified to remove the inconsistencies that obtained from the original interpolation of the limited data issued by the AC 2003 Principal Race Officer in connection with penalties determination. This is a TIMED race, which means you get multiple chances to try out the ramifications of the revisions. Be careful though, the polar remains a handling challenge with major stall-out potential!
RE-REGISTER HERE to race again after finishing a run
Race #1704
INFO by brainaid.de
AC72v2 PARTICULARS
WX Updates:
0430 / 1030 / 1630 / 2230
RANKING:
TRQ4 - TRCH - SUPSOL – SYC < br> RACE CLOSE: Friday,
15 December at 2300 UTC
Race starts: Dec 02nd 12:00 Registration will open soon

GO TO RACE
Christmas to Christmas Island 2023
Two waypoints, start and finish, and between them 5827 NM of two oceans. Not much time if we want to sit at the Christmas Eve table. You will need to maintain an average speed of over 10 knots, so prepare your Volvo70s well and choose the best of the many possible routes. Hands up everyone who knew there were TWO Christmas Islands?! OK, maybe you have sailed this Sailonline course before... but it's time to get ready for the 2023 challenge of racing between Christmas Island in the Pacific to Christmas Island in the Indian Ocean! It also marks the conclusion of our prestigious Ocean Race Championship 2023. Please have fun! Fair winds!
PRIZE: SMPF
Race #1745
INFO by brainaid.de
Volvo70 PARTICULARS
WX Updates:
0430 / 1030 / 1630 / 2230
Ranking: OCQ4 - OCCH - SUPSOL - SYC
Race starts: Dec 01st 23:00 Registration Open!

GO TO RACE
Finland-Sweden Archipelago Raid 2023
In 2013, SOLer "JakeS" in cooperation with "Smo" created his own version of the extreme Archipelago Raid catamaran race. The real race through the beautiful Finnish and Swedish archipelago is considered a "nightmare and a great adventure", so in our sixth run of this challenge at 415 nautical miles, our determination and skills will be tested again! This year, we changed the Italia14.98 to a Cape 31. Take care when cornering and brake early enough.
Race #1744
INFO by brainaid.de
Cape31 PARTICULARS
WX Updates:
0430 / 1030 / 1630 / 2230
Ranking: SYC
RACE CLOSE: Sunday,
December 3 at 2300 UTC.
Race starts: Nov 27th 11:00 Registration Closed

GO TO RACE
Barrow to San Francisco 2023
Hoist the sails and prepare for the nautical journey that is bound to make the history books! Starting in icy Barrow, Alaska, and finishing in sunny San Francisco, this over 3000-nautical-mile race is not to be missed! Our daring SOLers will command none other than the legendary Archer 78, a record-breaking vessel from 1978! Brace for high-seas drama and history-making moments on the way from the Arctic to the Golden Gate!
Race #1732
INFO by brainaid.de
Archer 78 PARTICULARS
WX Updates:
0430 / 1030 / 1630 / 2230
Ranking:
SYC
Race starts: Nov 16th 05:00 Registration Closed

GO TO RACE
SYC Ranking
Series
Mobile Client
SYC members have the benefit of access to our mobile/lightweight web client!