23 June 2016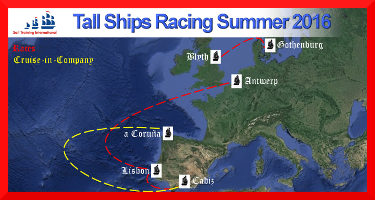 For the sixth year, Sailonline is delighted to be continuing its relationship as the virtual partner of Sail Training International for its summer season of tall ships racing around Europe, where Sailonline's virtual races will mirror the schedules and courses of the real events as closely as possible.
This year will see a total of four events, the three Tall Ships Races – a race from Antwerp in Belgium to Lisbon the capital of Portugual, a race from Lisbon on to Cadiz in Spain and a Cruise in Company from Cadiz to A Coruña also in Spain – and then, at the end of August, the North Sea Regatta – a race from Blyth on the UK's Northumberland coast, to Gothenburg in southern Sweden.
Sailonline's virtual sailing experience runs hand in hand with Sail Training International's mission - the development and education of young people through the sail training experience, regardless of nationality, culture, religion, gender or social background. Sail Training International and Sailonline both count heavily on volunteer support with financial gain excluded from the equation.
Navigating a tall ship is a remarkably challenging affair, especially if you are more familiar with modern yachts, and gives a real insight into the true nature of ocean exploration in days gone by, so why not start learning the basics today so you will be ready for your Tall Ships experience!
There are four classes of Tall Ship in the real races, ranging from the biggest Class A Square Rigged ships of more than 40m in length, down to training yachts of 9.14m. Sailonline has developed performance polars based on published data for several tall ships, and races to compete against Class A ships.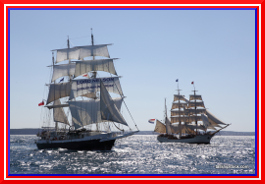 Races
Next Race: 00d 00h 00m
---
Current Races:
Gulf Run 2021
It is 550nm on a course of 175 true from Dingle to Vigo, and from Pensacola to Yucatan as well, across the Gulf Stream and The Gulf respectively. It's warmer down in The Gulf, so we return to its azure waters for a re-run in J-130s of a course designed by RainbowChaser back in 2012, but only first run in 2018. Bring your deck chairs and the barrier cream.
Race #1513
INFO by brainaid.de
J-130 PARTICULARS
WX Updates:
0430 / 1030 / 1630 / 2230
Ranking: SYC
Race starts: Oct 26th 21:00 Registration Open!

GO TO RACE
Isla del Sol Re-Run 2021
Scanning the globe for special sprint locations, our intrepid course designer Renegade came across Isla del Sol in the middle of the world's highest navigable body of water, Lake Titicaca. We tried to race around it last month, but at 3812m above sea level, comms to our boats broke down for a little while, and our SRC decided to abandon the race, so we are running it again: 26nm RTI in "how-did-we-get-them-here?" Fox 9.50s.
Race #1512
INFO by brainaid.de
Fox 9.50 PARTICULARS
WX Updates:
0430 / 1030 / 1630 / 2230
Ranking:
SPRQ4 - SPRCH - SUPSOL - SYC
RACE CLOSE: Wednesday,
October 27 at 2300 UTC.
Race starts: Oct 23rd 16:00 Registration Open!

GO TO RACE
China Coastal Race 2021


Racing in reality around the world is tough during a global pandemic and
RHKYC's
calendar is having to be flexible too so instead of a run to Vietnam, welcome to a competitive coastal race inside Hong Kong waters - 97nm in TP52s against the local fleet!
Race #1519
INFO
by brainaid.de
TP52
PARTICULARS
WX Updates:
0430 / 1030 / 1630 / 2230
Ranking: SYC
Race starts:
Oct 23rd 03:00
Registration Open!
GO TO RACE
Virtual PIC Coastal Classic Yacht Race 2021


Welcome! Kia Ora! to Auckland, New Zealand, and Sailonline's annual multihull race against the NZ Multihull Yacht Club competitors over 118nm from Auckland to Russell. Sadly, COVID19 restrictions mean the real race will not be running, but we welcome real racers to our virtual event where we are racing our 60ft trimarans in this testing event in the endlessly varying conditions off the east coast of North island. As is tradition, a hearty breakfast of bacon butties and rum will welcome yachties on their arrival.
Race #1515
INFO
by brainaid.de
60ft trimaran
PARTICULARS
WX Updates:
0430 / 1030 / 1630 / 2230
Ranking: SYC
Race starts:
Oct 21st 21:00
Registration Open!
GO TO RACE
ESRW6 Singapore to Kuwait 2021
Join us as we embark on our final leg(6) of the fabulous ESRW round the equator race series, this time onboard the speedy 90 foot Monohull as we wind our way out of the Malacca Strait and across the Indian Ocean 3000nm to Kuwait. It'll be steamy all the way!
PRIZE: SMPF
Race #1508
INFOby brainaid.de
90 foot Monohull PARTICULARS
WX Updates:
0430 / 1030 / 1630 / 2230
Ranking: ESRW-OCQ4-OCCH-SUPERSOL-SYC
RACE CLOSE: Tuesday,
October 26 at 2300 UTC.
Race starts: Oct 01st 03:00 Registration Closed

GO TO RACE
SYC Ranking
Series
Mobile Client
SYC members have the benefit of access to our mobile/lightweight web client!