23 June 2016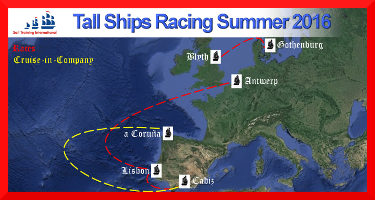 For the sixth year, Sailonline is delighted to be continuing its relationship as the virtual partner of Sail Training International for its summer season of tall ships racing around Europe, where Sailonline's virtual races will mirror the schedules and courses of the real events as closely as possible.
This year will see a total of four events, the three Tall Ships Races – a race from Antwerp in Belgium to Lisbon the capital of Portugual, a race from Lisbon on to Cadiz in Spain and a Cruise in Company from Cadiz to A Coruña also in Spain – and then, at the end of August, the North Sea Regatta – a race from Blyth on the UK's Northumberland coast, to Gothenburg in southern Sweden.
Sailonline's virtual sailing experience runs hand in hand with Sail Training International's mission - the development and education of young people through the sail training experience, regardless of nationality, culture, religion, gender or social background. Sail Training International and Sailonline both count heavily on volunteer support with financial gain excluded from the equation.
Navigating a tall ship is a remarkably challenging affair, especially if you are more familiar with modern yachts, and gives a real insight into the true nature of ocean exploration in days gone by, so why not start learning the basics today so you will be ready for your Tall Ships experience!
There are four classes of Tall Ship in the real races, ranging from the biggest Class A Square Rigged ships of more than 40m in length, down to training yachts of 9.14m. Sailonline has developed performance polars based on published data for several tall ships, and races to compete against Class A ships.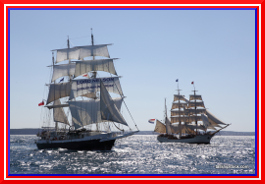 Races
Next Race: 00d 00h 00m
---
Current Races:
Pantaenius Shetland Race 2022 - Leg 2
As always, we don't spend much time in Lerwick, Shetland and after some brief but excellent celebrations we are rapidly heading back to Bergen, Norway, for the second leg of the Pantaenius Shetland Race 2022. The North Sea always provides with some exciting racing and we are sure that this race will be no different!
Race #1581
INFO from brainaid.de
First 40.7 Particulars
WX Updates:
0430 / 1030 / 1630 / 2230
RANKING: SYC - SHE
RACE CLOSE: Thursday,
June 30 at 2300 UTC.
Race starts: Jun 26th 09:00 Registration Open!

GO TO RACE
Isla St George Sprint 2022
The Bass Islands, in western Lake Erie, are a mere couple of miles west of the southernmost boundary of Canada. In this 21nm PYOC sprint, we will set off from East Harbor in our RC 44s and leave North Bass Island (historically Isle St. George) to port before quickly returning to East Harbor.
Race #1584
INFOby brainaid.de
RC 44 PARTICULARS
NAM_AWIP WX Updates:
0245 / 0845 / 1445 / 2045
Ranking: SPRQ2 - SPRCH - SUPSOL - SYC
RACE CLOSE: Wednesday,
29 June at 2300 UTC
Race starts: Jun 25th 18:00 Registration Open!

GO TO RACE
Newport Bermuda Race 2022


The 635-mile biennial Newport Bermuda Race is one of the oldest regularly scheduled ocean races, and with the Fastnet Race and the Sydney to Hobart Race, it is one of the three great classic races of the yachting world. Founded in 1906, this the 52nd running of the Bermuda Race can also be participated in online.
Entries are invited for one of the four divisions:
Double-Handed Division:
Jeanneau Sun Fast 3300
St. David's Lighthouse Division:
First 44.7 Asymmetric
Gibbs Hill Lighthouse Division:
Reichel Pugh 64
Finisterre Division:
Delphia 47
Details for each yacht are available in the 'Particulars' links below and be sure to register your online choice on the
Bermuda Race Online
link – there are some fine prizes to be won.
As in real life, you can only sail one boat in one division, so choose your virtual yacht carefully, and because of the unusual (for SOL) 4-division nature of the event, please note results will not count towards ANY Sailonline Rankings.
Race #1568
INFO
by brainaid.de
Sun Fast 3300
PARTICULARS
First 44.7 A
PARTICULARS
RP 64
PARTICULARS
Delphia 47
PARTICULARS
WX Updates:
0430 / 1030 / 1630 / 2230
Ranking: None
Sponsors:
RACE CLOSE:
Saturday,
July 2 at 2300 UTC.
Race starts:
Jun 17th 17:00
Registration Closed
GO TO RACE
Geraldton to Cape Town 2022
A race in the Southern Indian Ocean is always entertaining, especially in a Riptide 50. Traditionally the course would be West to East, to take advantage of the prevailing winds, but this time the SRC is challenging us to an E-W course, from Geraldton in Western Australia to Cape Town in South Africa. A brief 4800nm!
PRIZE: SMPF
Race #1575
INFO by brainaid.de
Riptide 50 PARTICULARS
WX Updates:
0430 / 1030 / 1630 / 2230
Ranking:
OCQ2 - OCCH - SUPSOL - SYC
Race starts: Jun 12th 05:00 Registration Closed

GO TO RACE
SYC Ranking
Series
Mobile Client
SYC members have the benefit of access to our mobile/lightweight web client!