14 October 2018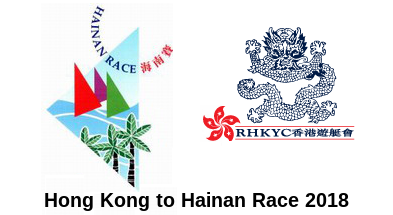 Sailonline is delighted to announce that for the third time it is partnering with Royal Hong Kong Yacht Club in the virtual version of it's Hong Kong to Hainan Race 2018.
The Hong Kong to Hainan Race is organised and conducted by the Royal Hong Kong Yacht Club (RHKYC) with co-operation with the Bureau of Culture, Broadcast & TV, Publication and Sports of the Sanya Municipal Government with the finish hosted by Serenity Marina in Sanya, Hainan
Sailonline's virtual yacht will again be based on the polar of a TP52 racing yacht, and, like the real fleet, we will be doing our best to beat the 2016 course record of 23h 31m 52s, set by Seng Huang Lee's 100ft Super Maxi Scallywag. Our direct competition this year will be Sam Chan's TP52, FreeFire. As always we hope to track the fleet via YB Tracking so racers on Sailonline will be able to see the real fleet positions, as updated, on the virtual race screen.

Sailonline's race is open for pre-race practice. Please note that the virtual race will be starting E of Hong Kong Island to permit delayed commands to be set for the start (remember, our racers are in all time zones!) and later by 30mins of the real start time to allow the real fleet to get to us and make a real race of it!

Races
Next Race: 00d 00h 00m
---
Current Races:
The Three Kings Race 2022
The Three Kings Offshore Race is a 520 nm challenge, in Farr 38s, from Auckland (Orakei) up and around the Three Kings Islands and then back to Auckland finishing where you started. Manawa Islands (Three Kings) are a group of 13 uninhabited islands about 25 nm northwest of Te Rerenga Wairua aka Cape Reinga. They're also about 250nm due north of Auckland, known also as the world's best diving and fishing locations (although hopefully, you won't be fishing too much during the race, or diving for that matter) and it is just a beautiful yet rugged place that is a must see for anyone who loves the oceans.
Race #1628
INFO by brainaid.de
Farr 38 PARTICULARS
WX Updates:
0430 / 1030 / 1630 / 2230
Ranking: SYC
Race starts: Nov 27th 16:00 Registration Open!

GO TO RACE
Stockholm to St Petersburg 2022
Are you ready to race this course of about 431nm across the Baltic and into the Gulf of Finland, from one great historic city Stockholm to another St Petersburg?
The Gulf of Finland is still ice‑free, so board your J‑122s and prepare. Take care and keep a weather eye. The odd stray submarine or ice‑breaker may need to be avoided.
Race #1627
INFO by brainaid.de
J-122 PARTICULARS
WX Updates:
0430 / 1030 / 1630 / 2230
Ranking:
ARQ4 - ARCH - SUPSOL - SYC
RACE CLOSE: Wednesday,
November 30 at 2300 UTC.
Race starts: Nov 22nd 16:00 Registration Open!

GO TO RACE
SOL around Vancouver Island 2022
Designed by SOLer fastpassage39, we will round Vancover Island, tackling tight channels and open water which our Dufour 40s will love. With some luck, we should be able to complete this delightful 525nm course in around a week, just in time for opening day at the nearby world-famous Whistler Blackcomb ski resort!
Race #1621
INFO by brainaid.de
Dufour 40 PARTICULARS
WX Updates:
0430 / 1030 / 1630 / 2230
Ranking:
SYC
RACE CLOSE: Monday,
28 November at 2300 UTC
Race starts: Nov 16th 20:00 Registration Closed

GO TO RACE
SYC Ranking
Series
Mobile Client
SYC members have the benefit of access to our mobile/lightweight web client!