24 May 2019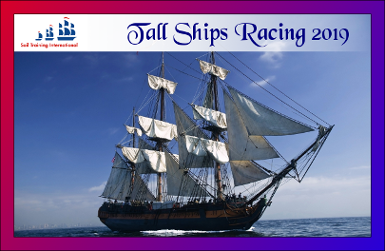 2019 sees the ninth season of Sailonline's association with tall ships races organised by Sail Training International. This year we won't be going "intercontinental" but the four races in Sailonline's series will all take part around Europe in two separate events and we will be aiming to bring the tracks of the Class A entrants in all races on-screen so we can compare performances!
This is what we have in store:
In June, two races of the Liberty Tall Ships Regatta - Race 1 from a Tall Ships Festival in Rouen, France, to one in The Hague/Scheveningen, Netherlands and then Race 2 from The Hague/Scheveningen to the Tall Ships Festival in Aalborg, Denmark.
In July, two races of The Tall Ships Races 2019 - in July this year – Race 1 from Aalborg, Denmark to Fredrikstad, Norway and Race 2 from Bergen, Norway, to Aarhus, Denmark. As always, the real ships will sail a Cruise-In-Company between Fredrikstad and Bergen during which time there can be crew exchanges as the ships make their way to various welcome-ports along the way.
This virtual sailing experience runs hand in hand with Sail Training International's mission - the development and education of young people through the sail training experience, regardless of nationality, culture, religion, gender or social background. Sail Training International and Sailonline both count heavily on volunteer support with financial gain excluded from the equation.
Navigating a tall ship is a remarkably challenging affair, especially if you are more familiar with modern yachts, and gives a real insight into the true nature of ocean exploration in days gone by, so why not start learning the basics today so you will be ready for your Tall Ships experience!
There are four classes of Tall Ship in the real races, ranging from the biggest Class A Square Rigged ships of more than 40m in length, down to training yachts of 9.14m. Sailonline has developed performance polars based on published data for several different tall ships, and races to compete against Class A ships.
Sailonline's first race will open for practice on Tuesday, 11 June and this year we will be sailing the polar of our Clipper ship.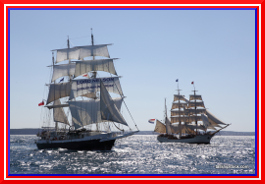 Races
Next Race: 00d 00h 00m
---
Current Races:
Fremantle to Bali 2022
It is time for a revival of one of Australia's iconic races, the 1427 nm long "Fremantle to Bali" race, and it's considered to be a true test of seamanship.
Last raced in 2021 Super Maxi 100, we will do it this year in a Sun Fast 3300 which is considerably slower!
PRIZE: SMPF
Race #1632
INFOby brainaid.de
Sunfast 3300 PARTICULARS
WX Updates:
0430 / 1030 / 1630 / 2230
Ranking:
OCQ4 - OCCH - SUPSOL - SYC
Race starts: Dec 04th 06:00 Registration Open!

GO TO RACE
Baker Lake Ice Race 2022
Up north, it's Winter, so time to put your skates on, but first you'll have to airfreight them, your carbon spars, your mylar sails and your DN hull to Baker Lake, for a 109nm race, the first of 4 (3 to count) at high speed before the ice melts! Well inside the Arctic Circle, this is a cold, cold place, where the wind is rarely benign. No Performance Loss, so put your goggles on, wrap up well, and try to get round as quick as you can!
Race #1615
INFO by brainaid.de
DN PARTICULARS
WX Updates:
0245 / 0845 / 1445 / 2045
RANKING: DN - SYC
Race starts: Dec 03rd 15:00 Registration Open!

GO TO RACE
Christmas Is (Pac) to Christmas Is (Ind) 2022
Two waypoints, start and finish, and between them 5827 NM of two oceans. Not much time if we want to sit at the Christmas Eve table. You will need to maintain an average speed of over 10 knots, so prepare your Volvo70s well and choose the best of the many possible routes. Hands up everyone who knew there were TWO Christmas Islands?! OK, maybe you have sailed this Sailonline course before... but it's time to get ready for the 2022 challenge of racing between Christmas Island in the Pacific to Christmas Island in the Indian Ocean! Please have fun! Fair winds!
Race #1629
INFO by brainaid.de
Volvo70 PARTICULARS
WX Updates:
0430 / 1030 / 1630 / 2230
Ranking: SYC
Race starts: Dec 01st 18:00 Registration Open!

GO TO RACE
The Three Kings Race 2022
The Three Kings Offshore Race is a 520 nm challenge, in Farr 38s, from Auckland (Orakei) up and around the Three Kings Islands and then back to Auckland finishing where you started. Manawa Islands (Three Kings) are a group of 13 uninhabited islands about 25 nm northwest of Te Rerenga Wairua aka Cape Reinga. They're also about 250nm due north of Auckland, known also as the world's best diving and fishing locations (although hopefully, you won't be fishing too much during the race, or diving for that matter) and it is just a beautiful yet rugged place that is a must see for anyone who loves the oceans.
Race #1628
INFO by brainaid.de
Farr 38 PARTICULARS
WX Updates:
0430 / 1030 / 1630 / 2230
Ranking: SYC
RACE CLOSE: Tuesday,
December 6 at 2300 UTC.
Race starts: Nov 27th 16:00 Registration Closed

GO TO RACE
SYC Ranking
Series
Mobile Client
SYC members have the benefit of access to our mobile/lightweight web client!