1 December 2020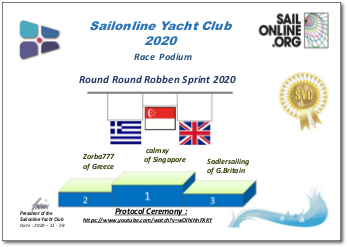 click on results image to see larger
CONGRATULATIONS calmxy!!!
ΣΥΓΧΑΡΗΤΉΡΙΑ Zorba777!! CONGRATULATIONS SadlerSailing!
Race Leaderboard
Reports
Commentary
A fine breeze welcomed 138 SOLers, including at least a dozen locals, to the starting line just off Cape Town's Mouille Point for our first outing in our spanking new C2R74, designed by Mark Mills specifically for our virtual Cape to Rio 2021 race slated for January 2021. Unusually, the breeze was from the south and so it was immediately off at a fast and furious pace to a leeward mark north of Robben Island, with the fast boys all opting to depart on starboard, aiming to gybe just in front of the rocks at Bloubergstrand. At the turn onto a fetch south west, it was hard to tell who was in the lead, but by the time the leaders were hardening up, again at Bloubergstrand, for the beat home, three boats were starting to show in front, calmxy, Zorba777 and SadlerSailing, various other likely lads (rumskib, rafa, Kipper1258, bonknhoot) having in the meantime come to greater or lesser grief.
In the end, it was calmxy who just shaded it from Zorba777, and how that went in more detail, you can read in Zorba777's fine report under the button above, and see in Bimmer's terrific timelapse under the filmstrip below. calmxy's result takes him into a strong lead in the Q4 Sprint Championships and only points off the lead in the 2020 Overall after discards. All to play for then, calmxy, in the last sprint of the year off Southern California on December 19th!

Races
Next Race: 00d 00h 00m
---
Current Races:
Gladstone Ports Corporation Brisbane to Gladstone Yacht Race 2023


Welcome everyone to the 75th anniversary of the GPC Brisbane to Gladstone Yacht Race , Australia's other classic ocean race. Once again, Sailonline is delighted to offer you the opportunity of virtually racing its TP52 over this challenging 308nm course.
Race #1670
INFO by brainaid.de
TP52 PARTICULARS
WX Updates:
0430 / 1030 / 1630 / 2230
RANKING: SYC
Race starts: Apr 07th 01:00 Registration Open!

GO TO RACE
Sinbad Measures Madagascar 2023
Sinbad Al-SOL'er, now well on his way around the seas and shores of the Indian Ocean, invites you to continue with him on his voyages – on to Madagascar with a commission from the Sultan to measure her coast and to explore some of her far-flung islands. Join Sinbad then this time in a Riptide 50 round a roughly 3000nm roughly triangular course out to Rodriguez Island and back for a close cartographical cruise down Madagascar's western shore and home.
Race #1638
INFOby brainaid.de
Riptide 50 PARTICULARS
WX Updates:
0430 / 1030 / 1630 / 2230
Ranking: SYC - SVS
Race starts: Apr 02nd 11:00 Registration Open!

GO TO RACE
Corsica PYOC Sprint 2023
Welcome to Corsica, where our sprint race journey for the second quarter of 2023 will begin! Starting in Capraia, a small island in the Mediterranean Sea and ending offshore of Giglio, our SOLers are sure to experience some extraordinary scenary! The boat of choice for this beautiful 75nm race is the AC72v2, with high speeds and beautiful scenery what more could one ask for?
Race #1678
INFO by brainaid.de
AC72v2 PARTICULARS
WX Updates:
0430 / 1030 / 1630 / 2230
Ranking:
SPRQ2 - SPRCH - SUPERSOL - SYC
Race starts: Apr 01st 09:00 Registration Open!

GO TO RACE
Melbourne to Osaka 2023
Welcome to Melbourne for Sailonline's alternative version of the Melbourne to Osaka Double Handed Yacht Race - a 5000 nautical miler. This year again we're racing the RP-66, but the route is unlimited what comes to waypoints. Because the IRL version does not run this year, we took the freedom to make our own route!
It could be a long race, east or west, and of course some doldrums to negotiate!
PRIZE: SMPF
Race #1679
INFO by brainaid.de
RP-66 PARTICULARS
WX Updates:
0430 / 1030 / 1630 / 2230
Ranking:
OCQ2 - OCCH - SUPSOL - SYC
Race starts: Apr 01st 02:00 Registration Open!

GO TO RACE
Sail Around Turkey 2023



This is one of Sailonline's iconic and more challenging races. Our IMOCA 60 Foil high-speed yachts will sail across three seas (Black Sea, Sea of Marmara, Mediterranean Sea) and two beautiful straits (Strait of Istanbul - Bosphorus and Strait of Canakkale - Dardanelles). Altogether 1372 nm of great and demanding sailing from Hopa (the easternmost point of the Turkish Black Sea coast) to Iskenderun (the easternmost point of Turkey's Mediterranean coast). Get ready for a lot of fun; we are waiting for you at the starting line.
Race #1665
INFO by brainaid.de
IMOCA 60 Foil PARTICULARS
WX Updates:
0430 / 1030 / 1630 / 2230
Ranking:
ARQ1 - ARCH - SUPSOL - SYC
RACE CLOSE: Monday,
April 3 at 2300 UTC.
Race starts: Mar 21st 15:00 Registration Closed

GO TO RACE
Sinbad Seeks Spices 2023
Having surveyed Arabia, Sinbad Al-SOL'er next invites you to race him on his second of seven epic voyages to every corner of the Indian Ocean and beyond, this time to seek spices in Zanzibar, departing from Xaafun, a trading post on the tip of the Horn of Africa since the days of the Mycenaeans and on through Roman times to the Nights of 1,001 of AL-Sail'or, Al-SOL'er's illustrious ancestor. SOLing by the sun and the stars, aka seat-of-the-pants, the voyage will take you east as far as Praslin island, south as far as Anjouan, to Zanzibar's Unguja for all things spices, but only back as far as Mogidishu – another exhausting 3000nm adventure, this time in Reichel/Pugh 66s.
Race #1637
INFOby brainaid.de
Reichel/Pugh 66 PARTICULARS
WX Updates:
0430 / 1030 / 1630 / 2230
Ranking: SYC - SVS
RACE CLOSE: Thursday,
April 6 at 2300 UTC.
Race starts: Mar 19th 09:00 Registration Closed

GO TO RACE
SYC Ranking
Series
Mobile Client
SYC members have the benefit of access to our mobile/lightweight web client!