7 April 2021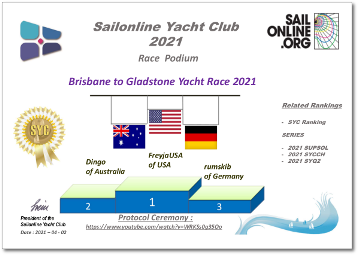 click on results image to see larger
CONGRATULATIONS FreyjaUSA!!!
CONGRATULATIONS Dingo!! HERZLICHEN GLÜCKWUNSCH rumskib!
Race Leaderboard
Commentary
In 2020 the real, on-the-water Brisbane to Gladstone Yacht Race had to be cancelled because of the global #COVID19 pandemic. As the months passed and Australia began to get a good degree of control over the virus, the chance of a real on-the-water race in 2021 became a possibility. All preparations were made and Sailonline was delighted to be included, working closely with the organisers at Queensland Cruising Yacht Club (QCYC) to coordinate publicity and race opening. With just over a week to go, however, the Queensland government announced a three-day lockdown, so QCYC had to pull out all stops to get permission for the real race to go ahead. But they did and it did!
The QCYC approach to organising this event includes a marvellous Livestream that truly brings to viewers at home and virtual racers a sense of participation in this classic yacht race. In the past Sailonline has "smoothed" it's departure from Brisbane but this and, perhaps, the sea state/tides affecting the real fleet on the exit from Moreton Bay this time, meant that the front runners of the virtual fleet did stay ahead of the bulk of the real fleet but for those finding themselves "mixing it" with the real fleet there was a true sense of competition!
Our thanks again must go to QCYC and the organisers and sponsors of the Gladstone Ports Corporation Brisbane to Gladstone Yacht Race 2021 race for partnering with Sailonline – hopefully an association that will last for years to come. In the total virtual fleet of 201, representing 34 different nations, there were 50 boats flying the flag for Australia. The competition was fierce and a quick review of the Leaderboard, linked above, reveals that 20 boats arrived within 10 minutes of the winner and 8 in this group were locals!
Congratulations to everyone who took part both in reality and online and particular plaudits go to Sailonline's podium representing USA, Australia and Germany. See you next year!

Timelapse by Bimmer


Races
Next Race: 00d 00h 00m
---
Current Races:
Fremantle to Bali 2022
It is time for a revival of one of Australia's iconic races, the 1427 nm long "Fremantle to Bali" race, and it's considered to be a true test of seamanship.
Last raced in 2021 Super Maxi 100, we will do it this year in a Sun Fast 3300 which is considerably slower!
PRIZE: SMPF
Race #1632
INFOby brainaid.de
Sunfast 3300 PARTICULARS
WX Updates:
0430 / 1030 / 1630 / 2230
Ranking:
OCQ4 - OCCH - SUPSOL - SYC
Race starts: Dec 04th 06:00 Registration Open!

GO TO RACE
Baker Lake Ice Race 2022
Up north, it's Winter, so time to put your skates on, but first you'll have to airfreight them, your carbon spars, your mylar sails and your DN hull to Baker Lake, for a 109nm race, the first of 4 (3 to count) at high speed before the ice melts! Well inside the Arctic Circle, this is a cold, cold place, where the wind is rarely benign. No Performance Loss, so put your goggles on, wrap up well, and try to get round as quick as you can!
Race #1615
INFO by brainaid.de
DN PARTICULARS
WX Updates:
0430 / 1030 / 1630 / 2230
RANKING: DN - SYC
Race starts: Dec 03rd 15:00 Registration Open!

GO TO RACE
Christmas Is (Pac) to Christmas Is (Ind) 2022
Two waypoints, start and finish, and between them 5827 NM of two oceans. Not much time if we want to sit at the Christmas Eve table. You will need to maintain an average speed of over 10 knots, so prepare your Volvo70s well and choose the best of the many possible routes. Hands up everyone who knew there were TWO Christmas Islands?! OK, maybe you have sailed this Sailonline course before... but it's time to get ready for the 2022 challenge of racing between Christmas Island in the Pacific to Christmas Island in the Indian Ocean! Please have fun! Fair winds!
Race #1629
INFO by brainaid.de
Volvo70 PARTICULARS
WX Updates:
0430 / 1030 / 1630 / 2230
Ranking: SYC
Race starts: Dec 01st 18:00 Registration Open!

GO TO RACE
The Three Kings Race 2022
The Three Kings Offshore Race is a 520 nm challenge, in Farr 38s, from Auckland (Orakei) up and around the Three Kings Islands and then back to Auckland finishing where you started. Manawa Islands (Three Kings) are a group of 13 uninhabited islands about 25 nm northwest of Te Rerenga Wairua aka Cape Reinga. They're also about 250nm due north of Auckland, known also as the world's best diving and fishing locations (although hopefully, you won't be fishing too much during the race, or diving for that matter) and it is just a beautiful yet rugged place that is a must see for anyone who loves the oceans.
Race #1628
INFO by brainaid.de
Farr 38 PARTICULARS
WX Updates:
0430 / 1030 / 1630 / 2230
Ranking: SYC
RACE CLOSE: Tuesday,
December 6 at 2300 UTC.
Race starts: Nov 27th 16:00 Registration Closed

GO TO RACE
SYC Ranking
Series
Mobile Client
SYC members have the benefit of access to our mobile/lightweight web client!