30 December 2021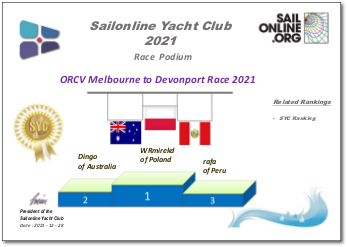 click on results image to see larger
GRATULACJE WRmirekd!!!
CONGRATULATIONS Dingo!! FELICIDADES rafa!
Race Leaderboard
Commentary
A festive fleet of 130 First 40s managed to get their entry in for this year's annual virtual online Rudder Cup in cooperation with Melbourne's ORCV, traditionally Sailonline's last race of the year. Quite a turnout, considering the domestic pressure that always mounts up between Christmas and New Year. And not only did 130 skippers enter, 95 finished. Well done all!
However, particular praise must go to WRmirekd, who, not for the first time this year, showed the fleet a clean pair of keels (the editor assumes there has to be something dinky about this man's boats – a trimtab or a forward rudder, who knows!). But in all seriousness, what a way to end your year – with another win and a running total of 14 points on the SYC Ladder. Wspaniały Mirek!!!

Races
Next Race: 00d 00h 00m
---
Current Races:
Uruguay to New Zealand 2022
After a 6 year hiatus, we return to race the tricky route from Punta del Este in Uruguay to Auckland, New Zealand. Our former winner "longreacher" covered this route taking 16 days 10 hours 10 minutes and 44 seconds and he used the same boat. Let's see if we can bite into his record.
PRIZE: SMPF
Race #1550
INFO by brainaid.de
VO70 v4PARTICULARS
WX Updates:
0430 / 1030 / 1630 / 2230
Ranking:
OCQ1 - OCCH - SUPSOL - SYC
Race starts: Feb 01st 14:00 Registration Open!

GO TO RACE
South China Sea Race 2022
For our second Seven Seas of Asia race, we invite you to Taiwan, where a charter fleet of Cape31's await you for a circa 2100nm race around a triangular course through the politically and probably meteorologically-also tricky waters of the South China Sea. Beware of lurking submarines and battleships and keep clear of firing ranges!
Race #1539
INFOby brainaid.de
Cape 31 PARTICULARS
WX Updates:
0430 / 1030 / 1630 / 2230
Ranking: SYC - SSA
Race starts: Jan 27th 16:00 Registration Open!

GO TO RACE
Shetland Winter Race 2022
A-OI!!! The cry should soon be ringing out in the streets of Lerwick as the Guizer Jarl and his crew, along with the other teams in the Up Helly Aa parade complete their preparations for the biggest fire festival in Europe. While Shetland continues to manage #COVID19 well, Up Helly Aa has been cancelled but this won't stop SOLers racing their Elan 410s this 383nm course from Aberdeen to be sociable in Lerwick Harbour. SAILING NOTE: Gruney may be approached from any direction but must be passed for rounding purposes as indicated on the chart.
Race #1554
INFO by brainaid.de
Elan 410 PARTICULARS
WX Updates:
0430 / 1030 / 1630 / 2230
Ranking: SYC
Race starts: Jan 23rd 11:00 Registration Open!

GO TO RACE
SYC Ranking
Series
Mobile Client
SYC members have the benefit of access to our mobile/lightweight web client!