28 January 2021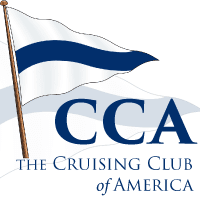 It is 2021 and for a year now, the world has been trying to defeat, or at least manage the #COVID19 pandemic, but the sad truth is that many countries remain at some form of lockdown or curtailment of activity, and sailing has been hit hard. Sailonline was therefore delighted to receive an enquiry from the prestigious Cruising Club of America (CCA) as to the possibility of creating a trio of delivery races, requiring tailored boat polars to reflect the motoring, as well as sailing, nature of the delivery experience.
Never baulking at a challenge, Sailonline's team of volunteers in cooperation with CCA, created two new cruising polars, Santa Cruise 52 and Passport Cruise 40 and three delivery cruise-races, in which participants may select whichever polar they prefer, as follows:
8 February - CCA Delivery Cruise 1 2021 - Sandwich MA to Halifax NS
6 March - CCA Delivery Cruise 2N 2021 - Halifax NS to Clarenville (leaving Newfoundland to Starboard)
10 March - CCA Delivery Cruise 2S 2021 - Halifax NS to Clarenville (leaving Newfoundland to Port)
Please note that each virtual delivery cruise is designed to permit crews to choose when to start and when or if to anchor, for example, in sheltered harbors for storm avoidance, or management of storm conditions when in reality a Jordan Series Drogue would be deployed. Anchoring is subject to a maximum of 48hrs. If Sailonline's server considers the skipper/boat to have been idle for that period of time, then the boat will be teleported back to the start (imagine a Skycrane!), but a TWA=0 (head to wind) command will reset this time limit. Just as in reality CCA skippers keep a deck log, those participating in these virtual delivery cruises are invited to do the same in respect of anchoring – you need to note the UTC date and time of deploying and of recovering the anchor or JSD to allow correction of elapsed times, so optimal cruising performance can be recognised. Sailonline racers who wish to race as usual may, of course, do so, but learning the art of delivery cruising is perhaps more of a challenge for our speedsters!


Races
Next Race: 00d 00h 00m
---
Current Races:
Melbourne to Osaka 2023
Welcome to Melbourne for Sailonline's alternative version of the Melbourne to Osaka Double Handed Yacht Race - a 5000 nautical miler. This year again we're racing the RP-66, but the route is unlimited what comes to waypoints. Because the IRL version does not run this year, we took the freedom to make our own route!
It could be a long race, east or west, and of course some doldrums to negotiate!
PRIZE: SMPF
Race #1679
INFO by brainaid.de
RP-66 PARTICULARS
WX Updates:
0430 / 1030 / 1630 / 2230
Ranking:
OCQ2 - OCCH - SUPSOL - SYC
Race starts: Apr 01st 02:00 Registration Open!

GO TO RACE
Sail Around Turkey 2023



This is one of Sailonline's iconic and more challenging races. Our IMOCA 60 Foil high-speed yachts will sail across three seas (Black Sea, Sea of Marmara, Mediterranean Sea) and two beautiful straits (Strait of Istanbul - Bosphorus and Strait of Canakkale - Dardanelles). Altogether 1372 nm of great and demanding sailing from Hopa (the easternmost point of the Turkish Black Sea coast) to Iskenderun (the easternmost point of Turkey's Mediterranean coast). Get ready for a lot of fun; we are waiting for you at the starting line.
Race #1665
INFO by brainaid.de
IMOCA 60 Foil PARTICULARS
WX Updates:
0430 / 1030 / 1630 / 2230
Ranking:
ARQ1 - ARCH - SUPSOL - SYC
Race starts: Mar 21st 15:00 Registration Closed

GO TO RACE
Sinbad Seeks Spices 2023
Having surveyed Arabia, Sinbad Al-SOL'er next invites you to race him on his second of seven epic voyages to every corner of the Indian Ocean and beyond, this time to seek spices in Zanzibar, departing from Xaafun, a trading post on the tip of the Horn of Africa since the days of the Mycenaeans and on through Roman times to the Nights of 1,001 of AL-Sail'or, Al-SOL'er's illustrious ancestor. SOLing by the sun and the stars, aka seat-of-the-pants, the voyage will take you east as far as Praslin island, south as far as Anjouan, to Zanzibar's Unguja for all things spices, but only back as far as Mogidishu – another exhausting 3000nm adventure, this time in Reichel/Pugh 66s.
Race #1637
INFOby brainaid.de
Reichel/Pugh 66 PARTICULARS
WX Updates:
0430 / 1030 / 1630 / 2230
Ranking: SYC - SVS
Race starts: Mar 19th 09:00 Registration Closed

GO TO RACE
Lanzarote to Grenada 2023
It should be a great time of year to sail the third Ocean race of this Year in our luxurious Xp55, from the Canaries, 2865nm down to the lush Caribbean island of Grenada, famed for its rum, spices and chocolate. Serious chocoholics can even sign up for a tour, which includes a scrumptious three-course lunch spotlighting chocolate in every course.
PRIZE: SMPF
Race #1667
INFOby brainaid.de
Xp55 PARTICULARS
WX Updates:
0430 / 1030 / 1630 / 2230
Ranking:
OCQ1 - OCCH - SUPSOL - SYC
RACE CLOSE: Monday,
March 27 at 2300 UTC.
Race starts: Mar 03rd 12:00 Registration Closed

GO TO RACE
SYC Ranking
Series
Mobile Client
SYC members have the benefit of access to our mobile/lightweight web client!