28 January 2021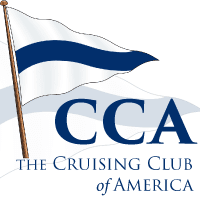 It is 2021 and for a year now, the world has been trying to defeat, or at least manage the #COVID19 pandemic, but the sad truth is that many countries remain at some form of lockdown or curtailment of activity, and sailing has been hit hard. Sailonline was therefore delighted to receive an enquiry from the prestigious Cruising Club of America (CCA) as to the possibility of creating a trio of delivery races, requiring tailored boat polars to reflect the motoring, as well as sailing, nature of the delivery experience.
Never baulking at a challenge, Sailonline's team of volunteers in cooperation with CCA, created two new cruising polars, Santa Cruise 52 and Passport Cruise 40 and three delivery cruise-races, in which participants may select whichever polar they prefer, as follows:
8 February - CCA Delivery Cruise 1 2021 - Sandwich MA to Halifax NS
6 March - CCA Delivery Cruise 2N 2021 - Halifax NS to Clarenville (leaving Newfoundland to Starboard)
10 March - CCA Delivery Cruise 2S 2021 - Halifax NS to Clarenville (leaving Newfoundland to Port)
Please note that each virtual delivery cruise is designed to permit crews to choose when to start and when or if to anchor, for example, in sheltered harbors for storm avoidance, or management of storm conditions when in reality a Jordan Series Drogue would be deployed. Anchoring is subject to a maximum of 48hrs. If Sailonline's server considers the skipper/boat to have been idle for that period of time, then the boat will be teleported back to the start (imagine a Skycrane!), but a TWA=0 (head to wind) command will reset this time limit. Just as in reality CCA skippers keep a deck log, those participating in these virtual delivery cruises are invited to do the same in respect of anchoring – you need to note the UTC date and time of deploying and of recovering the anchor or JSD to allow correction of elapsed times, so optimal cruising performance can be recognised. Sailonline racers who wish to race as usual may, of course, do so, but learning the art of delivery cruising is perhaps more of a challenge for our speedsters!


Races
Next Race: 00d 00h 00m
---
Current Races:
Uruguay to New Zealand 2022
After a 6 year hiatus, we return to race the tricky route from Punta del Este in Uruguay to Auckland, New Zealand. Our former winner "longreacher" covered this route taking 16 days 10 hours 10 minutes and 44 seconds and he used the same boat. Let's see if we can bite into his record.
PRIZE: SMPF
Race #1550
INFO by brainaid.de
VO70 v4PARTICULARS
WX Updates:
0430 / 1030 / 1630 / 2230
Ranking:
OCQ1 - OCCH - SUPSOL - SYC
Race starts: Feb 01st 14:00 Registration Open!

GO TO RACE
South China Sea Race 2022
For our second Seven Seas of Asia race, we invite you to Taiwan, where a charter fleet of Cape31's await you for a circa 2100nm race around a triangular course through the politically and probably meteorologically-also tricky waters of the South China Sea. Beware of lurking submarines and battleships and keep clear of firing ranges!
Race #1539
INFOby brainaid.de
Cape 31 PARTICULARS
WX Updates:
0430 / 1030 / 1630 / 2230
Ranking: SYC - SSA
Race starts: Jan 27th 16:00 Registration Open!

GO TO RACE
Shetland Winter Race 2022
A-OI!!! The cry should soon be ringing out in the streets of Lerwick as the Guizer Jarl and his crew, along with the other teams in the Up Helly Aa parade complete their preparations for the biggest fire festival in Europe. While Shetland continues to manage #COVID19 well, Up Helly Aa has been cancelled but this won't stop SOLers racing their Elan 410s this 383nm course from Aberdeen to be sociable in Lerwick Harbour. SAILING NOTE: Gruney may be approached from any direction but must be passed for rounding purposes as indicated on the chart.
Race #1554
INFO by brainaid.de
Elan 410 PARTICULARS
WX Updates:
0430 / 1030 / 1630 / 2230
Ranking: SYC
Race starts: Jan 23rd 11:00 Registration Open!

GO TO RACE
SYC Ranking
Series
Mobile Client
SYC members have the benefit of access to our mobile/lightweight web client!