16 July 2021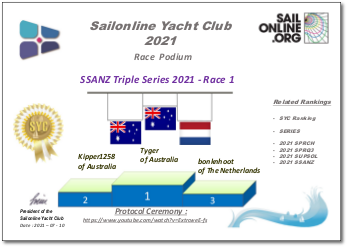 click on results image to see larger
CONGRATULATIONS Tyger!!! CONGRATULATIONS Kipper1258!!
GEFELICITEERD bonknhoot!
Race Leaderboard

Commentary
Ten real Young 88s and 84 virtual ones hit the line at respectively 11.20 and 11.15 local time on Saturday morning, July 10, for Race 1 of the 2021 SSANZ Triple Series on a downwind course in light to moderate airs out the Motukorea Channel, and our Australian friends Tyger and Kipper1258 showed at the front of the fleet straightaway, timing their gybe for the Motutapu shore nicely. A long and pleasant reach out to Motuora Island saw little change in the rankings, but, as always, various virtual vessels came to grief hugging the coast as they negotiated the island's rounding. Back in the Real World , the weather too was benign and the 'craic' mighty! A second long reach, now back to Motutapu proved trickier than the reach out, and some subtle changes in angle had bonknhoot coming into the battle for the virtual podium places. But nothing was certain until the line was crossed as can be seen in calmxy's excellent timelapse production, under the filmstrip below, and even then it took a little while before the server could return the precise order of finish.
And the virtual winner was? Tyger, absolutely roaring around the course in a time of 07:09:34, pipping Kipper1258 by a whole 2 seconds, and Babe, the first Young88 home on the real water, by a more serious 49-odd minutes. Terrific Tyger, but nothing like a good forecast that holds perfect for the day!

Timelapse by Calmxy
Races
Next Race: 00d 00h 00m
---
Current Races:
Gulf Run 2021
It is 550nm on a course of 175 true from Dingle to Vigo, and from Pensacola to Yucatan as well, across the Gulf Stream and The Gulf respectively. It's warmer down in The Gulf, so we return to its azure waters for a re-run in J-130s of a course designed by RainbowChaser back in 2012, but only first run in 2018. Bring your deck chairs and the barrier cream.
Race #1513
INFO by brainaid.de
J-130 PARTICULARS
WX Updates:
0430 / 1030 / 1630 / 2230
Ranking: SYC
Race starts: Oct 26th 21:00 Registration Open!

GO TO RACE
Isla del Sol Re-Run 2021
Scanning the globe for special sprint locations, our intrepid course designer Renegade came across Isla del Sol in the middle of the world's highest navigable body of water, Lake Titicaca. We tried to race around it last month, but at 3812m above sea level, comms to our boats broke down for a little while, and our SRC decided to abandon the race, so we are running it again: 26nm RTI in "how-did-we-get-them-here?" Fox 9.50s.
Race #1512
INFO by brainaid.de
Fox 9.50 PARTICULARS
WX Updates:
0430 / 1030 / 1630 / 2230
Ranking:
SPRQ4 - SPRCH - SUPSOL - SYC
RACE CLOSE: Wednesday,
October 27 at 2300 UTC.
Race starts: Oct 23rd 16:00 Registration Open!

GO TO RACE
China Coastal Race 2021


Racing in reality around the world is tough during a global pandemic and
RHKYC's
calendar is having to be flexible too so instead of a run to Vietnam, welcome to a competitive coastal race inside Hong Kong waters - 97nm in TP52s against the local fleet!
Race #1519
INFO
by brainaid.de
TP52
PARTICULARS
WX Updates:
0430 / 1030 / 1630 / 2230
Ranking: SYC
Race starts:
Oct 23rd 03:00
Registration Open!
GO TO RACE
Virtual PIC Coastal Classic Yacht Race 2021


Welcome! Kia Ora! to Auckland, New Zealand, and Sailonline's annual multihull race against the NZ Multihull Yacht Club competitors over 118nm from Auckland to Russell. Sadly, COVID19 restrictions mean the real race will not be running, but we welcome real racers to our virtual event where we are racing our 60ft trimarans in this testing event in the endlessly varying conditions off the east coast of North island. As is tradition, a hearty breakfast of bacon butties and rum will welcome yachties on their arrival.
Race #1515
INFO
by brainaid.de
60ft trimaran
PARTICULARS
WX Updates:
0430 / 1030 / 1630 / 2230
Ranking: SYC
Race starts:
Oct 21st 21:00
Registration Open!
GO TO RACE
ESRW6 Singapore to Kuwait 2021
Join us as we embark on our final leg(6) of the fabulous ESRW round the equator race series, this time onboard the speedy 90 foot Monohull as we wind our way out of the Malacca Strait and across the Indian Ocean 3000nm to Kuwait. It'll be steamy all the way!
PRIZE: SMPF
Race #1508
INFOby brainaid.de
90 foot Monohull PARTICULARS
WX Updates:
0430 / 1030 / 1630 / 2230
Ranking: ESRW-OCQ4-OCCH-SUPERSOL-SYC
RACE CLOSE: Tuesday,
October 26 at 2300 UTC.
Race starts: Oct 01st 03:00 Registration Closed

GO TO RACE
SYC Ranking
Series
Mobile Client
SYC members have the benefit of access to our mobile/lightweight web client!