20 November 2021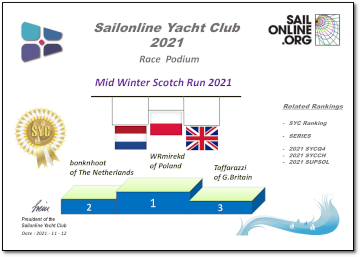 click on results image to see larger
GRATULACJE WRmirekd!!!
GEFELICITEERD bonknhoot!! CONGRATULATIONS Taffarazzi!
Race Leaderboard
Reports


Commentary
Braving the Irish Sea in November can be considered a foolhardy enterprise and our run from Plymouth to the beautiful island of Islay gave us an idea of what awaits sailors in these waters. The west coast of mainland UK and its waters are tricky at the best of times - it is the first to receive any weather systems off the Atlantic - and the channel provided by the Irish Sea can create truly maelstrom conditions.
The competition was fierce this year and its hardships were soothed by the aroma of perfect whisky carried from the north by the wind and descriptions of the Irish coast served by bonknhoot. Scotch whisky is loved by connoisseurs all over the world and our TOP10 is certainly among this selected team. However, four competitors (BRENTGRAY, Oliver, patrik and GoldenHorde) chose a route away from the aroma of whiskey, sailing around Ireland from the west, through the Atlantic. The entire top 10 are to be congratulated on an excellent race, but the true honours belong to our podium WRmirekd, bonknhoot and Taffarazzi. Congratulations guys!

Races
Next Race: 00d 00h 00m
---
Current Races:
Cape Town to Port Elizabeth 2021


Welcome back to Cape Town. Our barely-used C2R74 awaits us for a further outing round the cape where the winds and currents of the Atlantic and Indian Ocean meet. It's 400 miles to Port Elizabeth. As always, it will be challenging!
Race #1530
INFOby brainaid.de
C2R74 PARTICULARS
WX Updates:
0430 / 1030 / 1630 / 2230
Ranking:
SYQ4 - SYCCH - SUPSOL - SYC
Race starts: Dec 07th 16:00 Registration Open!

GO TO RACE
Illas Cies Sprint 2021
It is 550nm from Dingle to Vigo, and from Pensacola to Yucatan as well, but at the mouth of Vigo's Ria we find the wonderful nature reserve of the Cies Islands, breeding ground for more than 20,000 doubly-blessed seagulls, doubly-blessed as Vigo is also home to Europe's largest fishing fleet. It rains even more in Vigo than in Dingle, and especially in winter, but let's race anyway, from Vigo's glorious old-world Real Club Nautic around the islands and up the Ria de Pontevedra to Combarro, where you may just espy through the fog bonknhoot's Damacle wintering ashore. About 32nm in magnificent Melges 40s.
Race #1516
INFOby brainaid.de
Melges 40 PARTICULARS
WX Updates:
0430 / 1030 / 1630 / 2230
RANKING:
SPRQ4 - SPRCH - SUPSOL - SYC
RACE CLOSE: Wednesday,
8 December at 2300 UTC
RACE CLOSE: Wednesday,
December 8 at 2300 UTC.
Race starts: Dec 04th 16:00 Registration Closed

GO TO RACE
Gray Whale Migration 2021
As temperatures begin to drop in the northern hemisphere, Eastern Pacific Gray Whales, who have spent the summer months in the nutrient rich feeding grounds of the Bering Sea, begin to make their way south to their winter home in the warm conditions off the coast of Mexico. We will be joining them for their 3,886nm migration in our 90ft monohull.
Race #1523
INFO by brainaid.de
90ft Monohull PARTICULARS
WX Updates:
0430 / 1030 / 1630 / 2230
Ranking:
SYC
Race starts: Dec 02nd 19:00 Registration Open!

GO TO RACE
Christmas Is (Pac) to Christmas Is (Ind) 2021
Welcome to Sailonline's annual festive season race for Christmas 2021! This year we will be racing our fabulous VO70_v4 the 5,827nm from Christmas Island in the Pacific to Christmas Island in the Indian Ocean. All islands between our start and finish, including the "island" of Australia are in play so enjoy whichever route you choose!
Race #1522
INFO by brainaid.de
VO70_v4 PARTICULARS
WX Updates:
0430 / 1030 / 1630 / 2230
RANKING:
OCQ4 - OCCH - SUPSOL - SYC
Race starts: Dec 01st 03:00 Registration Open!

GO TO RACE
CCA Delivery Cruising 2021 - Newport to Antigua


Welcome to Sailonline's last virtual cruise of 2021. Departing our sheltered moorings in Newport RI, we are now off to Antigua, via Bermuda some 1572nm distant. You may start at any time after 1800utc on 24 November, to arrive in English Harbour, Antigua before 1800utc on 24 December.
Race #1510
INFO by brainaid.de
Santa Cruise 52 PARTICULARS
Passport Cruise 40 PARTICULARS
WX Updates:
0430 / 1030 / 1630 / 2230
RANKING: NONE
Race starts: Nov 24th 18:00 Registration Open!

GO TO RACE
SYC Ranking
Series
Mobile Client
SYC members have the benefit of access to our mobile/lightweight web client!