22 November 2021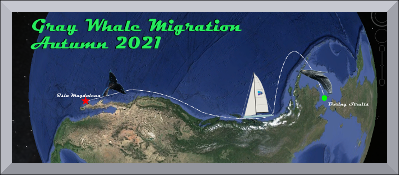 click on image to see larger
Another year and while the populations of whales on our globe continue to be under threat from noise pollution, plastic pollution, illegal fishing and natural predation, there remains a good group of gray whales in the Eastern Pacific, who annually migrate the length of the American western seaboard between their summer feeding grounds around the Aleutian Islands and in the Bering Sea and their winter breeding grounds off Baja California.
First created for Sailonline in 2010, this race celebrates this remarkable life cycle of the Gray Whales by following their route. In 2010 and 2011 we raced from Mexico up to the Bering Sea in late Spring (the mother and calf route), but since then, except in 2017, we have followed the autumn swim south to their warm and shallow breeding grounds in the lagoons off Baja California, and are doing so again this year.
This year also, a special RainbowChaser prize, to honour her creation of this terrific SOL perennial and all her tireless work behind the scenes, has been donated by Leatherman Inc. to be awarded to the SOLer who best outpaces the whales. Most will, as the whales travel at a leisurely 5 knots. But who will be first and win the multi-tool?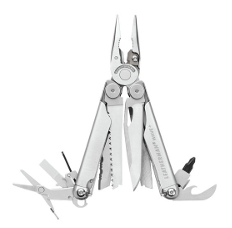 The race opens for practice on Monday, 22 November and will start on Wednesday, 2 December at 1900utc.
Useful Info.

Races
Next Race: 00d 00h 00m
---
Current Races:
Shetland Winter Race 2022
A-OI!!! The cry should soon be ringing out in the streets of Lerwick as the Guizer Jarl and his crew, along with the other teams in the Up Helly Aa parade complete their preparations for the biggest fire festival in Europe. While Shetland continues to manage #COVID19 well, Up Helly Aa has been cancelled but this won't stop SOLers racing their Elan 410s this 383nm course from Aberdeen to be sociable in Lerwick Harbour. SAILING NOTE: Gruney may be approached from any direction but must be passed for rounding purposes as indicated on the chart.
Race #1554
INFO by brainaid.de
Elan 410 PARTICULARS
WX Updates:
0430 / 1030 / 1630 / 2230
Ranking: SYC
Race starts: Jan 23rd 11:00 Registration Open!

GO TO RACE
Sail Newport Timed Race 2022


Welcome to Rhode Island in our first
TIMED
race this year. In 2020 we raced on Maxi Trimarans, now we will see how fast we can cover the 87nm route around Block Island, Fishers Island and back to the clubhouse on MC 38 monohulls. The previous record of 4 hours 5 minutes and 21 seconds belongs to Kipper1258. Try to judge your weather window well, but once you've finished (you must have finished), you can always try again (as often as you like) by clicking the link below.
RE-REGISTER HERE
to race again after finishing a run.
Race #1549
INFO
by brainaid.de
MC 38
PARTICULARS
WX Updates:
0430 / 1030 / 1630 / 2230
RANKING: TRQ1-TRCH-SUPSOL-SYC
REGISTRATION CLOSE:
Sunday, 23 January at 2200utc
RACE CLOSE:
Sunday, 23 January at 2300utc
Race starts:
Jan 10th 12:00
Registration Open!
GO TO RACE
Cape Town to Rio 2022


Welcome to South Africa and RCYC's classic transatlantic Cape2Rio Race from Cape Town, South Africa, to Rio de Janeiro, Brazil. First run in 1971, the next race in reality will be in January 2023, but in the meantime you can test yourself on-course in this, our second virtually-only Cape2Rio Race, which we will once again be sailing in Mark Mills' 74ft speedster, the stunning C2R74.
PRIZE: SMPF
Race #1537
INFO by brainaid.de
C2R74 PARTICULARS
WX Updates:
0430 / 1030 / 1630 / 2230
Ranking:
OCQ1 - OCCH - SUPSOL - SYC
RACE CLOSE: Tuesday,
January 25 at 2300 UTC.
Race starts: Jan 02nd 14:00 Registration Closed

GO TO RACE
SYC Ranking
Series
Mobile Client
SYC members have the benefit of access to our mobile/lightweight web client!