5 November 2021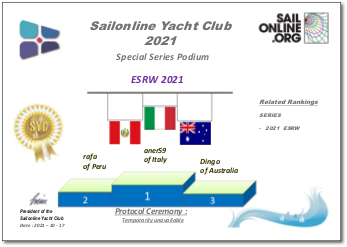 click on results image to see larger
CONGRATULAZIONI aner59!!!
FELICIDADAS rafa!! CONGRATULATIONS Dingo!
Series Results
Commentary
Twas back in May more than a year ago, as we were all battened down for what we thought would be a short, painful but necessary lockdown that would ge to grips with the new Corona virus, that bonknhoot presumably with time on his hands opined "that these races down the Atlantic, around that southern island and back up are badly described as 'round-the-world'. Round Antarctic seems more accurate with a leg to get there and another to get you home again (if you're French). A proper round-the-world race surely should attempt to circumnavigate the globe there where it is wide, so either a round hugging equatorial latitudes, or a spin hugging one or other meridian from North to South and another back from South to North, or the other way around." SRC liked the idea and so early in 2002, a SOL fleet departed Haifa for the first of six legs of the ESRW "chasing the setting sun", the Equatorial Sailonline Round the World Race, to return seven months later to Kuwait, on the opposite shore to Haifa across that rather arid barrier that once was the cradle of civilisation, Mesopotamia.
A "race less travelled", so what did me learn on our journey? Well, perhaps that…
a race from Haifa to Gibraltar is a proper ocean race in itself, with only Crete and Sicily providing minor topological interferences to following the wind
a race from Gibraltar to the Cape Verdes is a proper second ocean race; the two combined thus becoming a colossal ocean race
a race from the Cape Verdes to the entrance to the Panama Canal is simply a steady downwind sleighride
a race from Panama City to Honolulu is also mostly downwind, but takes a tediously long time
a race from Honolulu to New Caledonia is also mostly downwind, and equally long in duration
a race from New Caledonia to Singapore is also mostly downwind, but once through the Torres Strait, it's pretty much all over bar the Chat
a race from Singapore to Kuwait is not all downwind, and getting out of the Malacca Strait first does not win you the race, but keeping to the eastern shores of the Arabian Sea on your way to Hormuz does.
a race from Kuwait to Haifa, going the other way round, should be mostly upwind and therefore perhaps even more and certainly differently challenging
But what we also learned, if we did not know this already, is that aner59 is quite the master at putting an offshore series together, as you can see from the points tallies for the top five below, which shows aner59 with four podiums and then a gap, and then the rest. Veramente Stupendo, Aner!


Races
Next Race: 00d 00h 00m
---
Current Races:
Shetland Winter Race 2022
A-OI!!! The cry should soon be ringing out in the streets of Lerwick as the Guizer Jarl and his crew, along with the other teams in the Up Helly Aa parade complete their preparations for the biggest fire festival in Europe. While Shetland continues to manage #COVID19 well, Up Helly Aa has been cancelled but this won't stop SOLers racing their Elan 410s this 383nm course from Aberdeen to be sociable in Lerwick Harbour. SAILING NOTE: Gruney may be approached from any direction but must be passed for rounding purposes as indicated on the chart.
Race #1554
INFO by brainaid.de
Elan 410 PARTICULARS
WX Updates:
0430 / 1030 / 1630 / 2230
Ranking: SYC
Race starts: Jan 23rd 11:00 Registration Open!

GO TO RACE
Sail Newport Timed Race 2022


Welcome to Rhode Island in our first
TIMED
race this year. In 2020 we raced on Maxi Trimarans, now we will see how fast we can cover the 87nm route around Block Island, Fishers Island and back to the clubhouse on MC 38 monohulls. The previous record of 4 hours 5 minutes and 21 seconds belongs to Kipper1258. Try to judge your weather window well, but once you've finished (you must have finished), you can always try again (as often as you like) by clicking the link below.
RE-REGISTER HERE
to race again after finishing a run.
Race #1549
INFO
by brainaid.de
MC 38
PARTICULARS
WX Updates:
0430 / 1030 / 1630 / 2230
RANKING: TRQ1-TRCH-SUPSOL-SYC
REGISTRATION CLOSE:
Sunday, 23 January at 2200utc
RACE CLOSE:
Sunday, 23 January at 2300utc
Race starts:
Jan 10th 12:00
Registration Open!
GO TO RACE
Cape Town to Rio 2022


Welcome to South Africa and RCYC's classic transatlantic Cape2Rio Race from Cape Town, South Africa, to Rio de Janeiro, Brazil. First run in 1971, the next race in reality will be in January 2023, but in the meantime you can test yourself on-course in this, our second virtually-only Cape2Rio Race, which we will once again be sailing in Mark Mills' 74ft speedster, the stunning C2R74.
PRIZE: SMPF
Race #1537
INFO by brainaid.de
C2R74 PARTICULARS
WX Updates:
0430 / 1030 / 1630 / 2230
Ranking:
OCQ1 - OCCH - SUPSOL - SYC
RACE CLOSE: Tuesday,
January 25 at 2300 UTC.
Race starts: Jan 02nd 14:00 Registration Closed

GO TO RACE
SYC Ranking
Series
Mobile Client
SYC members have the benefit of access to our mobile/lightweight web client!