19 April 2022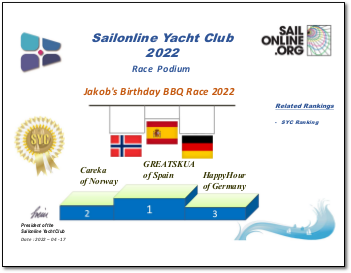 click on results image to see larger
FELICIDADES GREATSKUA!!!
GRATULERER Careka!! HERZLICHEN GLÜCKWUNSCH HappyHour!
Race Leaderboard
Reports


Commentary
Once a year Sailonline celebrates the birthday of one of its founders, a professor of marine architecture who, with one of his students, decided to create a navigation simulator to test the performance of boat polar designs - the result was Sailonline! Although Sailonline is now owned by its community, we never forget our origins and in April we always race a mad slalom in the archipelago of islands close to Stockholm.

The fleet saw some close-hauled sailing on the first leg of the race but as always with so many possible routes through the beautiful archipelago the options were unlimited. The start saw many of the sailors taking a north or south bound course, with very few sailors taking a conservative route between the two groups which was lead by Jawz who was the first boat around the first rounding at St Lokholmen.

The second leg of this amazing race saw our fleet split up again with many of the sailors taking a route more northbound than the second group which was lead by GREATSKUA. As the race progressed it looked as though GREATSKUA's group would come out on top of the northern group and that is exactly what happened! The fleet were extremely close to each other when their courses met up again, with GREATSKUA, Careka and HappyHour on our podium and they managed to hold their positions right until the finish line!

This race is always one to remember every single year with some extremely close and exciting racing right until the finish line and this year was definitely no exception! Congratulations to our podium who came out on top!

Races
Next Race: 00d 00h 00m
---
Current Races:
Victoria to Maui 2022
The Victoria to Maui International Yacht Race, first contested in 1968, is the pinnacle of Pacific Northwest ocean racing, running every two years. This year, Sailonline invites the SOL fleet to race the 2300nm course in Delphia 47s, from Victoria, British Columbia to Hawaii, finishing off Lahaina Maui.
PRIZE: SMPF
Race #1596
INFOby brainaid.de
Delphia 47 PARTICULARS
WX Updates:
0430 / 1030 / 1630 / 2230
Ranking:
OCQ3-OCCH-SUPSOL-SYC
Race starts: Aug 09th 19:00 Registration Open!

GO TO RACE
Brisbane to Hamilton Island Yacht Race 2022

Time once again to head for the warm waters inside The Great Barrier Reef, but this year not only online but together with our buddies at the
Royal Queensland Yacht Squadron
and their friends from across the world, in the iconic Brisbane to Hamo! Online we're racing maxi's to give you a chance to cover the 550 glorious blue water nautical miles in a time to best some of the fastest monohulls on the planet including Andoo Comanche, Black Jack and Hamilton Island Wild Oats . Fair winds, all!
Race #1606
INFO
from brainaid.de
Super Maxi 100
PARTICULARS
WX Updates:
0430 / 1030 / 1630 / 2230
Ranking: SYC
RACE CLOSE:
Sunday,
August 14 at 2300 UTC.
Race starts:
Aug 05th 01:00
Registration Closed
GO TO RACE
Sailonline's 15th Birthday Balloon Race
Sailonline offers a huge variety of boats to sail in. One of the more unusual ones has got to be SOL's Balloon, which was polarized by past SOLmaster 76Trombones. Notably, the SOL Balloon will actually 'sail' in other directions other than straight downwind, although it will not 'sail' over land or beyond a 'beam reach'. Like in 2013 and 2018, we will be taking the Balloon across the Atlantic from St. John's and 'land' it in the sea off the Cliffs of Moher.
Race #1605
INFO by brainaid.de
SOL Balloon PARTICULARS
WX Updates:
0430 / 1030 / 1630 / 2230
Ranking:
None
Race starts: Aug 01st 19:00 Registration Open!

GO TO RACE
Simonstown to St Helena 2022
This is a copy of a traditional South African December yacht race, but this time we will be racing in the middle of European summer. SOLers are invited to race 1712nm in our GB90s from Simonstown, RSA, to the exotic and remote island of St Helena - an island paradise with warm, friendly, hospitable islanders!
Race #1593
INFO by brainaid.de
GB90 PARTICULARS
WX Updates:
0430 / 1030 / 1630 / 2230
Ranking:
ARQ3 - ARCH - SUPSOL - SYC
RACE CLOSE: Friday,
August 12 at 2300 UTC.
Race starts: Aug 01st 18:00 Registration Closed

GO TO RACE
SYC Ranking
Series
Mobile Client
SYC members have the benefit of access to our mobile/lightweight web client!