13 September 2022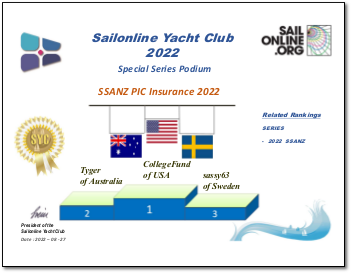 click on results image to see larger
CONGRATULATIONS CollegeFund!!!
CONGRATULATIONS Tyger!! GRATTIS sassy63!
Series Results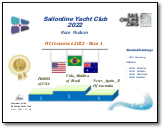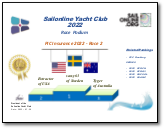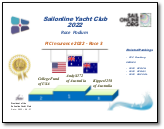 Reports



Commentary
After sailing this amazing series yearly for over 10 years on Sailonline, we were once again extremely excited to get racing with this year's edition, which definitely didn't disappoint!

As always our fleet battled ruthlessly in all 3 of these races and margins were extremely tight in all of them! While many of the SOLers were focused on being the first boat over the finish line, some decided to take advantage of the many activities that Motutapu had to offer, namely with wsguerin and captjack1942 enjoying some cooking and mixology classes while they were enjoying their relaxing BBQ's as you can read in wsguerin's report.

This year's edition was just as exciting as the previous editions as we were sailing against the Railblazer fleet which consisted of boats from the Young 88 Association, in the real life race!

Congratulations to CollegeFund for winning this hard-fought series and to Tyger and sassy63 for their amazing podium results!

Races
Next Race: 00d 00h 00m
---
Current Races:
Lord Howe 2022




SOLers and their Santa Cruz 52s are invited to join the Gosford Sailing Club in this 412nm race to Lord Howe Island.
The island is considered one of the most beautiful islands in the Pacific - part of one of just four island groups to be inscribed on UNESCO's World Heritage list for the global significance of its natural beauty and heritage. Located in the Tasman Sea between Australia and New Zealand, administratively it is part of the Australian state of New South Wales.
Race #1626
INFO by brainaid.de
Santa Cruz 52 PARTICULARS
WX Updates:
0430 / 1030 / 1630 / 2230
Ranking:
ARQ4 - ARCH - SUPSOL - SYC
Race starts: Oct 08th 04:00 Registration Open!

GO TO RACE
Galway Redux TIMED Race 2022
As we last did in 2017, we come to Galway for another TIMED race. Starting from Acaill Bheag, we sail around the coast of County Galway for around 90nm to finish in Galway City. While the weather is generally mild, it gets the occasional severe windstorm which is key to setting a quick time in our Seacart 30s. Feel free to try as much as you want - that is, once you have brought your boat to Galway City first.
RE-REGISTER HERE to race again after finishing a run
Race #1618
INFO by brainaid.de
Seacart 30 PARTICULARS
WX Updates:
0430 / 1030 / 1630 / 2230
Ranking:
TRQ4 - TRCH - SUPSOL - SYC
RACE CLOSE: Sunday, 16 October at 23:00 UTC
Race starts: Oct 03rd 12:00 Registration Open!

GO TO RACE
Round Britain and Ireland 2022
We invite you to participate in the 1780 nm race according to the clockwise movement around Ireland, Scotland, Shetland Islands and England. We will have four waters: the North Atlantic Ocean, the Celtic Sea, the North Sea, La Manche Channel. Each of them has its own specific navigation conditions but we will not exchange them here. Watch out for cyclones forming in the vicinity of Iceland and wandering in the south - east. The wind speed at this time of year can reach up to 40 kts and even more. Let's hope that sailing experience and our Sunfast3600 will safely lead us to the finish line.
Race #1625
INFO by brainaid.de
Sun Fast 3600 PARTICULARS
WX Updates:
0430 / 1030 / 1630 / 2230
Ranking: SYC
Race starts: Oct 01st 18:00 Registration Closed

GO TO RACE
SYC Ranking
Series
Mobile Client
SYC members have the benefit of access to our mobile/lightweight web client!