23 September 2022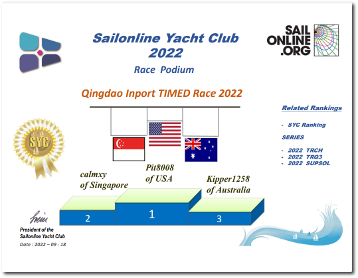 click on results image to see larger
CONGRATULATIONS Pit8008!!!
CONGRATULATIONS calmxy!! CONGRATULATIONS Kipper1258!
Race Leaderboard
Commentary
Sailonline expresses their sincere condolences to the Qingdaonese as Typhoon Muifa quite literally struck the city of Qingdao. From a Timed Race perspective however, the winning run was almost certainly going to be set by using the winds and wind shift of Muifa. Apart from Muifa and 18 September PM UTC, the winds were light and variable during the 2 week window.
A total of 173 completed attempts of this course were made by 80 skippers in the allotted 2 weeks; a summary of attempts is provided here. As Typhoon Muifa approached Qingdao, it was necessary to pay attention to its movement, as each Wx showed a significantly different typhoon path and hence optimal run to make. With rapidly changing conditions, all the eventual top 10 runs started in a 30 minute window centered on 15 September, 11.30am UTC and much depended on how well the roundings were made. But it was Pit8008 who not only perfected those roundings, but even slightly tweaked their path between wp1 and wp2 to gain those precious few seconds over the other podium sitters calmxy and Kipper1258. Congrats!

Races
Next Race: 00d 00h 00m
---
Current Races:
Melbourne to Hong Kong
After celebrating Christmas and New Year it is time for the second run in this year's Ocean Race Championship. After leaving Melbourne on this (about) 5.500 NM course, we will leave the Solomon Islands, Papua New Guinea and the Philippines, all to port. And remember, once again we'll have to choose the best way to cross the Doldrums
PRIZE: SMPF
Race #1658
INFOfrom brainaid.de
OD65v3 Particulars
WX Updates:
0430 / 1030 / 1630 / 2230
Ranking:
OCQ1-OCCH-SUPSOL-SYC
Race starts: Feb 04th 05:00 Registration Open!

GO TO RACE
Buenos Aires to Rio 2023



This year's second ARCH series race will run from Buenos Aires, Argentina to Rio de Janeiro, Brazil on a route designed by SOLer Vida_Maldita (under his former alias of zero) in 2013. This is a replica of a classic triennial race of 1200nm, first run in 1947. More information about this IRL race can be found here.
So, Bemvindo/Bienvenidos in this coastal classic and prepare your 90ft Monohulls well.
Race #1662
INFO by brainaid.de
90ft Monohull PARTICULARS
WX Updates:
0430 / 1030 / 1630 / 2230
Ranking:
ARQ1 - ARCH - SUPSOL - SYC
Race starts: Feb 01st 18:00 Registration Open!

GO TO RACE
Up Helly Aa 2023
A-OI!!! The cry should soon be ringing out in the streets of Lerwick as the Guizer Jarl and his crew, along with the other teams in the Up Helly Aa parade complete their preparations for the biggest fire festival in Europe. As is Sailonline's tradition, we shall be racing the 383nm from Aberdeen to Lerwick to (virtually) take part in the Up Helly Aa festivities there which take place for the first time since 2020 on Tuesday, 31 January. SAILING NOTE: Gruney may be approached from any direction but must be passed for rounding purposes as indicated on the chart.
Race #1660
INFO by brainaid.de
Elan 410 PARTICULARS
WX Updates:
0430 / 1030 / 1630 / 2230
Ranking: SYC
RACE CLOSE: Friday,
3 February at 2300 UTC
Race starts: Jan 28th 11:00 Registration Open!

GO TO RACE
SYC Ranking
Series
Mobile Client
SYC members have the benefit of access to our mobile/lightweight web client!