27 February 2023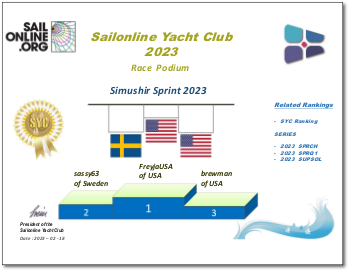 click on results image to see larger
CONGRATULATIONS FreyjaUSA!!!
GRATTIS sassy63!! CONGRATULATIONS brewman!
Race Leaderboard
Commentary
After what was an extremely exciting opening to the sprint championship, our SOLers set off once again to battle it out for the top spots, this time in the Sea of Okhotsk!

The course seemed to be rather straight-forward, however, with tricky light weather conditions it didn't seem to be as easy of a task as many were thinking that it would be. Our SOLers had to make a crucial decision at the beginning of the race, whether to take the Kuril Islands to the north or to the south. Many took the southern route, which in turn ended up being the faster of the two, however, with the competition being as tough as it was it wasn't as easy as just choosing the correct side to take the Kuril Islands.

With plenty of close racing and almost nothing to separate our leaders, when our SOLers were first spotted approaching the finish line in the Diana Strait, it was realized at that point that it was going to be a very tight finish amongst the leading pack!

FreyjaUSA and sassy63 who have both been in imaculate form lately both crossed the finish line at the exact same time, to the second, which is often a rare sight! Third place, brewman, crossed the finish line two seconds later to complete our podium!

Congratulations to FreyjaUSA, sassy63 and to brewman on their fantastic podium positions! Congratulations to the top 10 finishers and to all of those who made it to the finish line!

Races
Next Race: 00d 00h 00m
---
Current Races:
Sail Around Turkey 2023



This is one of Sailonline's iconic and more challenging races. Our IMOCA 60 Foil high-speed yachts will sail across three seas (Black Sea, Sea of Marmara, Mediterranean Sea) and two beautiful straits (Strait of Istanbul - Bosphorus and Strait of Canakkale - Dardanelles). Altogether 1372 nm of great and demanding sailing from Hopa (the easternmost point of the Turkish Black Sea coast) to Iskenderun (the easternmost point of Turkey's Mediterranean coast). Get ready for a lot of fun; we are waiting for you at the starting line.
Race #1665
INFO by brainaid.de
IMOCA 60 Foil PARTICULARS
WX Updates:
0430 / 1030 / 1630 / 2230
Ranking:
ARQ1 - ARCH - SUPSOL - SYC
Race starts: Mar 21st 15:00 Registration Open!

GO TO RACE
Sinbad Seeks Spices 2023
Having surveyed Arabia, Sinbad Al-SOL'er next invites you to race him on his second of seven epic voyages to every corner of the Indian Ocean and beyond, this time to seek spices in Zanzibar, departing from Xaafun, a trading post on the tip of the Horn of Africa since the days of the Mycenaeans and on through Roman times to the Nights of 1,001 of AL-Sail'or, Al-SOL'er's illustrious ancestor. SOLing by the sun and the stars, aka seat-of-the-pants, the voyage will take you east as far as Praslin island, south as far as Anjouan, to Zanzibar's Unguja for all things spices, but only back as far as Mogidishu – another exhausting 3000nm adventure, this time in Reichel/Pugh 66s.
Race #1637
INFOby brainaid.de
Reichel/Pugh 66 PARTICULARS
WX Updates:
0430 / 1030 / 1630 / 2230
Ranking: SYC - SVS
Race starts: Mar 19th 09:00 Registration Open!

GO TO RACE
Lake Baikal Ice Race 2023
For the next race in our ice racing adventure, our SOLers will be transporting their boats just shy of 3000 nautical miles west to the beautiful destination of Lake Baikal! With icy cold weather and extremely high speeds, this complex 107nm course will definitely be a great challenge for our SOLers in their DN Ice Boats! Are you ready for the challenge?
Race #1677
INFO by brainaid.de
DN Ice Boat PARTICULARS
WX Updates:
0430 / 1030 / 1630 / 2230
RANKING: DN - SYC
RACE CLOSE: Saturday,
March 25 at 2300 UTC.
Race starts: Mar 18th 15:00 Registration Open!

GO TO RACE
Newport Harbor to Cabo San Lucas 2023


This 850nm race down the Baja coastline from California's Newport Harbor to picturesque Cabo San Lucas in Mexico runs in odd years. This year it's an odd one, and we are delighted to be able to offer online racers the opportunity to match their skills against the 'real life' fleet and against each other sailing slippery Santa Cruz 70 sleds!
Race #1666
INFO
by brainaid.de
Santa Cruz 70
PARTICULARS
WX Updates:
0430 / 1030 / 1630 / 2230
Ranking: SYC
RACE CLOSE:
Wednesday,
March 22 at 2300 UTC.
Race starts:
Mar 11th 21:00
Registration Closed
GO TO RACE
Lanzarote to Grenada 2023
It should be a great time of year to sail the third Ocean race of this Year in our luxurious Xp55, from the Canaries, 2865nm down to the lush Caribbean island of Grenada, famed for its rum, spices and chocolate. Serious chocoholics can even sign up for a tour, which includes a scrumptious three-course lunch spotlighting chocolate in every course.
PRIZE: SMPF
Race #1667
INFOby brainaid.de
Xp55 PARTICULARS
WX Updates:
0430 / 1030 / 1630 / 2230
Ranking:
OCQ1 - OCCH - SUPSOL - SYC
RACE CLOSE: Monday,
March 27 at 2300 UTC.
Race starts: Mar 03rd 12:00 Registration Closed

GO TO RACE
SYC Ranking
Series
Mobile Client
SYC members have the benefit of access to our mobile/lightweight web client!